Please follow below detailed steps on how to join a Cisco WebEx meeting.
We use WebEx for videoconferencing and online meetings up to 25 participants. WebEx works on all devices (app, browser, phone dial-in, mobile and desktop) and provides global dial-in phone numbers: Webex Call-in numbers
In case ITONICS invites you for a WebEx meeting, you will always get a link to join the conference from your PC/ MAC and dial-in numbers to join the conference using your phone. Joining the conference from your PC/ MAC, you might experience an issue when the system is asking to download and install a small application. In this case, you can use the browser-only option: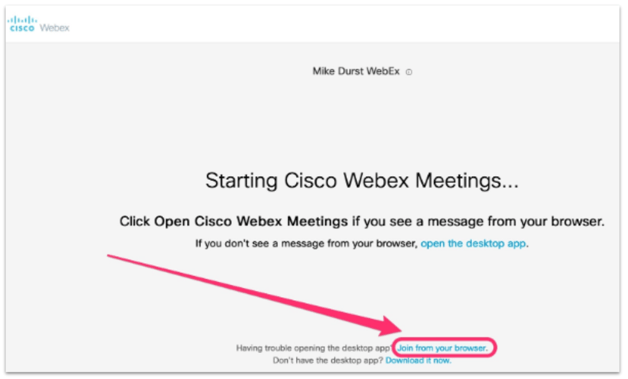 If this does not work, you might want to try an alternative browser. If that is an issue as-well, you can use the WebEx app on your smartphone - smaller screen, but still supporting video and screen sharing. In case you are not able to use this option, you can still dial-in by phone.
The perfect setup from our experience is using your computer for video and screen sharing, but putting it to mute while you dial-in to the conference at the same time using your phone. The audio is simply more stable by phone. If you are on low bandwidth, stopping the video helps in most cases.
Some details:
Joining a WebEx from an email invitation
To be on the safe side we recommend to
Share the documents to be discussed to all participants before the meeting starts (by email, Smartsheet, or box.com)
In case participants have issues with the online conferencing, you can still use the phone dial-ins and discuss the respective documents