Our webinar series with its focus on innovation methods goes into another round. In our second session, we will shed some light on software-based startup scouting. The market environment for many companies has changed massively in all areas of value creation as a result of the startup boom in recent years. Therefore, not only trends and technologies should be monitored but also the third pillar of environmental scanning: startups. The newcomers experiment with new technologies and come up with completely new ways of delivering business value. But how do you learn as a big company from the small ones and manage new trends and cutting-edge technologies that create competitive advantage? In our webinar, we will show you how to identify, evaluate, discuss, and monitor your startup ecosystem and keep track of the most relevant and active players in there.
When?

German: June 27, 2018 at 10 AM (GMT +2h)
English: June 27, 2018 at 4 PM (GMT +2h)
What you will walk away with:
What is startup scouting and why should your company start doing it?

How can you successfully implement a startup scouting process?

How can ITONICS Startup Radar help you to do software-based startup scouting?
If you are unable to attend, we will be pleased to send you a recording.
Your Speaker
Dr. Michael Durst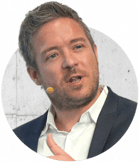 Mike is the founder, visionary and chief executive officer of ITONICS. ITONICS benefits from his extensive experience in the areas of innovation and strategic management, R&D management, business modeling, IT strategy, enterprise architecture, and his comprehensive industry expertise. He is one of the leading experts on strategic innovation management and a frequent speaker at international conferences.