Newly created workspaces will by default be public workspaces.
We are introducing private and public workspaces to enable users and teams to work on what is important. With public and private workspaces, you can decide whether you want to make your workspace visible to your entire organization or whether it suits your use case better to only give specific users access to a workspace.
What will change?
This change will only impact new workspaces created once released. Previously, all workspaces were private as there was no public workspace feature available. However, with this new change, public workspaces will now be the default setting for all newly created workspaces.

Note: private workspaces will now be categorized as a Professional feature and will not be available in Starter, or Team subscription plans. However, existing Starter, or Team organizations will not be affected and can still access the existing private workspaces but not create new private workspaces.
None of the existing private workspaces will be made public, and no existing data will be exposed to a wider range of people than before.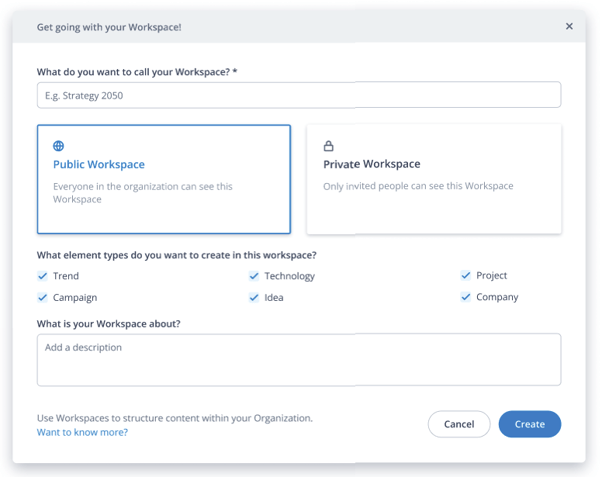 Why the change?
Collaboration and transparency are essential for innovation management. Sometimes, it can be challenging to add existing users to a workspace and ensure accessibility for new colleagues. By introducing public workspaces, we aim to improve usability and save time for our users.
Contact the ITONICS support (support@itonics.io) for any further questions.