The Excel import allows you to upload your innovation portfolio effortlessly. Easily bring your own content, ratings, and comments into your workspace.
The Excel import feature allows you to seamlessly import various types of data. The feature comes with the following key capabilities:
Import elements: With this new feature, you will no longer be required to manually upload data. Now you can upload elements in bulk, saving you time and effort. The feature supports importing elements specific to each element type and workspace, ensuring precise data organization.
Ratings and comments: Keep track of valuable insights and feedback from your team, or clients. The ITONICS Excel import feature allows you to import ratings and comments associated with each element, facilitating comprehensive data management.
Element updates: Not only can you add new elements, but you can also update existing ones with the Excel import feature. This ensures your workspace remains up to date and reflective of the latest changes.
How the Excel import works
There are two ways how to navigate to the import feature:
Go the Explorer of any workspace
Click on the three dots in the navigation bar and select Import from a Datasheet (1)

or press on the

Import Content (2)

button if your workspace is still

empty

The import consists of three simply steps:
Choose the element type you want to import and download your template. (1)
Fill the template with your data. Please make sure to provide the data in the correct format. Take a look at the tables below for further information. (2)
Upload your file using drag and drop or select from your file manager and click on Check file. (3)
Once the file is validated, you can upload your elements.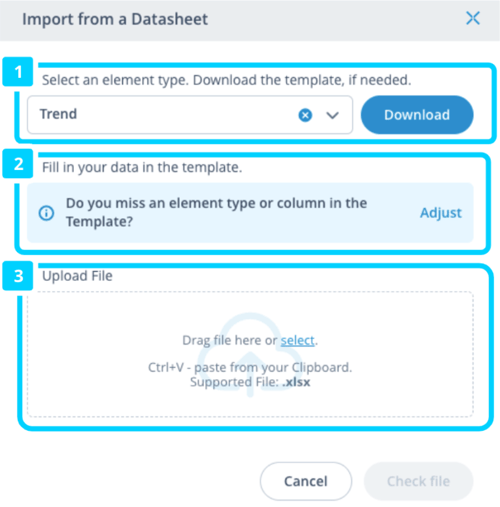 The generated import template consists of the following tabs and columns: