The Filter Settings Are Accessible via the Quickfilter Bar Including the "Advanced Filtering" Button on the Upper Part of the Screen.
The "Advanced Filtering" button opens the filter sidepanel. On the sidepanel you can choose specific filter criterion and pick certain ranges that you want to filter out.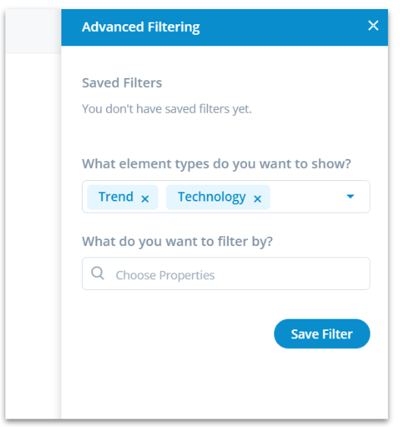 Example Filter Scenario:
Open the filter sidepanel.
Select at least one element type from the dropdown "Element Type", e.g. "Trend".
Select filters from the dropdown "Choose Properties", e.g. rating criteria "Potential Impact".
Adjust the filters, e.g. set the sliders to range from "High" to "Very High".
The chosen Explorer view will instantly show only trends that have an Impact rating of "High" to "Very High".
Save Filter:
Adjust the filter settings, as described in the "Example Filter Scenario" in this article.
Click on "Save Filter" and provide a name.
Confirm with "Save" to add the filter to the Workspace.
Saved filters appear on the upper part of the filter sidepanel.