Roadmaps play a critical role in analyzing demand drivers alongside solution drivers to develop an efficient, evidence-based innovation strategy.
| | |
| --- | --- |
| Industry | Case Study |
| Construction | Fletcher Building |

By setting a clear view of external factors alongside internal capabilities, businesses can carve out those opportunities that they are best placed to capitalize upon and create a plan for executing their innovation strategy.
What is Roadmapping?
Roadmapping is a method for strategic long-term planning, implementation, and visualization of innovations, products, and technologies, broken down to the necessary resources, steps, and milestones, and activities aligned with the corporate strategy.
A roadmap represents the milestones, activities, and deliverables required to manage the transition of an organization from its current state to a future state over a specific time period. An innovation roadmap, however, is not simply a visual tool. Organizations utilize innovation roadmaps to develop connections between internal capabilities, external drivers, and innovation goals to flesh out a timeline that shows internal stakeholders their future-focused aspirations. As a result, the innovation roadmap is critical in consensus-building and crafting future business capabilities and desired outcomes without the duplication of resources.

🎓 At ITONICS, we believe four critical roadmapping criteria help maximize the efficiency of an innovation roadmap:
✅ Simplicity: roadmaps need as little complex jargon and abbreviation as possible, such that anyone new to the project can understand the objectives and find their place within the process.
✅ Collaboration: Roadmaps are team exercises that should invite multiple perspectives within an organization. The roadmap's format needs to encourage collaboration and open participation amongst relevant stakeholders, not siloed strategy mapping.
✅ Goal-Orientation: organizations need to focus on high-potential opportunities and have a vision and objective that can galvanize all stakeholders to view a clearly defined goal.
✅ Alignment: having all stakeholders aligned on the mission, vision, and purpose of the innovation objectives is imperative to create buy-in and a culture of mass participation on roadmap activities.
Why is Roadmapping Important in End2End Innovation?
Any company that wants to be competitive in the long term in an uncertain and complex environment must systematically analyze and forecast future developments. Executives often report a gap between strategy and product development. The method of roadmapping offers an ideal tool for structured planning, implementation, and visualization of your innovations as well as the corporate strategy.
Roadmapping acts as a sense-making exercise; by consolidating resources, understanding the type of innovation journey being undertaken, and what trends and emerging technologies are pertinent, innovation managers can create a clear timeline and develop reasonable milestones.
In addition to this, roadmapping can assist innovation managers in answering a variety of questions about their innovation journey:
Which trends and markets will influence our future business?
When will scenarios play out, and what potential opportunities and risks do stakeholders need to be aware of?
Which products do we want to offer?
With the help of which technologies, competencies, and resources, can we achieve our goals?
Communicating a Roadmap to Stakeholders
The involvement of key stakeholders early on is a crucial part of the innovation planning process. Going straight from roadmap creation to implementation without involving key departments can alienate people and often lead to confusion.
A roadmap promotes communication in a company, and therefore it is not just a tool for management. The explicit goal must be to integrate the affected departments into the process as early as possible. Clear responsibility for method competence, coordination, and input must be communicated and lived as clearly and transparently as possible.
How a Construction Multinational Utilize Roadmaps to Align Strategic Goals to Internal and External Innovation Activities

THE CHALLENGE
For the largest, vertically integrated building and construction company in New Zealand, it was crucial to implement a system that consolidated the fragmented innovation process already existing within the organization. Across 30 business units, there were already innovation initiatives, but transparency and alignment were missing. Due to limited reporting capabilities, Executive Committees lacked clarity, which resulted in difficulties identifying project collaborations.

Fletcher Building experienced:
disintegrated involvement of BU innovation leaders
difficulty in bundling together ongoing innovation efforts across the organization
disjointed resource planning and allocation
wasted resources and higher risk
difficulty in generating evidence for innovation projects
strenuous decision-making due to uncoordinated tracking and lack of transparency
difficulty in prioritization


THE SOLUTION
By using the ITONICS Roadmap, innovation ideas could be easily evaluated and prioritized. The portfolio of projects could be interlinked strategically by using roadmaps that allowed more consolidated planning, monitoring, and tracking of goals, milestones, and innovation operations.
Having overall visibility enables balancing portfolios that can easily translate into actions and activities. The comprehensive and adjustable view also reveals whitespaces more clearly, indicating where contingency plans probably need to be made. Task and milestone dependencies could be easily identified that made tracking and monitoring more effective and accurate.

THE RESULTS
Fletcher Building was able to visualize and contextualize market and technology trends with the defined innovation projects on an integrated roadmap, which revealed dependencies in innovation implementation and increased efficiency.
Integrated roadmaps enabled closing the loop back to the initial company missions. The roadmap layers allowed the simple representation of the overall corporate strategic initiatives, environmental footprint, product innovation, modular/pre-fab, multi-residential, the role of distribution, and supply chain.
Quarterly portfolio review processes and accuracies improved as integrated roadmaps provided a simplified view of outcomes and future directions.
🔍 How to Create Your Roadmap: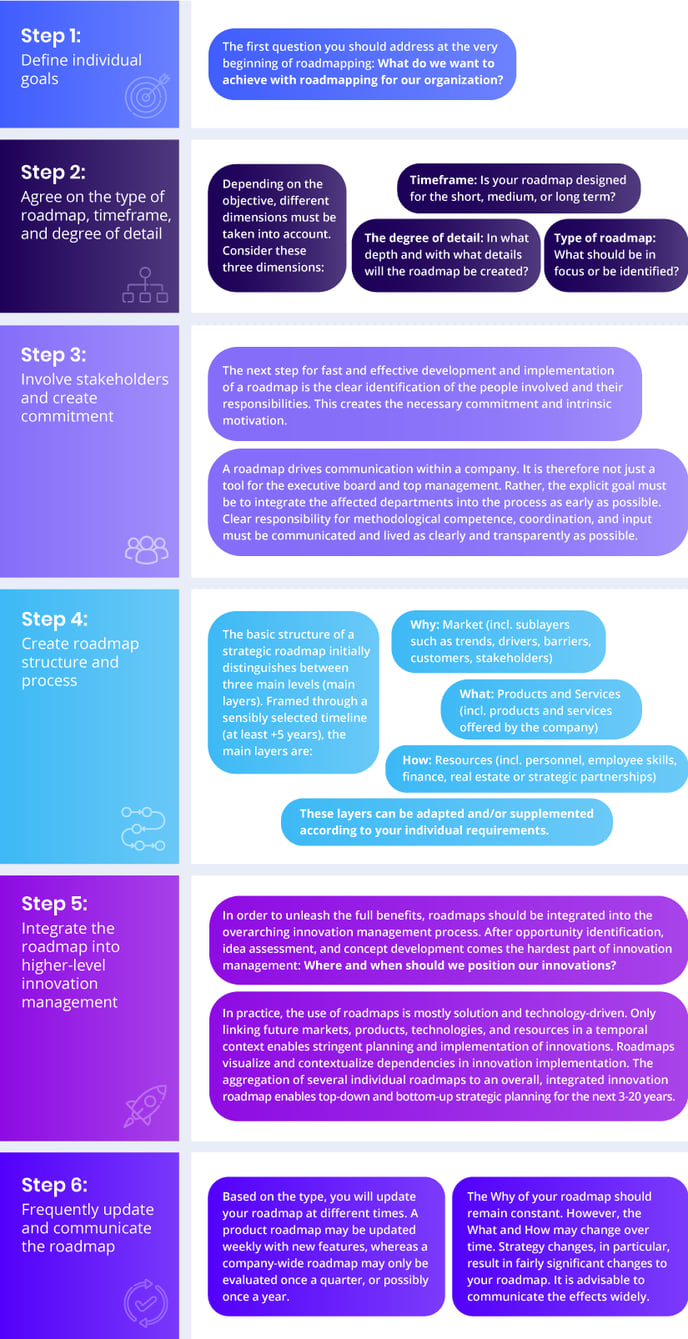 Learn More:
Create/Add Milestones to the Roadmap