All too often, innovation and governance are viewed as two contradictory concepts. An effective innovation governance model calls for a structured decision-making system adapted to the innovation process. This is necessary for achieving the requisite buy-in and commitment from management.
1. The Role of the Commitment Phase within the Innovation Journey
The Commitment phase within End2End Innovation refers to the willingness of an organization's leaders to commit to the innovation management process and see it through to transform today's business into tomorrow's business.
A lack of commitment at management and board level makes for disjointed and slow-moving innovation activities and decisions. In turn, this can result in mismanaged or wasted resources, missed opportunities, internal resistance, and dashed confidence in what may otherwise be a promising innovation strategy.
Large corporations, in particular, are common offenders—not necessarily due to a lack of buy-in, but rather the unintentional bureaucracy that accrues as decisions move up the ladder. Likewise, in its preoccupation with consequential decisions related to big projects and yearly planning cycles, management can discount the many smaller and ancillary projects before their potential is fully realized.
The same models that exist to ensure deliberate and prudent decision-making—when consequences are immense and outcomes irreversible—do not always serve the innovation management process, which benefits from faster, more agile, and iterative decision-making.
Innovation requires a middle ground where there is support for experimentation alongside the rigor of executive-level portfolio management. In short, innovation governance must be lean enough to move opportunely yet structured enough to guide the way new ideas are channeled through the innovation ecosystem.
2. Innovation Growth Boards as Best Practice to Gain Commitment
Harvard Business Review defines a growth board as a group of senior executives within an organization who meet regularly to review, discuss, and ultimately support, fund, or kill new growth initiatives.
Growth boards speak to the how and who of decision-making and inform the norms, processes, approvals, and meetings required to move innovation initiatives forward successfully.
Why a growth board?
The "why" may differ for different kinds of organizations, but in general, the reason for setting up an innovation growth board is to establish innovation-based approaches on a large scale and to bring venture capital-style mindsets, accountabilities, and metered funding to the entire organization.
What does the growth board do?
The growth board is responsible for ensuring that the entire organization maintains a balanced portfolio of innovation and growth initiatives—across all innovation horizons. This means innovation initiatives for the core business, adjacent business, as well as for new, transformative, and disruptive areas.
How does the growth board do this?
At the very basic level, it is fundamental to understand that traditional ROI-style accountabilities won't work. Rather, the right mindset and the right questions need to be asked by the growth board. They may weigh in on assigning innovation teams and can hold these teams accountable with mechanisms like testing and validation stages and metered funding.
Who is on the growth board?
Members of the executive leadership team need to be part of the growth board. This includes, for example, finance, HR, strategy, R&D, etc. This will also ensure alignment with the organization's strategy. Also, it is recommended to have a challenger on the board, e.g., an advisor, venture capitalist, or similar.
When does the growth board meet?
Typically, the growth board meets every two months for 2-3 hours of focused work and decision-making.
3. Three Phases of Growth Board Decision-Making to Gain Commitment
The three essential phases of growth board decision-making align closely with the End2End innovation model on which the ITONICS Innovation Platform is based. These cover strategy to execution and answer the key questions of Where to Play, How to Win, and What to Execute.
Where to Play: create "growth-missions" as intentional constraints. The job of the growth board is not to get involved in every budget allocation decision for innovation activities, nor should it play the role of receiving and consolidating disparate ideas. The job of the growth board is to choose specific spaces to 'play' in. Setting a clear scope or growth mission establishes firm criteria as guidance for where teams might place their bets and will filter out any potentially distracting opportunities that do not align with strategic objectives.
How to Win: manage a portfolio of growth experiments. Growth boards must manage a full portfolio of growth experiments and establish a step-based funding approach to support the level at which they are tested. Getting the alignment right—the right funding at the right stage of a project—can substantially influence its success or failure. Using metered funding, teams are able to move past hunches, assign funds based on substantial findings and proceed with projects based on the validation of the various hypotheses.
What to Execute: review and align the growth portfolio. The job of the growth board is to check if sufficient progress has been made towards the goals of the experiments and if they are still in alignment with the growth mission. To do this, the growth board has to ask the right questions and use the evidence at hand to make informed decisions. Together with internal capabilities, this evidence also informs how organizations should execute new ideas to balance risk and resources, e.g., outsource to startup, co-create or collaborate with startups, fully build within a dedicated business unit.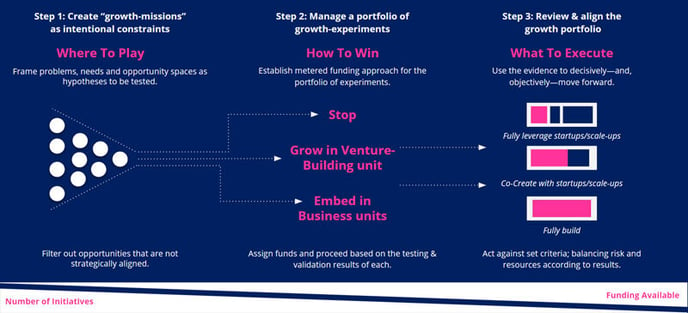 4. How to Use ITONICS for Gaining Commitment
Whether you establish a growth board or maintain your current innovation governance structures, management's commitment to select projects and ensure follow-through to execution is directly influenced by the data, insights, and evidence made available to them. This critical information enables them to detect strategically aligned opportunity spaces, assign resources based on results from testing and validation, and move forward objectively and decisively.
The challenge lies in turning all of this information into actionable intelligence for decision-makers in an organization. Aggregating all innovation information into a centralized and digital solution increases transparency and collaboration while improving commitment capabilities.
ITONICS Innovation platform supports lean innovation governance by organizing and managing data to inform decision-making. Supplemented by artificial intelligence, ITONICS is able to scan vast amounts of external data sources and manage rising complexity to reveal patterns and interconnections. By combining natural language processing technology with an organization's internal knowledge, innovation teams and decision-makers can quickly derive meaning from these patterns, ensuring business relevance and strategic fit. This helps to enrich initial findings and equips innovation teams and decision-makers to chart a future course of action.

💡 Pro-Tip: A digital roadmap can provide growth boards with a clear and transparent overview of innovations, technologies, and projects, broken down to the necessary resources, steps, and milestones. Having a single point of truth helps growth boards make decisions related to innovation portfolio management and raises the level of commitment needed to execute against innovation goals.
Learn More:
How To Communicate Strategic Innovation Activities
How Roadmaps helped execute Innovation Objectives