ITONICS provides project templates that help you get started quickly.
Each template serves a different purpose and includes a set of phases, phase descriptions, and to-do's per phase that can be edited to match your specific requirements.
Note: This feature will not be automatically available to all subscribers and may be part of a separate ITONICS subscription plan. If you would like to test workflow, please contact us via account_manager@itonics.de.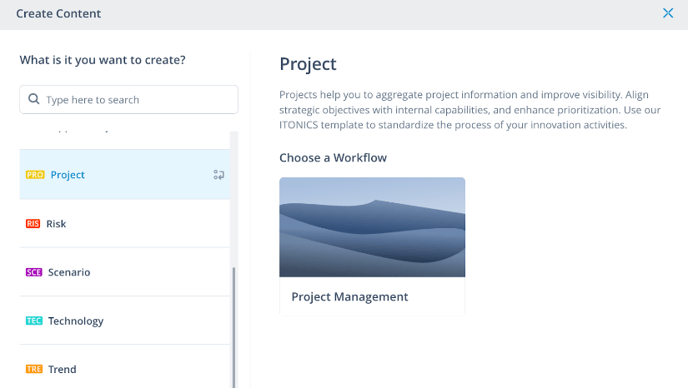 💡Pro-Tip: By clicking on one of the workflow templates, you will be able to see more information about the template: available phases, the element type, and what will be collected, for example, ideas.
Currently, ITONICS provides the following template:
Project Management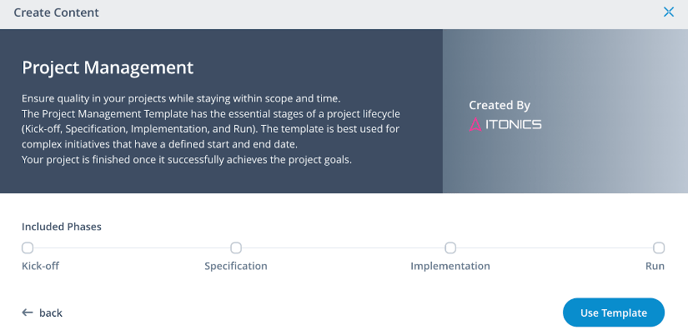 The Project Management workflow template provides the most common and basic project management phases and gates and can be used for any type of project.
Template description:
Ensure quality in your projects while staying within scope and time.
The Project Management Template has the essential stages of a project lifecycle (Kick-off, Specification, Implementation, and Run). The template is best used for complex initiatives that have a defined start and end date.
Your project is finished once it successfully achieves the project goals.
Included Phases:

Note: ITONICS is constantly working on providing more workflow templates, for projects, but also for other element types. In the future, users will be able to create their own workflow templates.