We have updated our Explorer, allowing you easier configuration. You will also find new helpful features both in Explorer and Insights tools.
Explorer
The redesigned Explorer element detail page will improve your experience on many levels.
Improved readability of the summary in the header.
Better organization of the content using tabs for element details, Signals, and comments.
Increased space efficiency and reordered layouts for blueprint element types.
Improved responsiveness, both for mobile and stacked view.
Improved visibility of square and portrait images in the header.
There are currently some limitations to the cross-Workspace copying operation. It is possible to copy content only from the ITONICS Showroom. We will re-enable general cross-Workspace copying as soon as possible.
[BETA] Insights
View configuration: Now, you can decide for which properties you want to see the bar charts. Click on the "x" to remove a bar chart widget and click on the cog-icon at the top of the side panel to bring it back.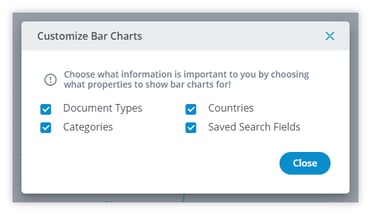 Search field intersection: See how Saved Search Fields you have defined before impact the current main search field.
Add secondary search fields to the Saved Search Fields bar chart and see matching documents.
Select those secondary search fields to dive deeper into the data.
This solution can bring you powerful insights. Set both technologies and market trends as search fields and see how they influence one another. You can also define your geographical markets and then track the influence of trends on them. For more information, see the dedicated knowledge base article.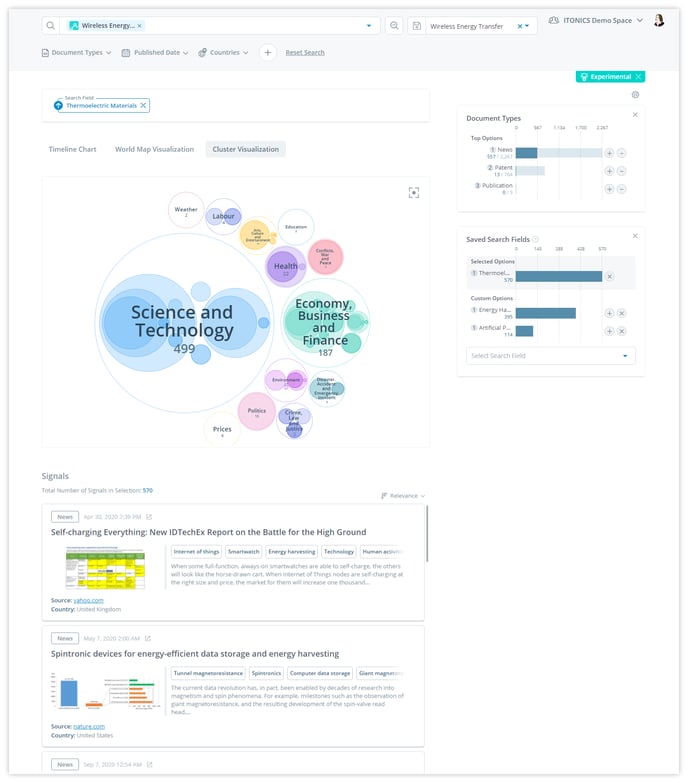 Removing date of publication filter: You can now remove the publication date from the search field definition.
Bug Fixes
We fixed the issue with the wrong link in the support side panel. The correct knowledge base is now referenced.