🗺️ Explorer Updates
Change to the rating widget: Instead of clicking the Rate button at the bottom of the rating widget, you can now just go ahead and start rating the criteria separately. Have a look below:
Introducing counts of users who have rated: In order to gauge how confident you can be in a rating, you can now see the number of users who have added a rating for each criterion.

Relation Types: You can now use all types of relations (Hinders, Drives, Relates to) to connect Elements of any two types (both blueprint and custom types). This was previously limited to Trends, Technologies and Inspirations.
⚡ Insights Updates
Performance improvements: We have implemented several changes that noticeably reduce the wait times in Insights.
Tip: In order to achieve shorter loading times, start your journey with a search!

Reset search field: We have introduced a quick way to completely reset the search field. You can find it at the top right of the screen, next to the gear-icon when a filter is active.


Visual highlight of widgets with active filters: Couldn't quickly figure out whether a filter was active or not? We've got you: Widgets with active filters are now highlighted.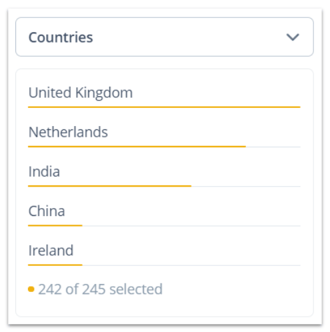 ⚙️ ⬆️ Element Configuration Updates
You are now able to permanently delete Properties.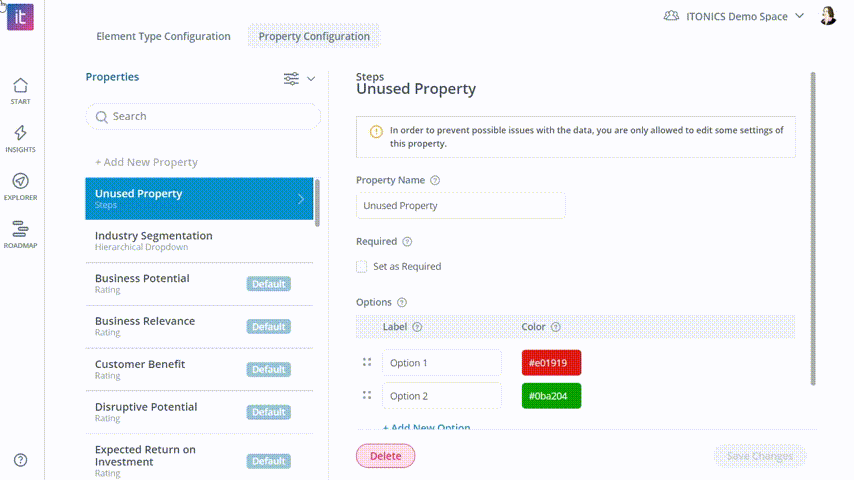 Note: The deletion will only be possible if the Property isn't being used on any Element Type.
Bug Fixes
In Workspaces with a lot of tags, filtering by tags would sometimes fail. We have fixed this issue.
We fixed the issue that the discard changes mechanism for Insights Presets wasn't working in certain cases.
An issue was resolved that coming to Insights from an Explorer Element wouldn't reliably work.