Element Sorting
You Can Arrange Trends, Technologies and Other Elements via Cards or List View.
Use the Cards or List view to arrange Trends, Technologies and other Elements in a certain order in Explorer.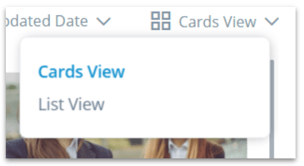 Sorting and view selection are located in menus on the upper right.
Sorting
Sort by Title, Updated Date, Created Date or by Relevance (only available with search input).
Choose ascending or descending order for your sorting.