Manage Activity and Milestone Types
Activities and Milestones on the Roadmap can have different types. These help you to organize your Roadmap visually using different colors and icons.
Navigate to an existing Roadmap. There, click on the Legend icon in the toolbar on very right of the screen. You will see a gear icon in the top-right corner of the Activity Types and Milestone Types containers. Clicking on that icon will open the Activity / Milestone type management area, respectively.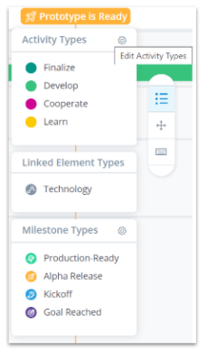 Alternatively, you can access this area by opening the settings panel from the gear icon at the very bottom of the main navigation.
In the management area, existing Activity and Milestone types can be viewed and edited, as well as new ones created.
Note: Default Activity and Milestone types provided by ITONICS can not be edited or deleted.

Adding Types
Hover over Create on the lower right.
Click Create Activity Type or Create Milestone Type to open a create dialog.
Fill out the required fields.
Select a color and, in the case of Milestones, an icon.
Confirm with Create.