🛣️ Roadmap: Working with Roadmap
Manage Activity Types
You can Create/manage activity types in Roadmap.
Go to an existing Roadmap, from the "Legend" on the extreme right toolbar click on the "Edit Activity Types" icon to open Activity Type page.
Under settings, a list of all available activity types is displayed.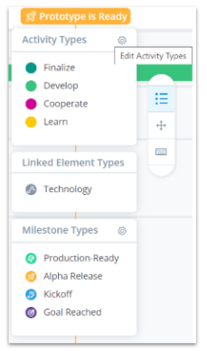 Add activity type
Hover over "Create" on the lower right.
Click "Create Activity Type" to open a dialog.
Fill out the required fields.
Select a color.
Confirm with "Create".
Note: Standard Activity types provided by the system can not be edited or deleted.