This section lets you choose the modules of your subscription and update your billing information.
Click on the cog icon beside the Organization name in the Workspace menu to get to the Organization settings. Here you will find two tabs:
Plans & Modules where you can view, edit and cancel your subscription.
Billing Information where you can change your invoice information, and add a payment method.
Your Subscription
Note that this only applies to customers paying by credit card on a monthly basis. If you are paying by invoice, you will not be able to change or cancel the subscription using this interface. Please contact us in that case!
To change your subscription, simply choose your plan, and use the checkboxes to add or remove modules. You will be able to see your new monthly total for the currently active users below (see A). Click Update (see 1) and accept the terms and conditions again in the dialog box.
In this tab, you can also cancel your subscription (see 2). Cancelling your subscription will disallow your users from accessing the Organization.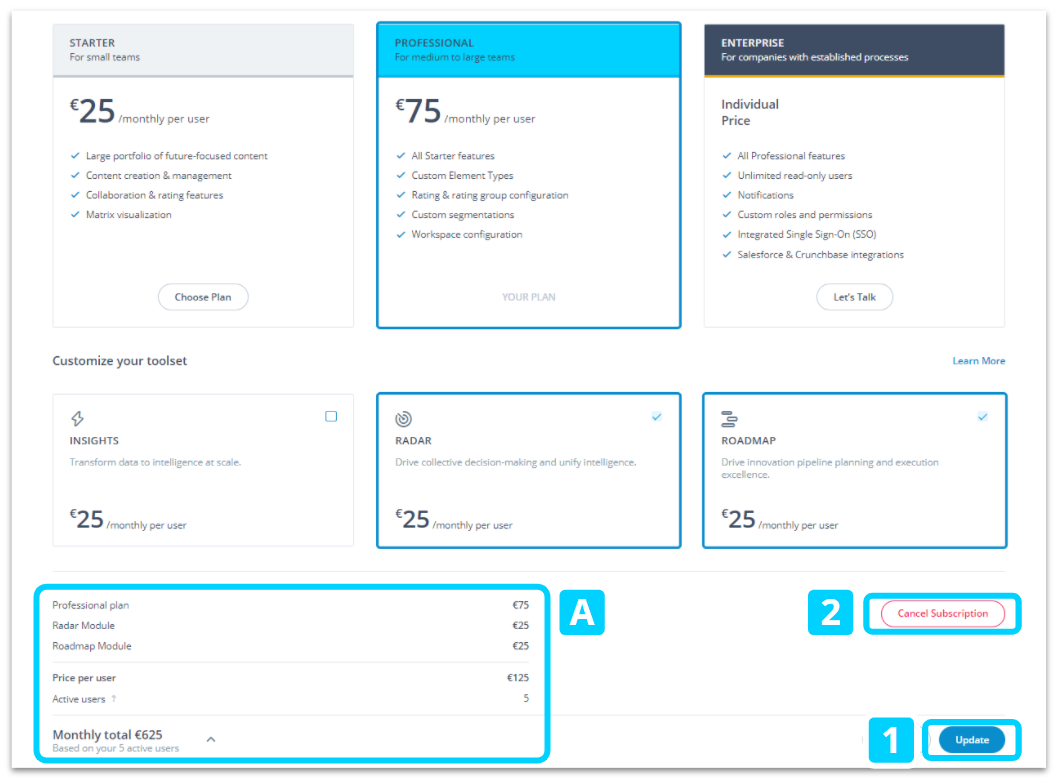 Please be aware of the following points when changing your subscription:
Upgrading your plan, or adding modules will apply immediately, and you will be charged for the new plans and modules in the current billing period.
Downgrading your plan (i.e. from Professional to Starter), or removing modules will apply at the end of the billing period. This means that you still have access to the functionality until then.

Billing & Credit Card Information
Note that ITONICS does not process or save any payment information - this is done by our PCI DCC certified payment partner Stripe.
In order to start your subscription, you have to enter a payment method. You can do so by navigating to Subscription (1) and then Billing Information (2).
Enter your billing information as you want it to show on your invoice.
Then add your credit card information.
You can then Submit (3) the information!