The organization user list is a comprehensive list of all the users in your organization, their roles, and other details that are crucial for managing the users and access to the Innovation OS.
Note: To access the user management on organization level, you must have the Organization Admin user role. The organization level user management is different from the workspace user management. Check out this article to learn more about the user management on workspace level.
To navigate to the user list, click on the cog icon next to the organization name in the workspace picker (1), or in the organization overview. Navigate to the Users & Invitations (2) menu item. Here you will see the Users table.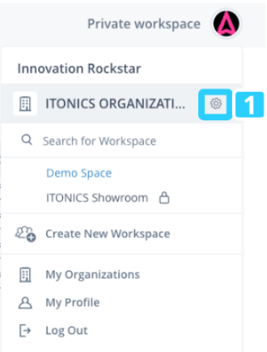 The user list has different columns that provide relevant information.
The columns are:
First Name: First name of the user.
Last Name: Last name of the user.
Email Address: Email address of the user.
Date Joined: Date when the user created the user account.
Roles: The user role the user has on organization level. Check out this article to learn more about user roles.
You can perform Actions on the user list through the options displayed. Check out this article to learn more about the different actions you can perform on users.

Searching the user list
You can search for users by their first name, last name, or email address by using the search bar on top of the user list. To search for a user, type in your search term in the search bar. This will filter down the list and show all results matching the search.

Browsing the user list
The user list is paginated. This means that you can browse through the list page-wise. At the bottom of the list you will find a pagination bar with the following options:
Page numbers
Previous Page
Next Page
First Page
Last Page

Sorting the user list
By default, the user list is sorted according to the date each user joined the organization. However, you can sort the list by first name, last name, email address, or status. To sort the list, click on the respective column heading.