You can save your search field via saving-options-dropdown.
After having worked hard to define your search field using the casual search, power search and context inputs, it is time to save your search field by clicking on "Save As" in the saving-options-dropdown.
Add a meaningful title and description to your search field, and most importantly, add Explorer elements that you want to attach the search field to. This will allow you and your colleagues to choose those saved search fields in the Signals Feed. If you have used elements in the casual search, these will be preselected.
⚠️ Note that search fields you save will be visible to any user in the current Workspace!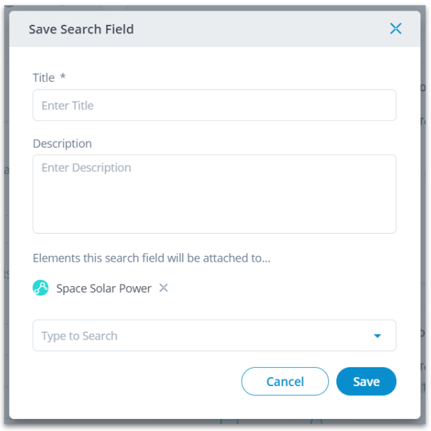 Updating a Saved Search Field
When changing the definition of a saved search field, you will see an asterisk (*) appearing behind its name. This means that there are unsaved changes. You can now choose to overwrite those changes by hitting "Save" in the saving-options-dropdown or you can create a new saved search field by hitting "Save As".

If you want to change the information about a saved search field or want to delete it, open the saved search field picker, hover the item and click on the pen- or bin-icons.