To navigate quickly to the most relevant parts of your Innovation OS, you will find the most important menu items on the left side of your screen.
After you successfully log in to the ITONICS platform, you will land on the home page. On the left side of the screen, you will see the main navigation menu. The main navigation menu consists of six sections:
1. Workspace Picker
Your Innovation OS is designed to engage multiple teams and stakeholders with different interests on one single source of truth. Workspaces thus allow you to provide each of these groups with different (content) interests with their own home.
When you are allowed to access different workspaces, they will be listed here. Simply click on the name of the current workspace and click on the name of another workspace to enter it.
You can learn more about the creation and administration of workspaces in this article.
2. Home
Home represents the landing page of your Innovation OS. It comes along with different shortcut access points, tips, and a view of the last activities within your workspace.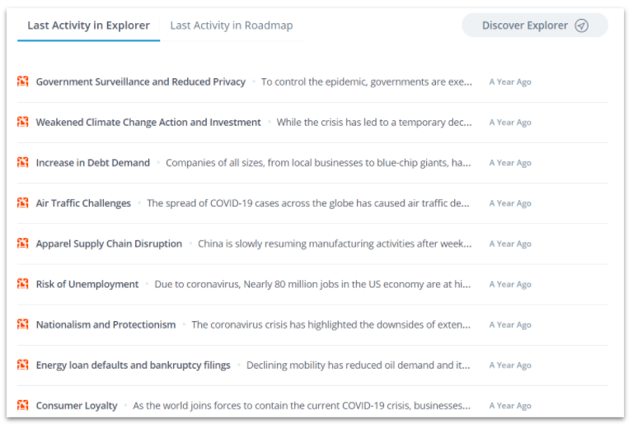 3. Create
When you want to intake content, the create button is the easiest option to enter single content intakes. When you click on Create, you are asked to categorize the content that you want to intake. The available element types have been configured by your Administrator.
You are asked to enter a title and a summary. By clicking the check box, the first content element will be created, and the model will open again so that you can enter more content.
Further, you can define the publication status. If you want to save it as a draft, click the respective button. If you want to publish it directly and make it available to the other users, simply click Publish.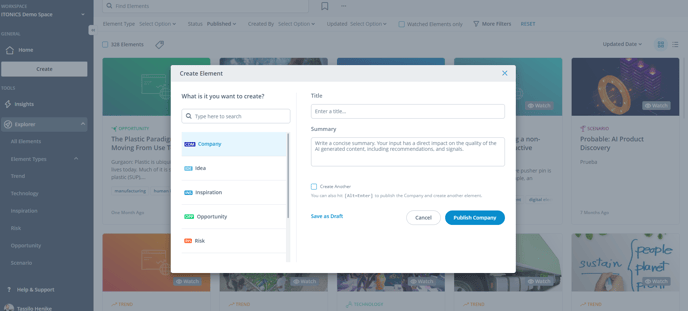 To learn more about all the options of how to intake single and bulk content elements, read on in this article.
4. The ITONICS Tools
The real work gets done inside the different ITONICS Tools.
Please note that the display of these tools depends on your subscription plan.
To learn more, simply contact us at account_manager@itonics.de
5. Help and Support
This navigation item allows you to contact the ITONICS support team.
Read more on what you can do here.
6. User Profile and Settings
You can view and manage your profile, including your account information, workspace, and organization details from here.
Read more on what you can do here.