Every Element in the Explorer contains the Signals Feed.
The feed accesses data from our continuously growing data lake which is compiled by our Signals engine. This comprises millions of documents, including news, patents and RSS feeds.
The feed is generated using the textual information (title, summary, description) of the Element itself.

Flag an important Signal
Click the flag icon on a Signal to find it again at a later point in time. Note that flagged items will be available for all users in the Workspace.
To filter for flags, choose the "Show Flagged" radio button.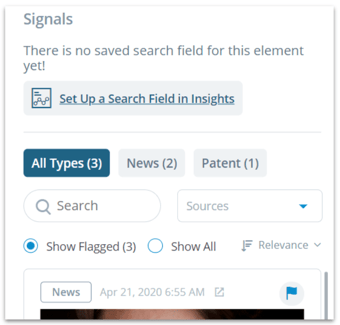 Evaluate a Signal
You have the possibility to evaluate the Signals in the feed:
Bad Signal:

Let us know if you believe that a Signal is of bad quality overall. E.g. from an untrustworthy source or badly scraped.
Search and Filter
The feed has an integrated search function. Same as with the search in the Explorer overview, you can enter either a simple search string using the smart or a more complex query string that will be matched exactly.
You can also filter results using the "Sources" dropdown or the evaluation-related filters.
Sorting
Sort the feed by the Signals' relevance with regard to the textual information of the Element or by their publication dates.