The Insights interface consists of four main components: Search, List of Signals, Filters tab, and Visualize tab.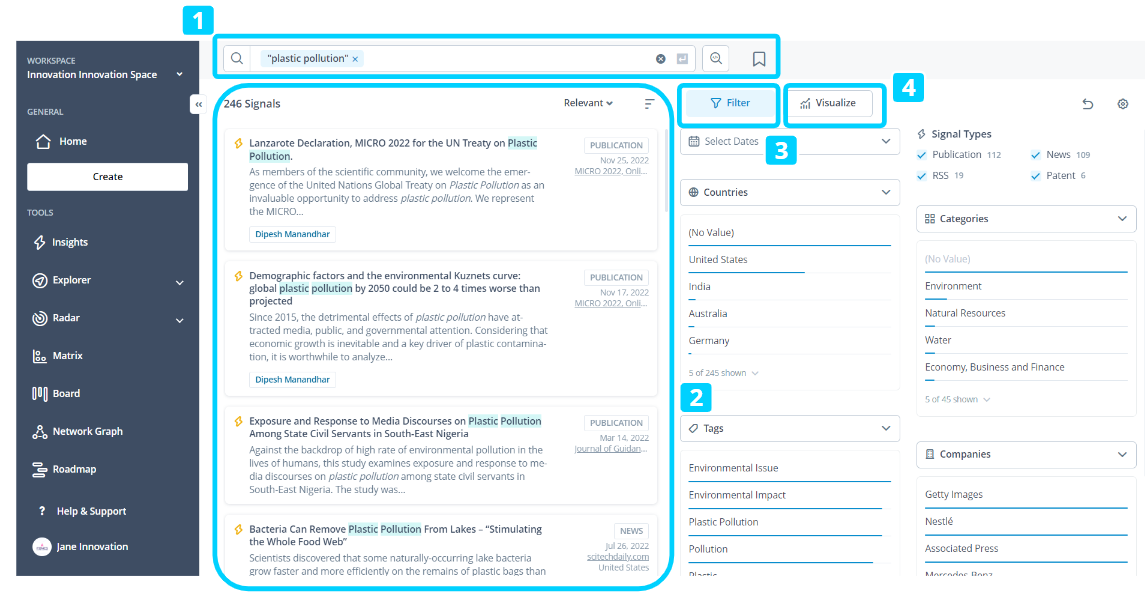 The search header includes the Casual Search, Power Search, and the Insights Presets picker: Here you can define your search field and save it once you are happy with it. (1)
The list of Signals will show the results belonging to the search field you have defined. Use it to identify interesting signals for a topic. You can also use the top-results to gauge whether the search field you defined actually captures the topic you are interested in. It can also indicate whether your search definition returns good results. (2)
The Filter tab allows you to further narrow down your search field. Whatever you filter by here, will also be included when saving a preset. Use the bar charts for a view of areas where your search field is most visible. (3)
The Visualize tab enables you to explore, and also interactively filter down your content using our different visualizations. (4)
The interface reflects how we envision the search and discovery process to be done with Insights in the following ways:
Define a broad search field using the Casual Search, and in more detail using the Power Search functionality.
Filter down the results further using the Filter tab to help you narrow down your search.
Visualize and refine the search interactively using the Visualize tab.
Simultaneously, you can use the Signals list to monitor the quality of results and discover the most relevant Signals.