The list of Signals is the centerpiece of the Insights interface. Here, you will find specific news, patents, and publications that match your search field.
The list of Signals is essentially the same as the Signals Feed in the Explorer module. It shows the single Signals that are contained within the search field.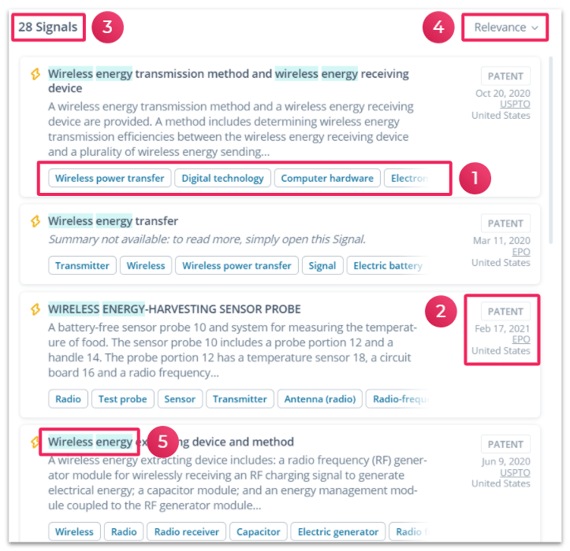 Each Signal in the list shows its date of publication, title, summary, and some topic-tags our enrichment process has added to it (see 1 above).
Note that clicking on one of the tags will add it to your filter which allows you to easily find similar Signals.
Depending on the type of Signal, additional information is displayed (see 2 above). The Signals in the list will usually link out to the original source, where you can view the complete item.
Blocking Bad Signals
You are able to block bad-quality Signals from the list of Signals.
If you block a Signal, it will be shown neither in the list of Signals in Insights nor in Elements' feeds at all, anymore. You can always view blocked Signals that would have matched your search using the filters, see below.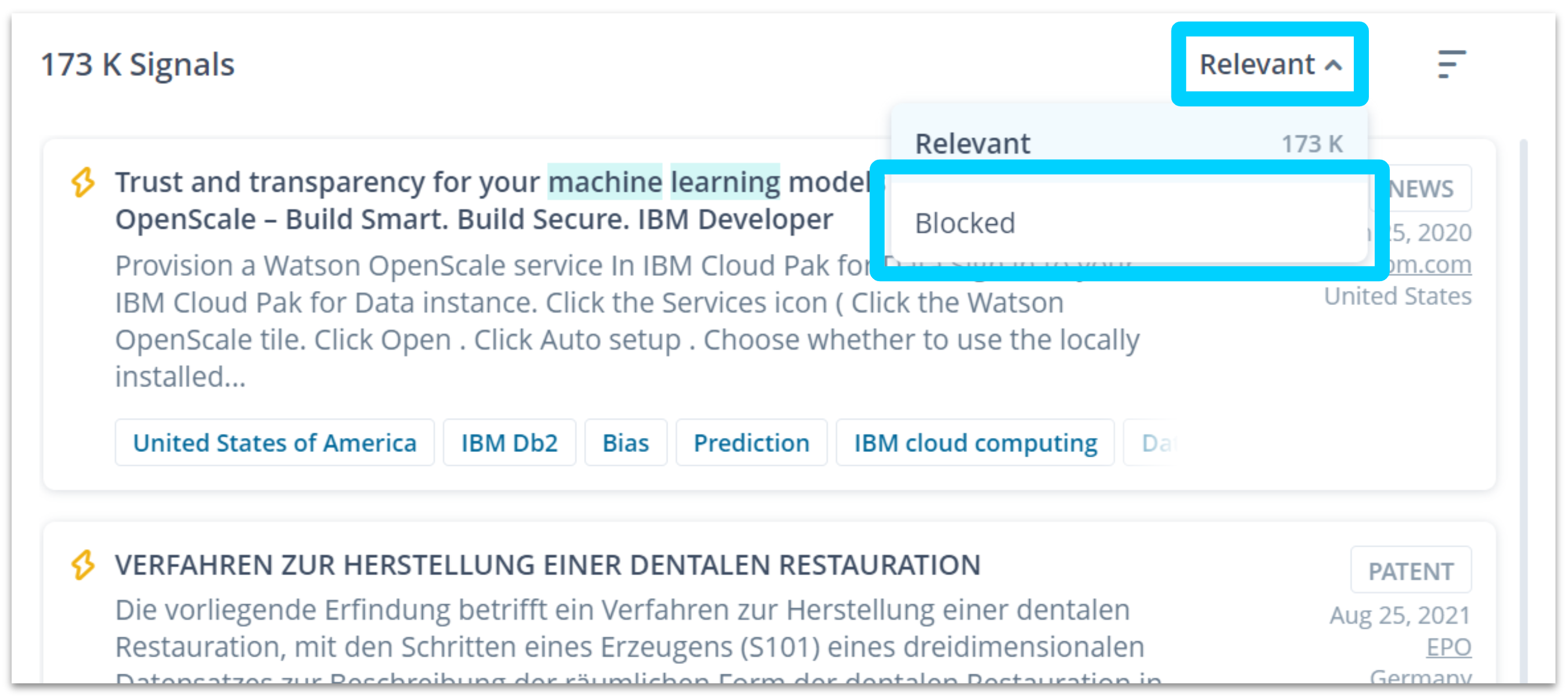 Pinning Signals
You can pin Signals to the currently chosen context, marking them as important, and allowing you and your colleagues to quickly find them by using the filter at the top of the list.

Note that you can only pin Signals if a context is active. This can either be an Element when you are refining it or doing a deep-dive, or an Insights Preset you have selected.
Total Count of Signals
At the top of the list (see 3 above), you can see the total number of Signals that match your search field. This can be used to get a rough indication of whether you have filtered the content down too much, or not enough.
Sorting
Similar to the Signals Feed in Explorer, you can sort the list of Signals either by date of publication, or relevance with regard to your search field (see 4 above).
Highlighting
If you use simple search terms in the Casual Search or search the title or summary of Signals using the Power Search, the system will display only the signals that match your search terms and will highlight the matched search terms for you.