Explorer
Fixes
An issue was fixed that led to a user being unable to upload a valid image after trying to upload an image that exceeds the size limit of 20 MB.
ITONICS Embed
Improved
The ITONICS Embed feature has been improved:
Want to communicate your innovation strategy, initiatives, and innovation roadmap via a public website or on your intranet? You can now do so using the Roadmap iframe-Embed, allowing you to embed your ITONICS Roadmap into any website.
Fixes
An issue was fixed that led to labels on the Radar iframe-Embed mistakenly being hidden.
Public workspaces
With public workspaces collaborating with team members, or external partners is easier than ever. Say goodbye to the hassle of adding users to a workspace manually, ensure access for new colleagues quickly, and seamlessly collaborate with anyone, anytime, anywhere.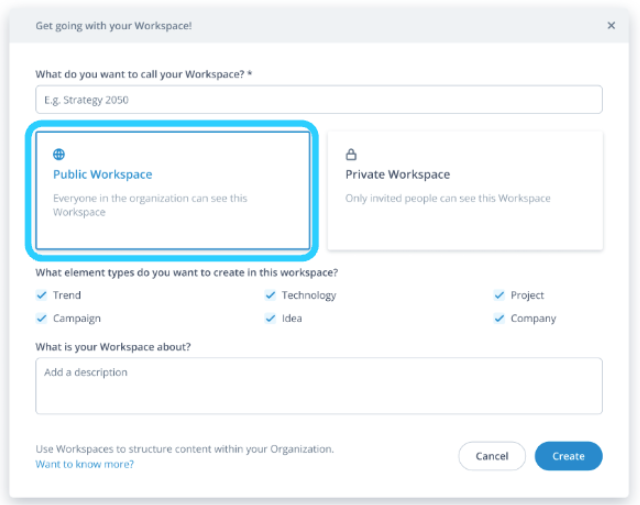 Recommended Relations
With the new recommended relations feature, you are able to quickly identify and relate content to your elements. This way, you can easily enrich and validate your innovation portfolio through the addition of relevant information recommended automatically by the ITONICS system. When creating new elements, or reassessing your existing innovation portfolio, use the recommended relations to create an end-to-end innovation value chain to not only qualify but also de-risk your decisions.