A public workspace is a collaborative 'room' that allows users to easily work with colleagues or external partners.
It is a workspace where anyone from your organization can access and contribute to the content, making it a more accessible and inclusive environment for innovation and collaboration.
Create a public workspace
Check out this article on how to create a workspace. When creating a workspace, you can click on the Public Workspace box, to set up the new workspace as public.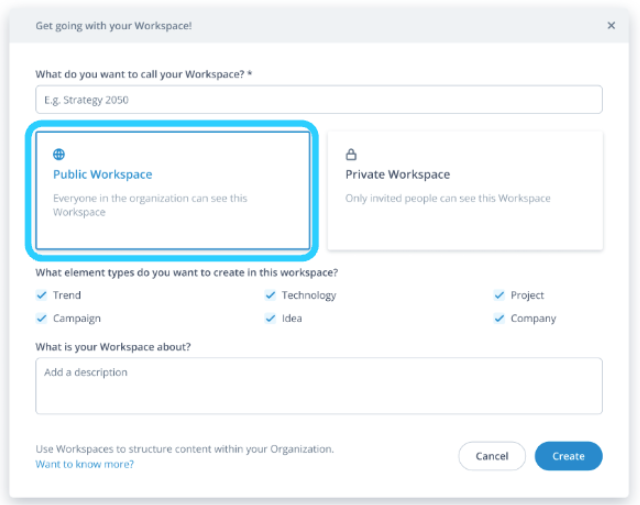 If you create a new workspace, it is a Public workspace by default. This is also indicated in the Visibility (1) column in the Workspaces settings menu (2).

User management in public workspaces
In public workspaces, we differentiate between implicit and explicit users.
Implicit users
In a public workspace, all users of the organization are automatically assigned to the default role of the system, for example, Viewer.
Explicit users
In a public workspace, you can assign roles to users that are different from the default role of the system. The default role is Viewer. Newly invited users to your organization have automatic access to all public workspaces and will have the default role assigned to them.

In the User menu, not all users (Implicit users) from your ITONICS organization are listed. Only the users with a specific role (Explicit users) are listed here. This is indicated by a Public label saying Everyone at [Organization Name] can access this workspace as [default role].

Assign a user role other than the default role
Note: this feature will not be automatically available to all subscribers and may be part of a separate ITONICS subscription plan.
There are cases where the default role in a public workspace might not fit all users. For example, if the default role is Viewer, you may want specific users to be assigned as Moderator, Scout, or even Workspace Admin.
To change the role of a user, follow these steps:
Open the Workspace settings via the Workspace picker (1).
Open the tab User (2).
Click the button on the lower right and click ADD USER to open a modal (3).
Use the dropdown menus to select one or multiple users and the role the selected users should get in the workspace.
Confirm with Add Users

(5)

.