Note: This feature will not be automatically available to all subscribers and may be part of a separate ITONICS subscription plan. If you would like to test Kanban Boards, please contact us via account_manager@itonics.de.
Drag and drop elements
By using the drag and drop functionality, you can easily change values of multiple elements in one view.
Just click and hold your mouse on an element card and move it to the desired column. Once there, release the mouse click.
If it is a valid move, the Board cell appears with a blue background. If the move is invalid, the Board cell color is shown in red.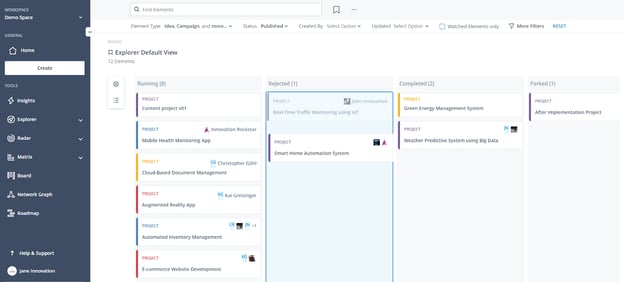 Note: Element Types can not be changed via drag and drop. Also, Elements can not be moved across Swim lanes, only across Columns.
Click on Element Cards
You can click on each element card to open the respective element in the element stack. This preview allows you to directly look at all information, ratings, relations, etc. of each element quickly. In addition, this allows you to make changes to the elements.