There is always a default view when opening the Kanban Board.
Note: This feature will not be automatically available to all subscribers and may be part of a separate ITONICS subscription plan. If you would like to test Kanban Boards, please contact us via account_manager@itonics.de.
Once you open the Board, a default preset view called Explorer Default View (1) is visible. This preset will populate the Board with the following configuration:
Element Type: All Element Types are shown. (2)
Columns: Element Status. (3)
Note: By default, the Status is always set to Published within the quick filter section. If you want to display Draft and Archived elements as well, adjust the filter setting.
Swimlanes: The Board is grouped by Element Type. (4)
Card Color: Element colors are based on Element Type. (5)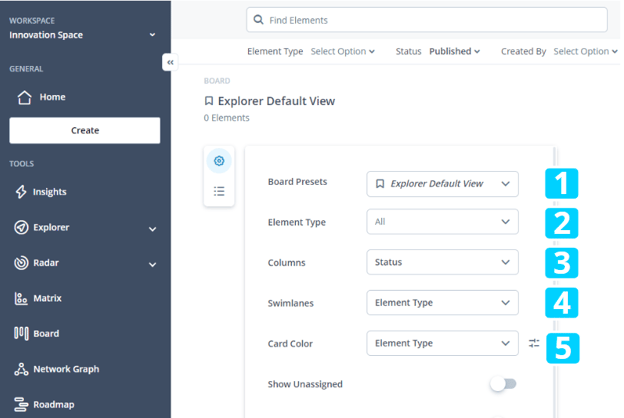 The default view is available to help you get started quickly. You can, however, change the setup of the Board. Modify the setup to suit your specific use case and get the insights you need.