In Explorer, you can comment on an Element by selecting the Element you want to comment on.
You can select and then comment on an Element from any of the Explorer views. Commenting is limited to Workspace level. You can comment on an Element within a Workspace.
Navigate to the Explorer and click on an Element to add it to the Stack or navigate to its Detail page.

Scroll down to the last section i.e., Comments.

Write your comment in the Comments section and click on Save.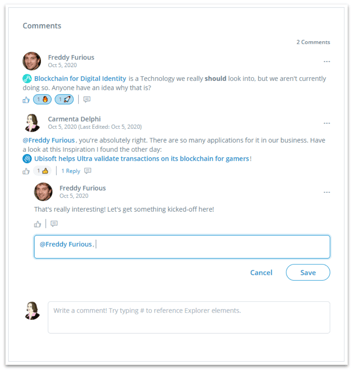 You can choose between different options
Reacting to Comments:
You can also respond to comments by using the thumbs up icon below the comment.

Mention an Element:
Hashtags can be used to mention an Element in comments provided that the Element belongs to the same workspace.

Mention a user:
Mentions can be used to tag and notify a user in the comments. Simply type in @ and start typing the name of user you want to mention.

Replying to comments:
Click on the "reply" icon under a comment, to reply on other users comment.

Formatting options:
You can also change the look and feel of a comment by using ctrl+b or cmd+b for bold text and ctrl+i or cmd+i for italic text.

Commenting permissions:
User with "Administrator" role have the permission to edit or delete comments made by other users.

All the user roles except "Consumer" can comment on an Element. "Consumer" can only read the comments.