Recommended Relations enable you to quickly identify and link related content to your elements. This enriches and validates your innovation portfolio by easily adding valuable information recommended automatically by the system.
When creating new elements, or reassessing your existing innovation portfolio, use the recommended relations to create an end-to-end innovation value chain to not only qualify but also de-risk your decisions.
How to activate recommended relations?
The feature is activated by default for the element types Trend, Technology, Opportunity, and Scenario. For other element types, it needs to be activated via the organization element configuration. It can also be activated per workspace in the workspace element configuration.
Go to the organization element configuration or the workspace element configuration
Choose the respective element type (1)
Check the box for Recommended Relations (2)
Save your configuration

How to use recommended relations?
After you created a new element within your workspace, or if you want to enrich an existing element, navigate to the detail page of the respective element (note that you can also access the element via the Stack view). On the element detail page, a Recommended Relations widget (1) is displayed on the right side of the page.
In the widget, all elements that show similarities to the respective element will be displayed. You can then look through the recommendations by clicking on the arrow icons (2) or slider at the bottom (3). However, the widget will also automatically slide through and show the content recommendations in a rotation.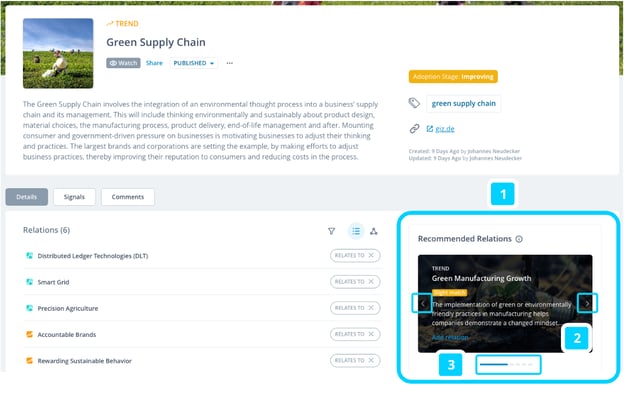 The recommended relations widget displays the element type, title, and an excerpt of the summary of the element. By clicking on the title you can open the respective element in the stack and assess whether a recommendation is relevant.
Click on the Add relation button to add the recommended element as a new relation to the current element (4). You will then receive a pop-up message confirming that the relation has successfully been added.
All recommended relations will per default be added with relation type relates to. Successfully adding a recommended relation to your element will remove the element from the recommended relations widget.
How does the recommender engine work?
Recommended relations are based on a recommender engine that utilizes all content within your workspace to create recommendations.
The recommender engine uses machine learning techniques to compute a similarity score between your specific element and all other elements within the respective workspace. In the end, based on the calculated scores, the recommender engine returns the top elements that have the highest similarity to your specific element.
Note: As the recommended relations are formed based on the textual data of the summary, ITONICS recommends having descriptive element summaries that utilize the main keywords describing the element to increase the likelihood of good recommended relations.