Mit neuen Konzepten die Mobilität von Morgen gestalten:
Joscha Märkle-Huß & Sebastian Grimm ZF Group
Mit neuen Konzepten die Mobilität von Morgen gestalten
"In einer perfekten Zukunft ist Mobilität kein Zeitfresser mehr."
In dieser Folge tauschen wir uns wieder mal mit zwei Gästen aus: Dr. Joscha Märkle-Huß und Sebastian Grimm von der ZF Group. In ihren Rollen als Head of Global Scouting und Head of Innovation Lab sind die beiden ständig auf der Suche nach neuen Konzepten und Ansätzen für die Mobilität von morgen.
Sebastian erklärt uns, welchen Stellenwert dabei das firmeneigenen Netzwerk hat und wie man diese Fundgrube an Ideen und Expertenwissen maximal ausschöpft. Sein Geheimrezept: "Motivation durch Freiraum & Verantwortung". Außerdem erfahren wir, welche Trends und Technologien die Mobilitätsbranche derzeit bewegen und werfen gleichzeitig einen Blick weit in die Zukunft, in der Joscha uns seine perfekte Vision der Mobilität von Morgen näher erläutert. Neugierig geworden? Dann hör doch mal rein!
---
Podcast Host & Gäste
Dr. Christian Mühlroth ist Host des Innovation Rockstars Podcasts und CEO von ITONICS. Joscha Märkle-Huß ist Head of Global Scouting und Sebastian Grimm ist Head of Innovation Lab bei der ZF Group.
Der Innovation Rockstars Podcast ist eine Produktion von ITONICS, einem der führenden SaaS-Anbieter für systematisches Innovationsmanagement. Hast auch Du eine inspirierende Geschichte aus der Welt der Innovation, Foresight, Strategie oder Wachstum zu erzählen? Dann schreibe uns eine Nachricht!
---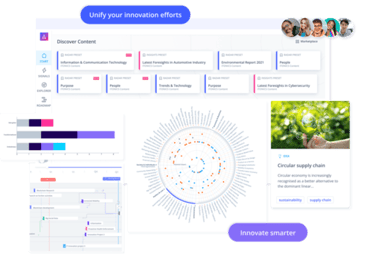 Das ITONICS Innovation OS in Aktion erleben
---