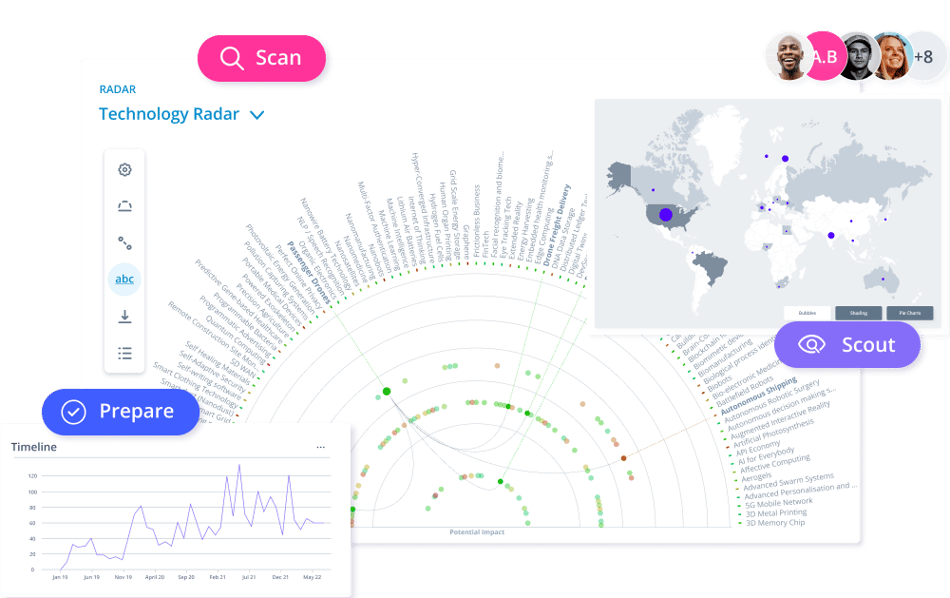 ITONICS FORESIGHT
Strategic foresight software for smart actions
Scout, monitor, understand, and evaluate trends, emerging technologies, risks, startups and more on one collaborative platform. Automate environmental scanning and discover growth opportunities faster.
Trusted by global innovation leaders
Foresight made easy
Centralize all foresight, horizon scanning, trend and technology related activities in a unified online platform. Elevate your team's performance with proven frameworks, configuration options and automated monitoring.
Seamless collaboration
Harness collective intelligence on one digital strategy and innovation platform. Accelerate decision-making with transparent real-time communication.
Scale confidently
Efficiently streamline efforts to manage complexity and reduce noise. Organize activities to uncover and seize business growth opportunities swiftly, in all three horizons.
The go-to-place for all foresight activities
Detect signals of change faster
Cut through the noise with intelligent always-on signals scanning and monitoring. Speed up time to insight using advanced search and filtering capabilities and automated tagging.
Use templates and workflows to reduce complexity and efficiently organize information.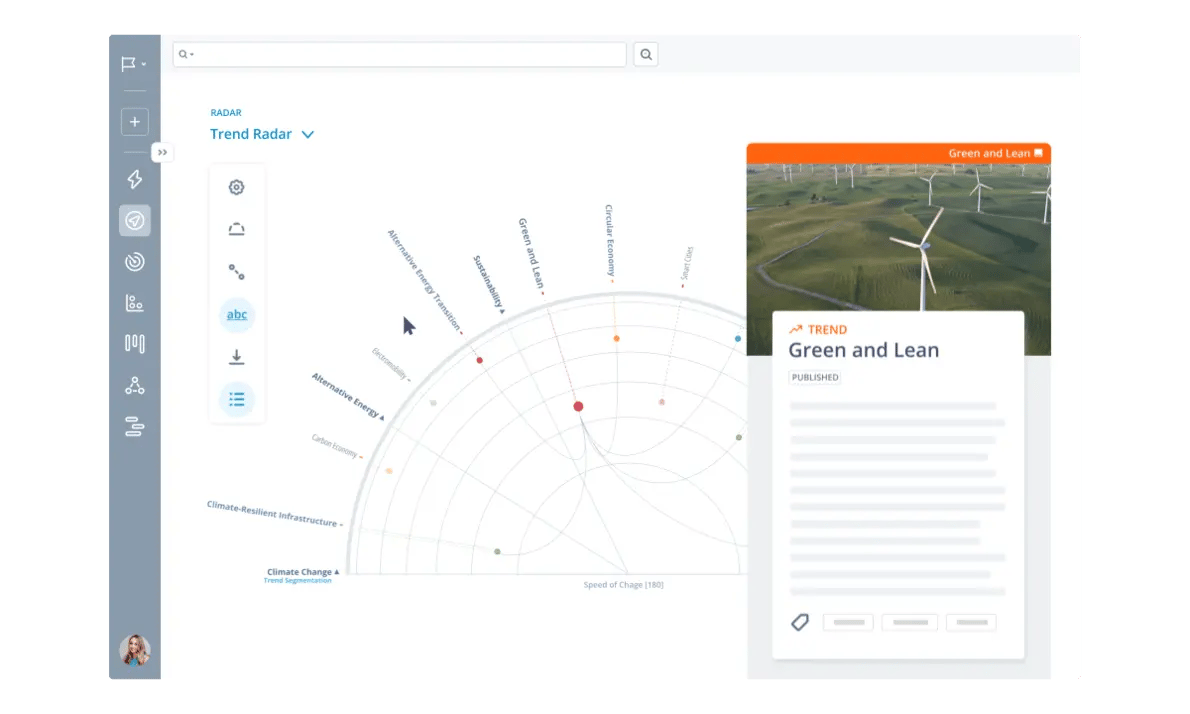 Strengthen data-backed decision-making
Leverage collective intelligence with ratings and collaboration features. Speed up opportunity identification with automated recommendations.
Map, connect, and contextualize information with visualizations to turn data into insights fast. Share insights and get everyone on the same page.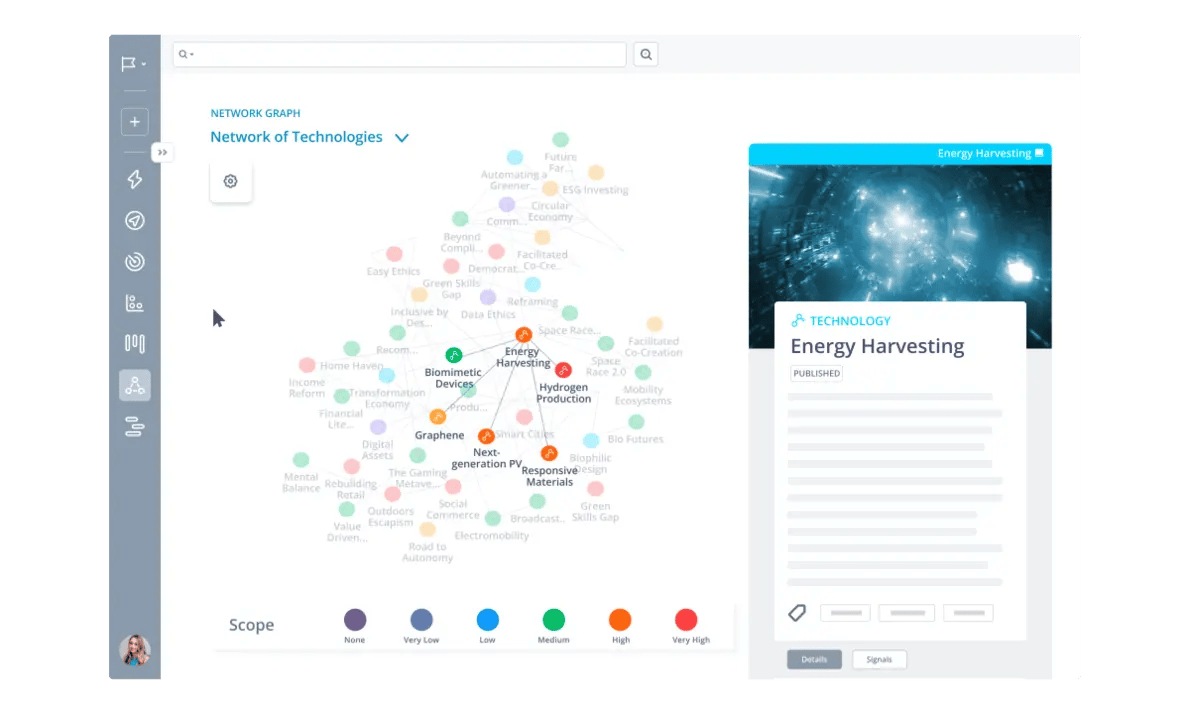 Pinpoint opportunities with improved precision
Gain a clear future vision and boost projection accuracy by centralizing information on a single platform. Unleash the full potential of foresight and streamline your processes effortlessly.
Harness the end-to-end innovation ecosystem to link foresight activities to strategic goals and maximize ROI.
€ 50,000
Average savings by eliminating duplicate tasks
€ 30,000
Average savings by replacing decentralized software
€ 30,000
Average savings with standardized systems
€ 40,000
Average savings by improving collaboration
Why the best innovators work with ITONICS Foresight
See how our foresight solution can transform your business
Start exploring the ITONICS Foresight tool below
The only Innovation OS to scale your innovation pipeline from scouting to execution
Read more on our unique, proven methodology covering the Where to Play, How to Win, and What to Execute within innovation.
Foresight software that scales with you
Customize your foresight journey with our flexible pricing tiers. Choose the plan that aligns with your goals and maximize your ROI.
Got more questions? We've got answers.
Why use foresight software?

Stay ahead in the ever-evolving business landscape through proactive trend anticipation, emerging opportunity identification, and effective risk management. Elevate and automate your foresight endeavors with cutting-edge software, which streamlines environmental scanning and opportunity discovery by centralizing data and leveraging intuitive visualization tools and machine learning for deep insights. Foster seamless cross-collaboration and expedite decision-making.

Use AI-enabled capabilities in the ITONICS Foresight software to process vast amounts of information quickly and accurately and make more informed strategic decisions.
Who is ITONICS Foresight for?

Foresight software for forward-thinking organizations, strategic planners, innovation teams, and decision-makers across all industries. It's ideal for those seeking to enhance their current foresight activities and accelerate reliable opportunity discovery. For business executives, analysts, or innovation teams that face resource constraints and want to empower their organization to navigate uncertainty, seize strategic advantages, and shape a more resilient future for your organization.
What benefits does foresight software bring to my business' performance?

Foresight software provides valuable insights into potential opportunities, enabling you to make better informed decisions and strategic plans. By analyzing data and patterns, it helps you anticipate market shifts and customer preferences faster. ITONICS Foresight streamlines your environmental scanning, opportunity identification, and risk assessment processes, enhancing your ability to adapt to changing conditions and capitalize on emerging trends.
Why should I choose ITONICS Foresight software?

ITONICS Foresight offers highly configurable software as a service that elevates the performance of teams of any size.

Accelerate work with ready-made templates, while an array of visualization and filtering tools, along with AI-powered capabilities, amplify human potential, enabling your teams to achieve more with greater efficiency. Streamlined processes and improved decision-making are achieved through advanced collaboration features.

Seamlessly integrating with ITONICS Ideation and ITONICS Portfolio, ITONICS Foresight establishes a systematic end-to-end innovation ecosystem, providing dependable and replicable processes that drive your growth.
How long does ITONICS Foresight software take to set up?

Use ITONICS best practice templates to kickstart your foresight activities. Our experienced customer success teams are ready to support you in setting up your system. Find the right answers to your questions with our comprehensive self-service Knowledge Base and Academy.
Will I need to adapt my current process to utilize ITONICS Foresight software?

No. You can configure ITONICS to suit your individual processes and setup. Our best practice templates and workflows support a speedy setup of a professional foresight process.