CUSTOMER SUCCESS STORY
Cisco Technology Radar
How Cisco is fostering innovation with technology foresight
technology scouts worldwide
observed trends and technologies
"Cisco operates in a world of increasing market volatility and globalization. With the Technology Radar we found a solution to effectively and efficiently manage novel technologies to maintain and enhance our competitive position."

– Sylvain Baron, Corporate Strategic Innovation, Cisco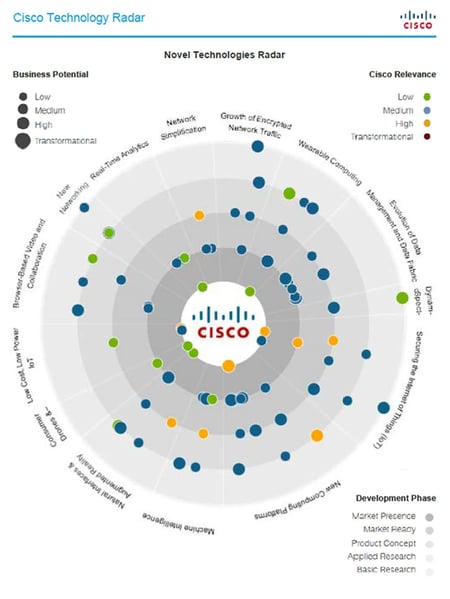 THE CHALLENGE
Speed up technology foresight to stay at the forefront of innovation
Innovation is an integral part of the Cisco DNA. With 25,000 engineers, more than 19,000 patents, and leadership positions in 18 different IT categories, Cisco already enjoys a rich history of high-tech innovation. Cisco has successfully managed to stay one step ahead of the competition.
This success is largely owed to Cisco's unique method of structuring, classifying, evaluating, and visualizing novel technologies. In particular, this approach aims at an early identification of new technologies and trends, enabling transparent and strategic decision-making, and promoting innovation.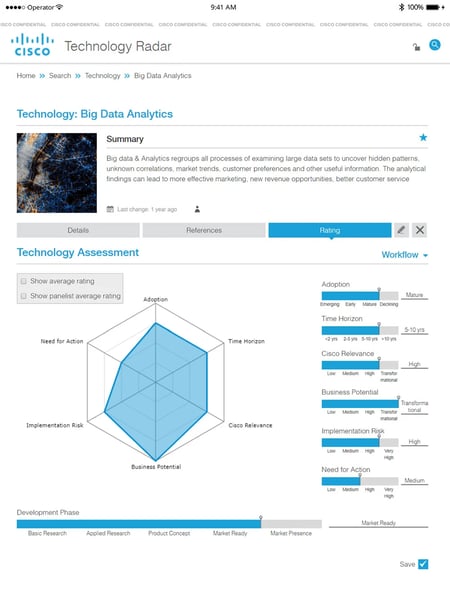 Innovation at Cisco
Supported by ITONICS Radar, Cisco was able to speed up its existing technology foresight process with the implementation of the unique Cisco Technology Radar platform.
Cisco's unique method of collecting, structuring, evaluating, and visualizing information on novel technologies in place
Time-consuming process to connect all the information and link them to different business units
Missing integration of Cisco's worldwide technology scouting team into a seamless technology foresight process
Fully digital process
Cisco was looking for a tool to digitize and optimize the already existing methodology.
Accelerate foresight
Moreover, they wanted to accelerate the existing technology foresight process.
Opportunity identification
One central ambition was also to identify technology-related threats and opportunities earlier than the competition.
THE SOLUTION
Cisco's global "go-to space" for technology management
Cisco Technology Radar based on the ITONICS Innovation OS supports all technology management phases and activities from technology identification to the selection, assessment, and dissemination.

Technology scouts can easily share their insights which allows for radical scalability of a worldwide scouting community.
All information is published in a quarterly report. The report is a fundamental part of Cisco's technology intelligence.
Missing integration of Cisco's worldwide technology scouting team into a seamless technology foresight process
Within a few weeks, a collaboration platform was created that was fully tailored to Cisco's workflows and needs.
Cisco Technology Radar functions as the single point of truth for technology management.
More than 150 technology scouts worldwide tracked over 200 technologies, 20 trends, and 300 companies.
DOWNLOAD SUCCESS STORY
About Cisco
Cisco is a global market leader in the IT and technology sector. Founded in San Francisco in 1984, this company today has a global headcount of more than 74,000 employees working at more than 380 locations. Cisco constantly seeks to transform how people connect, communicate and collaborate.

Learn more about how innovative companies implemented a world-class innovation ecosystem. Get a free demo!

1 ​ Dynamic Pages