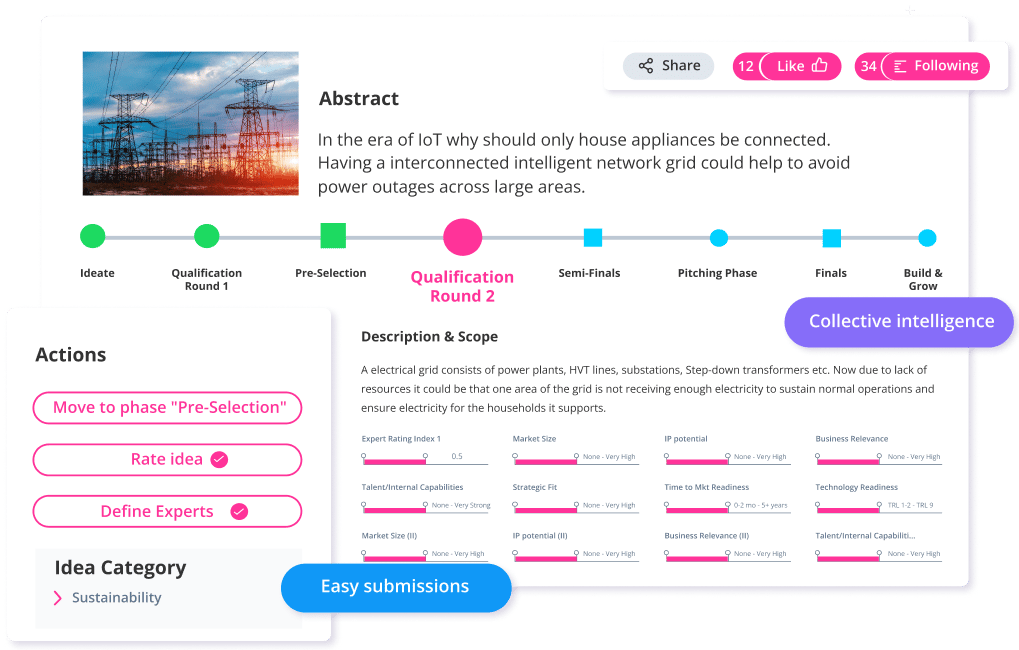 Trusted by global innovation leaders
Generate ideas for collective problem-solving
Propel competitive advantage by tapping into the collective intelligence of a wide range of people. Gather ideas about specific challenges or opportunities, proposals from startups and inventors, and input directly from customers.
Leverage an extensive pool of ideas
Configure to your branding and use case
Discover collaboration opportunities with startups
Integrate and manage submissions on one platform
Crunchbase + Tracxn integrations to create and enrich content
Incorporate submissions directly into other ideation activities
How others are using ITONICS Open Innovation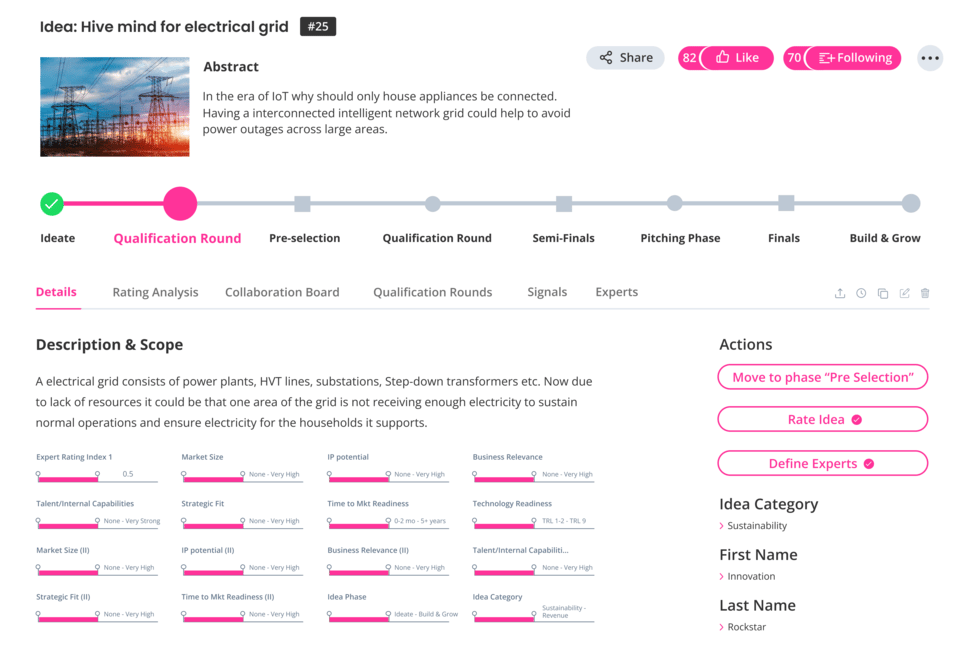 Drive ideas to implementation
Bosch is using ITONICS as an open innovation platform, which allows them to easily access and coordinate idea submissions for defined search fields and co-create with startups, universities, and other experts. It serves as a gateway for Bosch to receive perspectives from the outside. The ongoing initiative has yielded 1000+ submissions.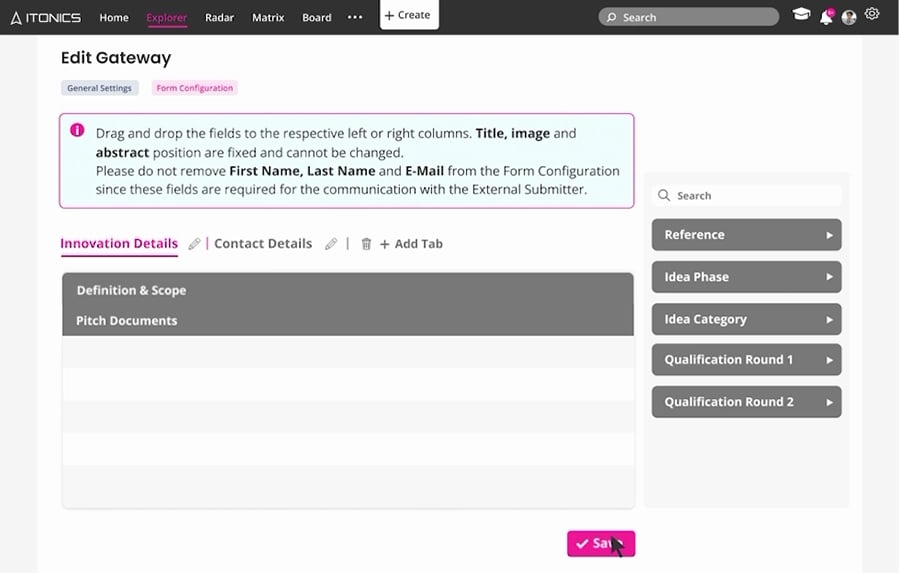 Respond to current global challenges
A leading global manufacturing company uses ITONICS Open Innovation to initiate an internal ideation campaign focused on sourcing energy-saving tips. The submissions are collected and after evaluation, selected and shared throughout the organization in a company-wide newsletter.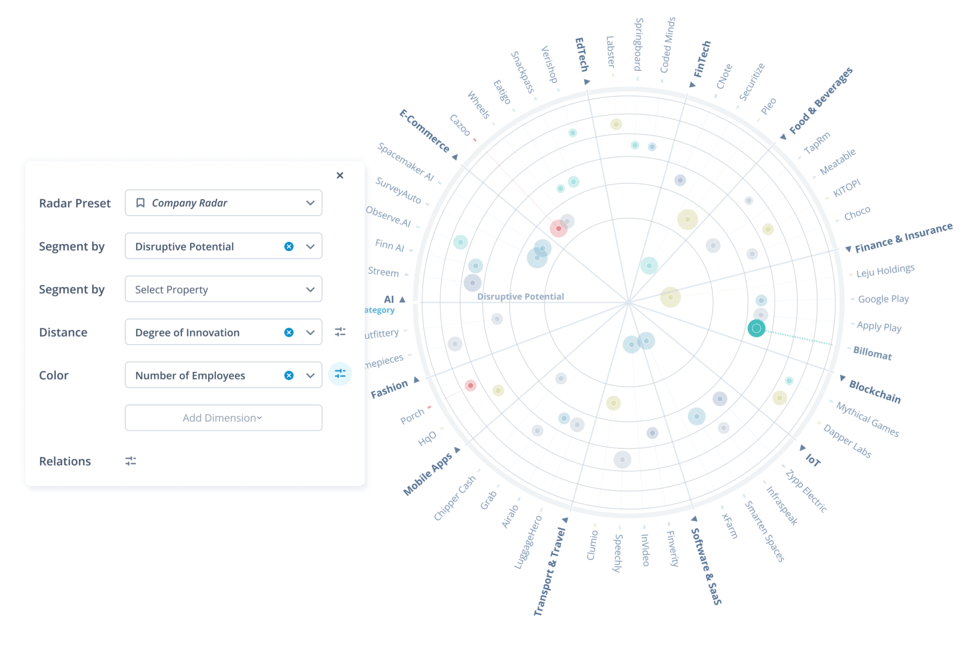 Collect innovative ideas and solutions from startups
Organizations around the globe are using ITONICS Open Innovation to collect innovative ideas and solutions from startups. Startups can input proposals themselves, reducing the effort required from your side, and ensuring more accurate and directed input. For startup scouting, an open innovation platform can be used as a channel to contribute ideas for innovative solutions.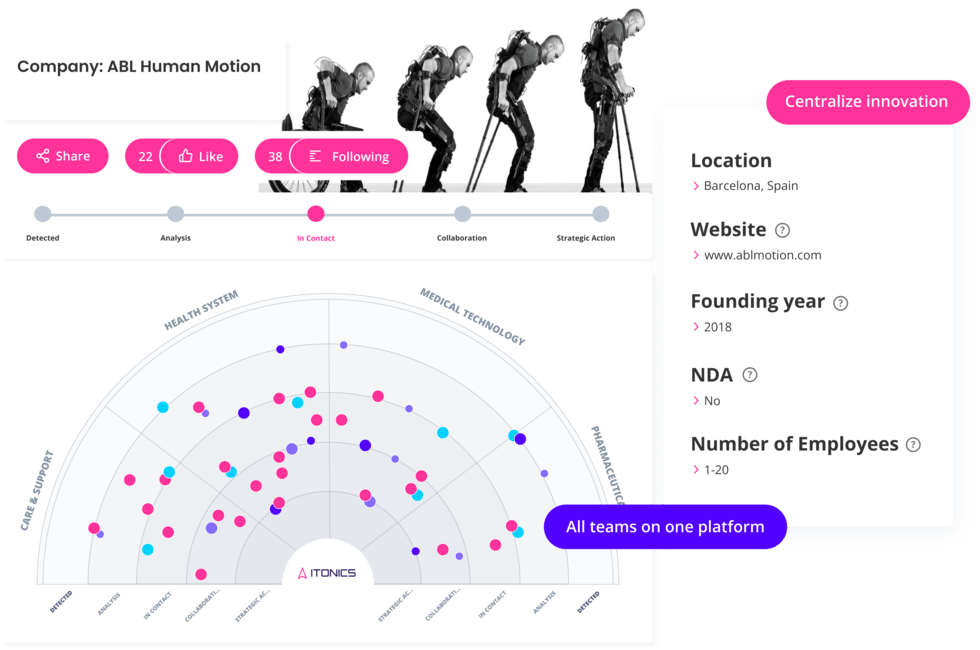 Create effective channels for startups to contribute to competitive solutions
Enable easy submissions from startups. Scout for potential partners to help you stay ahead of the curve. Define open innovation focus fields on your open innovation platform so startups can concentrate their proposals and create targeted innovative solutions that meet your needs.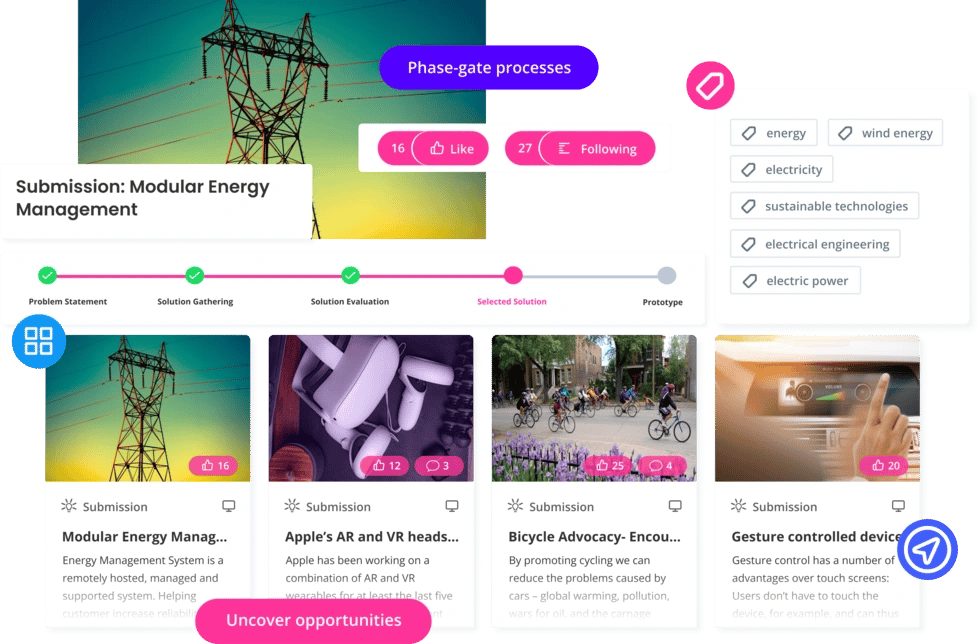 Cultivate a culture of innovation within the organization
Adapt and quickly respond to new challenges. Establish open innovation practices that are well-developed, integrated, and easy to coordinate and maintain. Cultivate a culture of innovation within the organization and drive end-to-end innovation.
About our software tool for open innovation, ideation and startup partnerships.
Download Product Fact Sheet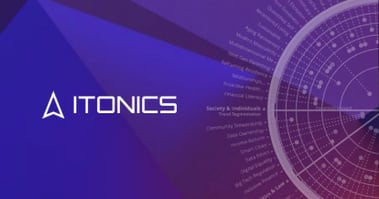 How to gain transparency, shape innovation and steer growth with the #1 Innovation OS.
Download Report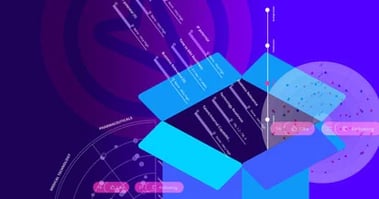 All you need to know about open innovation and how to approach it successfully.
Read More
Got more questions? We've got answers.
What is open innovation?

Open innovation is a collaborative approach to problem-solving that taps into the collective intelligence of a wide range of individuals. Submissions can include ideas about specific challenges or opportunities, proposals from startups and inventors, and input directly from customers.
Why is open innovaton important?

Open innovation is beneficial when a company is facing a challenge that it cannot solve internally or when it's missing resources and specific know-how. It is also valuable when the company wants to access new customer segments or gain revenue by using its market power to push start-ups. By gathering fresh ideas, ITONICS Open Innovation gives your business a competitive edge.
How do I ensure we receive relevant proposals?

Raise awareness about your open innovation campaign in the right channels and make it transparent how successful submitters will get rewarded.

The external gateway is a form embedded on your webpage to receive information from contributors outside your ITONICS ecosystem. Customize the external gateway form so that it makes your business opportunities and expectations clear. Use the form to deter fuzzy proposals without any data. Set required fields and define the challenge so that universities, startups, or larger enterprises will submit targeted solutions.
How do contributors protect their intellectual property in open innovation?

To avoid any legal concerns, the organization running the open innovation program should clarify the handling of intellectual property in an agreement placed on the submission form. With ITONICS Open Innovation, this agreement can be set as mandatory for submitters to check.
What do I need to do to get started?

You require the Enterprise edition of our innovation management software in order to purchase the Open Innovation feature. The ITONICS team activates it, you customize the form to suit your objective and then embed it in a public webpage. When a submitter fills out the form, the content appears in your ITONICS Innovation OS where you can process it further.
Why should I choose ITONICS Open Innovation?

ITONICS is the number one provider of end2end innovation management software. Choosing to use ITONICS Open Innovation adds another key puzzle piece to manage all innovation activities within one single platform.

Having a single Innovation OS avoids a fragmented approach and data loss. It decreases application costs and double-work, while increasing synergies. The ITONICS Innovation OS includes powerful features like collaborative ratings, workflow automation, and task assignment to manage the whole process effectively.