END2END INNOVATION
Innovation management to systematically drive growth
Use ITONICS' innovation management platform to automate routine tasks and engage global teams, from strategy to ideation to execution. Delivering a world-class innovation management solution right at your fingertips.
Identify opportunities for growth
Develop new market-fit products and services
Operate balanced innovation portfolios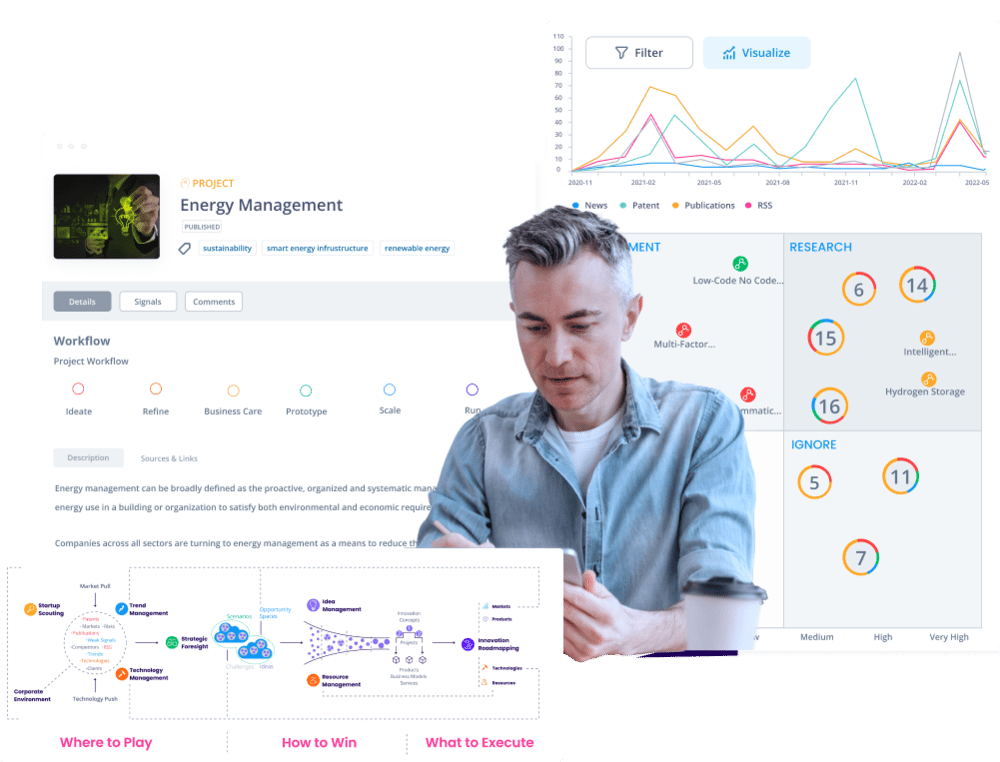 Trusted by global innovation leaders
End2End innovation.
Much more than just ideas.
The ITONICS innovation management platform helps answer three strategic questions: Where to Play, How to Win, and What to Execute. From opportunity identification to solving challenges to executing agile programs, our software solution is a one-stop shop.

Innovate smarter with a single point of truth
Bridge the innovation gap. Ensure alignment from strategy to execution. Collect, organize and categorize data, manage phase-gate workflows and deliver board-room-ready reporting. Speed up the innovation process by digitizing and automating environmental scanning and foresight processes, and connect the different phases of innovation on one online platform.
Build a global innovation network to co-create across business units and geographies. Enable cross-collaboration and involve stakeholders on the journey. Encourage participation, improve common understanding, and motivate innovation investment.
Develop rigorous innovation capabilities within your organization and anchor innovation as the driver for growth.
Tap into the unknown
The first phase of innovation management, "Where to Play", is about understanding which drivers of change influence your business environment. ITONICS Insights is AI-powered and enables teams to quickly and collaboratively gather key market data.
Teams can harness machine intelligence to collect data at scale and turn it into insights. Extract weak signals from millions of verified data points from scientific publications, news, patents, or startup updates in real time.
Centralize your research, establish standardized processes, and build a unified insights ecosystem with your innovation management platform.
Uncover opportunities
Understand the relevance and potential impact of drivers of change such as trends, emerging technologies, startups, competitors, or risks on your business. Collectively evaluate drivers of change and visualize results on a dynamic Radar. Consolidate multiple layers of information into a single point of truth.
Empower teams in innovation, foresight, strategy, R&D, digitalization and transformation to identify previously unknown innovation opportunities.
Prioritize growth opportunities and challenges to be solved on the path to implementation.
Use the power of the crowd
Innovation campaigns are an effective method to bring together the right internal and external minds so that they can develop, discuss and evaluate solutions to the challenges of tomorrow. Run idea and innovation campaigns with 5 or 500,000 innovators. Break down silos and strengthen cross-functional cooperation with collaborative ideation campaigns.
Unleash ideas that range from straightforward improvements to true "moonshots". Create the space for win-win innovation collaborations between business units as well as with external partners and startups.
Optimize innovation portfolios
Pursue opportunities that hold the greatest potential. Map, analyze, and qualify opportunities, transformation programs, and projects to balance quick wins and moonshots. Move forward with initiatives that are most aligned with internal capabilities and business goals. Identify portfolio synergies, gaps, or redundancies to optimize results.
Define the criteria, tasks, or deliverables that projects must meet to move to the next phase. Use workflows to standardize processes and make the health and status of projects transparent. Calculate budgets and forecast the potential impact on projects. Allocate resources at the right time and manage the time-cost relationship of projects.
Execute innovation programs
Meeting your innovation objectives requires agile coordination of activities spread across several units and partners. Multilayered, interactive, and easily configurable, the ITONICS Roadmap is an essential tool for strategic leaders who oversee growth, R&D planning, project governance, and implementation.
Visually identify bottlenecks or critical hurdles. Identify synergies and make agile decisions to speed up time-to-market. Improve transparency and centralize decision-making. Get everyone on board and moving forward with a successful innovation management solution.
Systemize your innovation. At scale.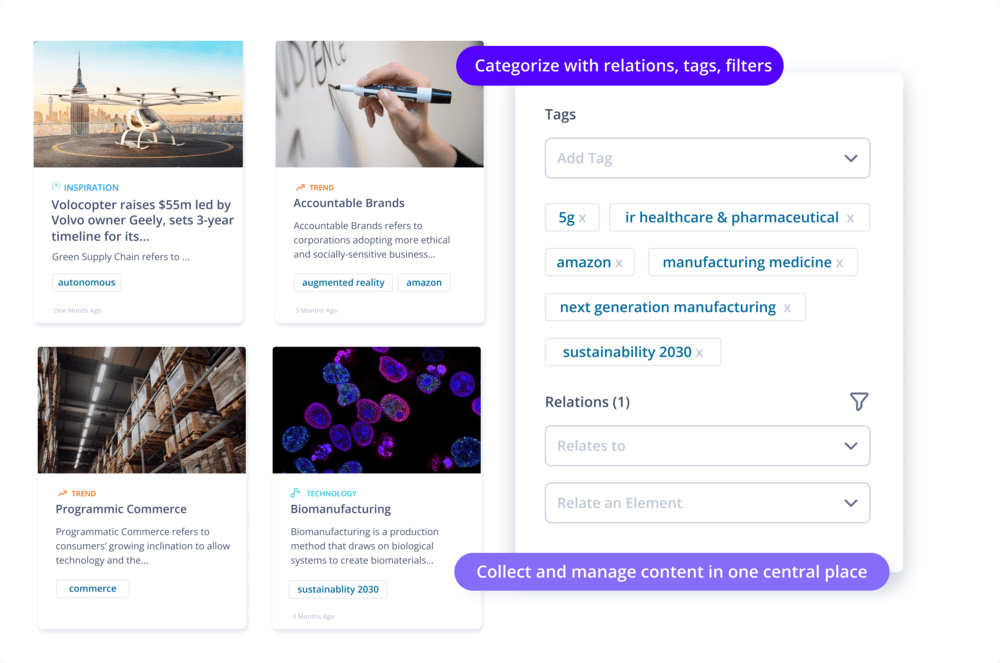 One solution to bring all your innovation efforts together, enrich it collaboratively and evaluate it across different views.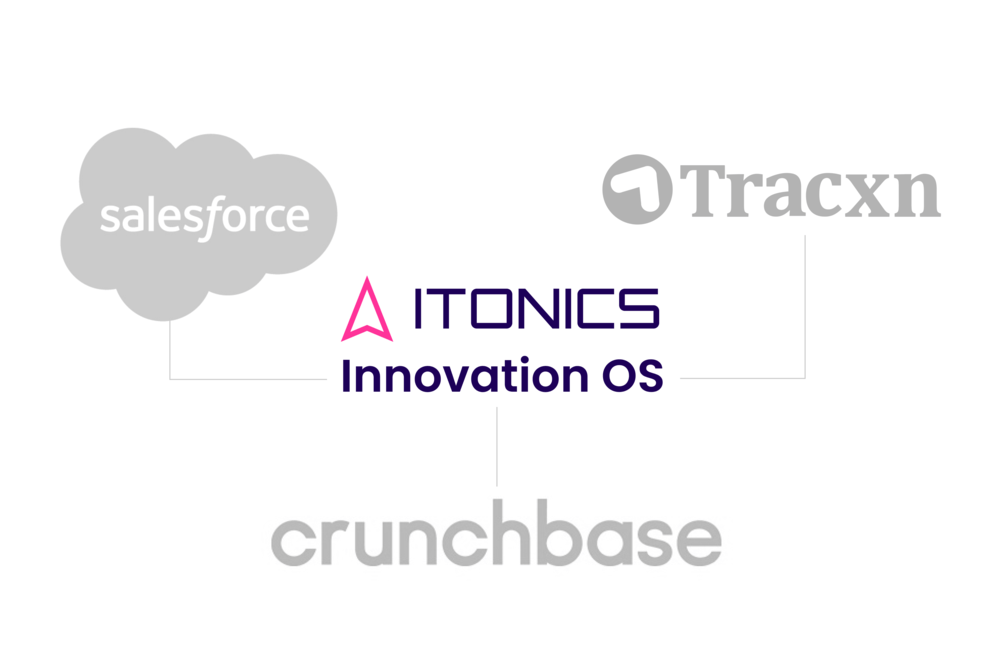 Seamlessly integrate ITONICS into your existing IT infrastructure and applications for an enriched and more connected approach.
Save time with AI-enabled environmental scanning that sorts through masses of data so you can focus on what matters.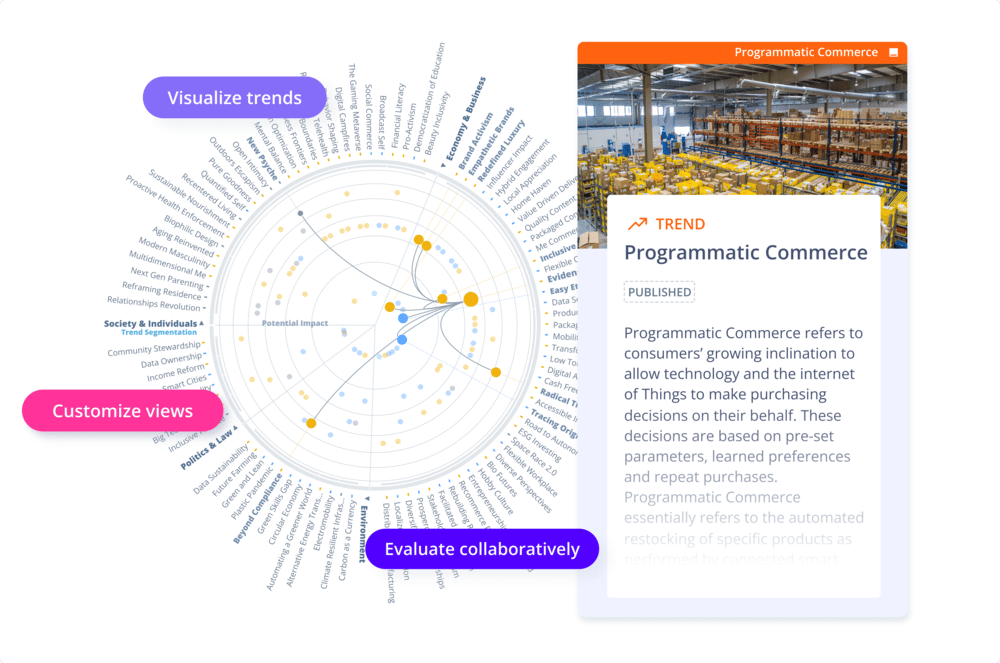 Explore trends and uncover new opportunities for growth using interactive radars.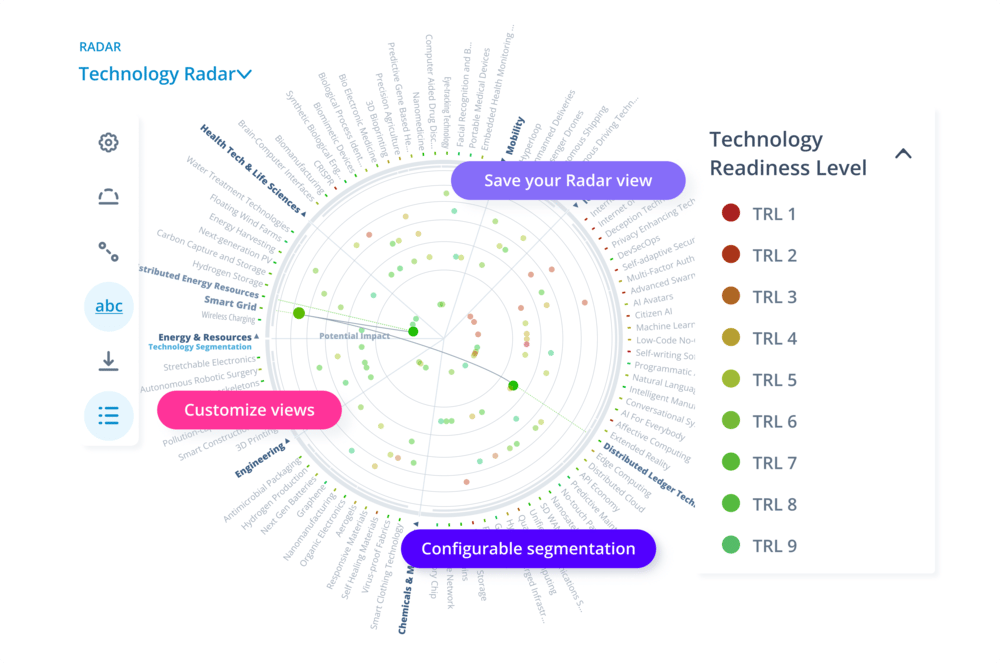 Visualize emerging tech and identify their relevance for your business. Today, tomorrow, and in 5 years' time.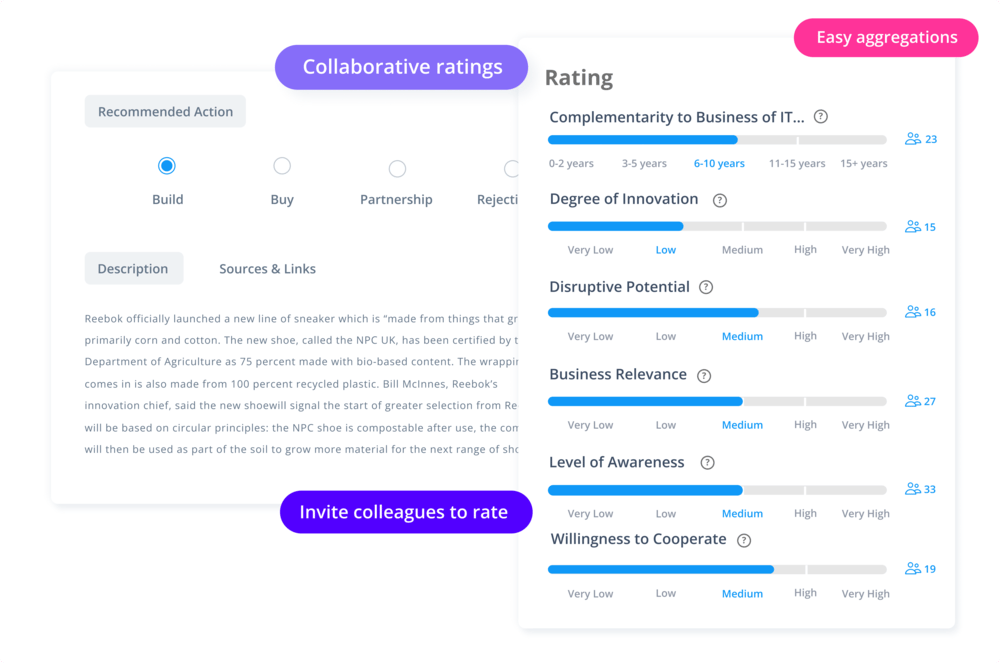 Customizable criteria enable team members and external experts to rate content in a way that combines collective knowledge.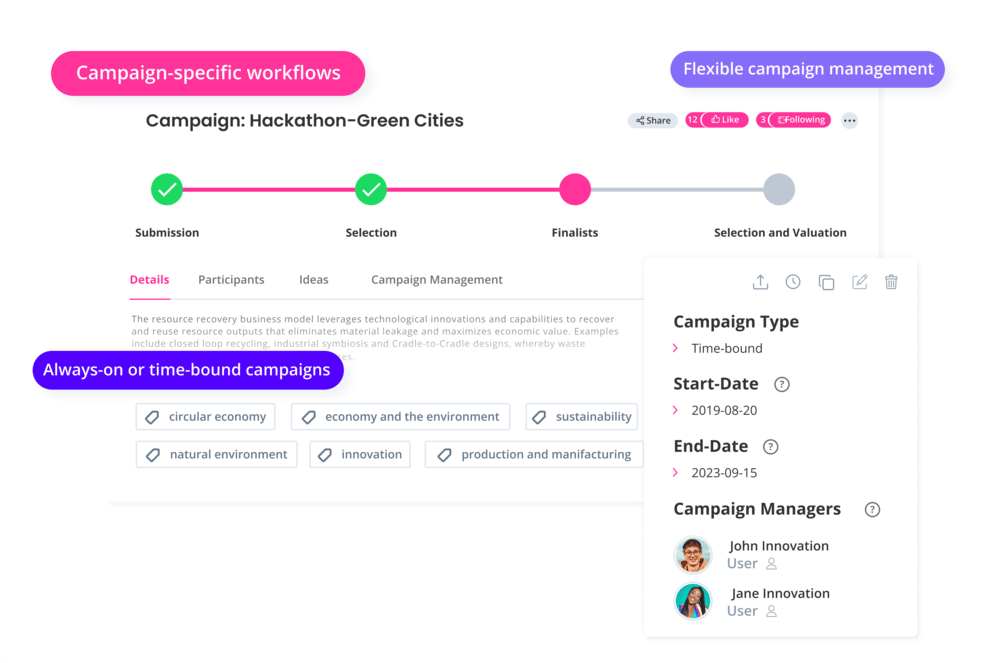 Spark disruptive ideas from global teams with configurable ideation campaign workflows.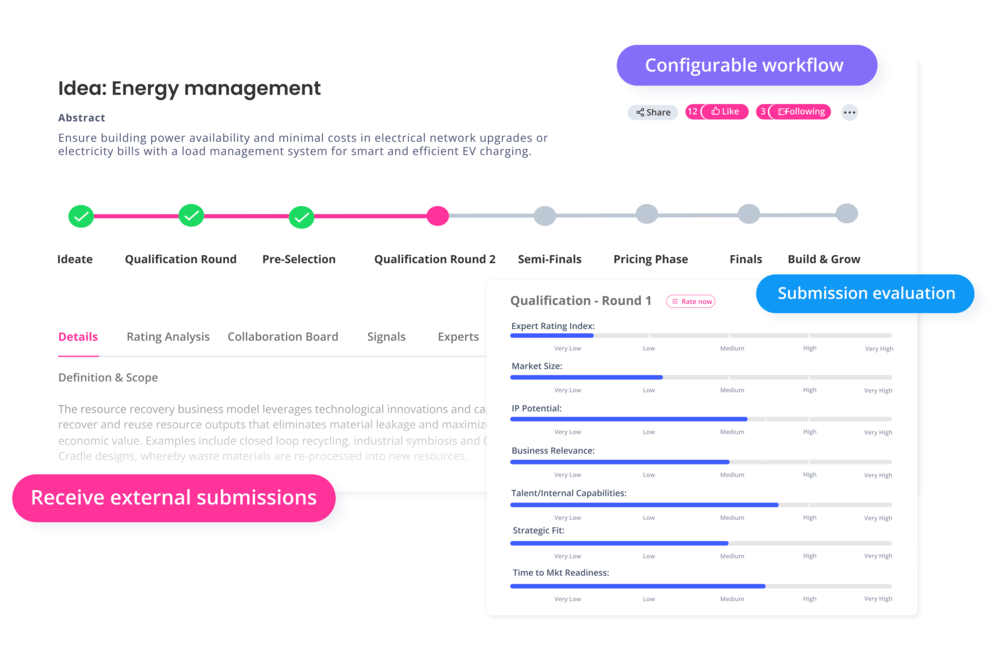 Incorporate external expertise from anywhere using ideation tools. For 10 or 100,000 collaborators.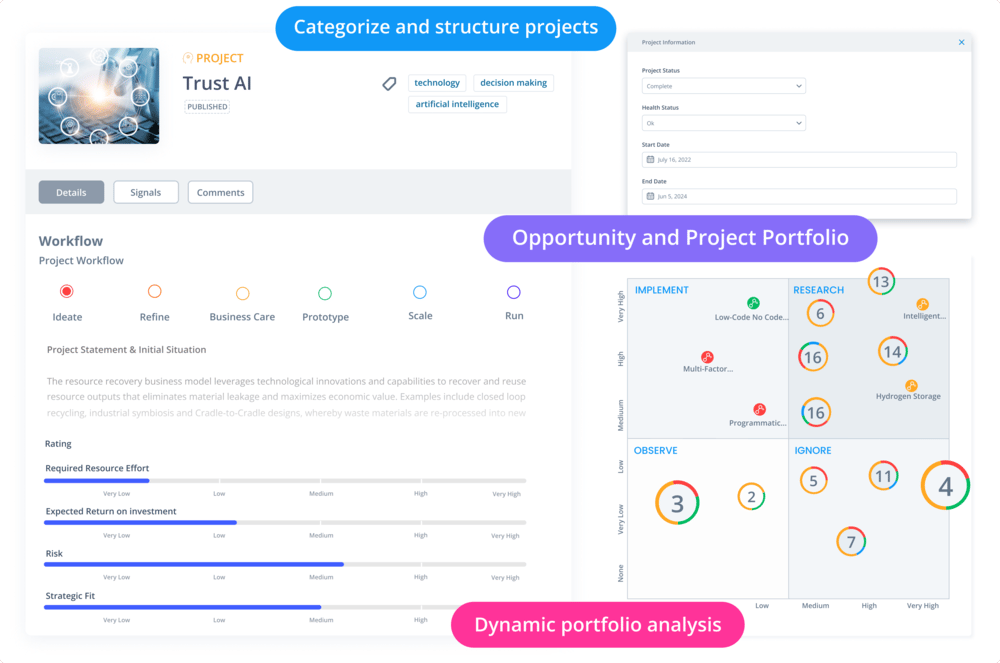 Connect portfolios with strategy and inform priorities through project workflows, boards, budget planning, and reporting.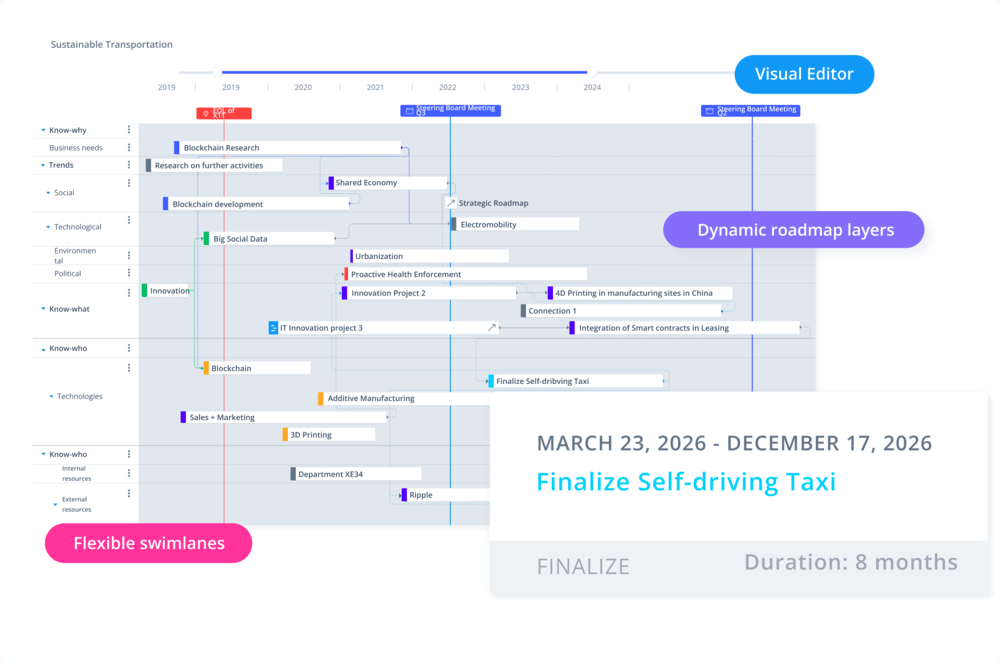 Accelerate time-to-market with multilayer roadmaps. Align the efforts of different business units and execute your strategy.
Best-practice stories from true innovation rockstars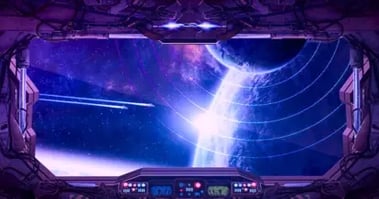 Learn how you can maximize the benefit of your new software solution with a solid roll-out plan.
Download Guide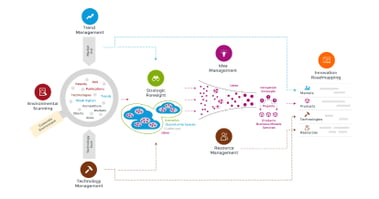 The ITONICS end-to-end innovation approach in one picture: Where to Play, How to Win, What to Execute.
Download Poster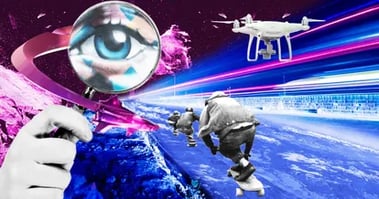 How to develop innovation capabilities and create a future competitive advantage.
Download White Paper