USE CASE > CONTINUOUS FORESIGHT
Shape the future with data-driven foresight
Identify, shape, and plan growth opportunities systematically with the ITONICS Innovation OS.
Automate and digitize foresight activities
Internalize knowledge to boost innovation
Accelerate opportunity discovery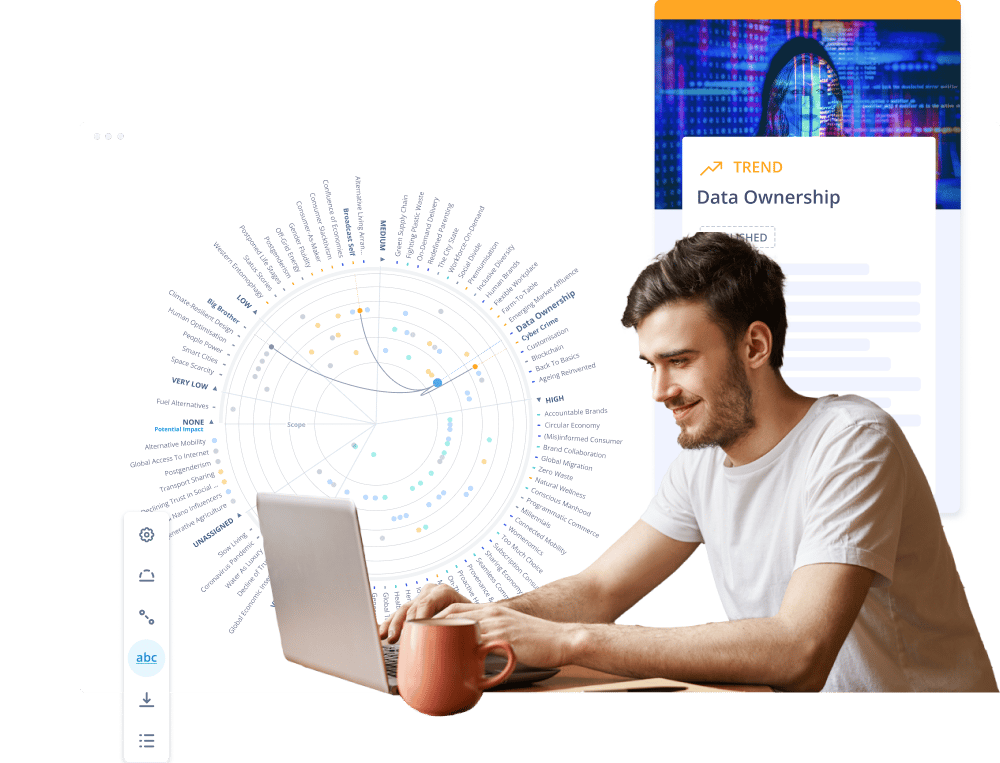 Trusted by global innovation leaders
Why is continuous foresight important?
Continuous foresight is an ongoing process of identifying and analyzing change and disruption coming from outside. It is collaborative and systematic and crucial to derive agile strategies in volatile environments.
Detect signals of change before the competition does
Use ITONICS Insights to keep a pulse on change in real-time, cut through the noise, and identify weak signals. Scan the business environment continuously and comprehensively with AI-driven search capabilities.
Scouts around the globe can scan for new startups, trends, emerging technologies, and interesting competitor developments that inform better strategic direction.
Continuous foresight allows you also to track change in business verticals. Monitor competitor behavior and understand emerging players in your field.
Reduce risk by anticipating future scenarios
Bring drivers of change into focus on the ITONICS Radar and get a 360° view that prepares you for changes and keeps you ahead of the curve. Analyze foresight data with clear visualizations and arrive at answers quickly to inform strategy at the right time.
Evaluate important drivers with collaborative ratings based on strategic fit, business relevance, and need for action. Build a shared vision of the future, define "Where to Play," and form the foundations of your innovation strategy.
Use saved filters in ITONICS Insights to monitor the most important drivers of change and enrich existing trends, technologies, risks, startups, and competitors with related data.
Understand innovation possibilities in your industry
Use ITONICS trend and technology industry reports and presets to quickly get an overview of some of your industry's most important trends and technologies. Inform business strategy by linking important topics to trends, technologies, startups, and risks.
Identify relevant disruptive technologies through collective evaluation and then validate your findings by continuously monitoring developments. Develop a technology strategy that aligns with business direction and use Matrix views to prioritize projects.
Engage, inform and motivate management to prioritize innovation opportunities with clear information consolidated on one single point of truth.
Prioritize innovation portfolios. Build viable product roadmaps.
Bring all potential initiatives and projects into view with ITONICS Portfolio. Analyze your innovation portfolio and related investments at a glance. Prioritize projects and align your resources to the opportunities that matter most for your organization.
Plan projects using Kanban boards and keep management in the loop on changing developments. Move innovation projects to implementation and execution on one platform. Use ITONICS Roadmap to visualize multi-layered projects, change programs and get everyone moving in the right direction.
Connect project activities in order to coordinate and adapt action plans in an agile way. Use one single point of truth to create continuous feedback loops and keep up to date with current and critical events that inform various functions of your business.
Navigate uncertainty with foresight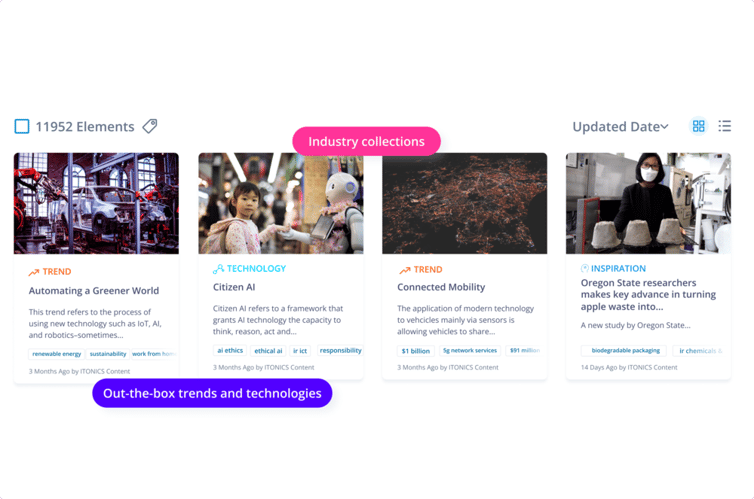 Kickstart your environmental scanning with ready-to-use trends and technologies compiled by our analysts.
Save time with AI-enabled environmental scanning that sorts through masses of data so you can focus on what matters.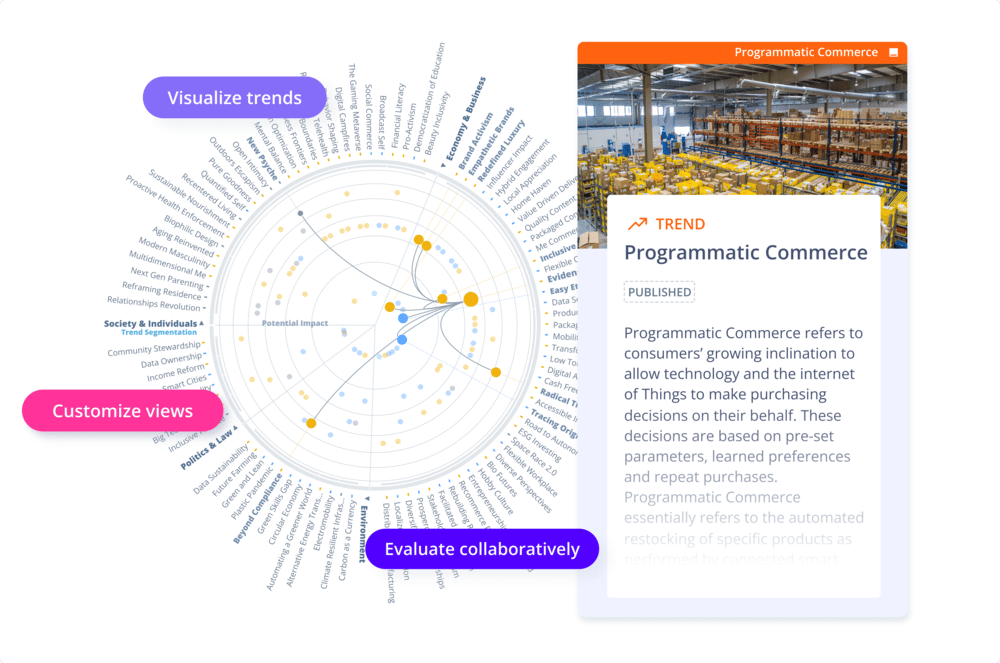 Explore trends and uncover new opportunities for growth using interactive radars.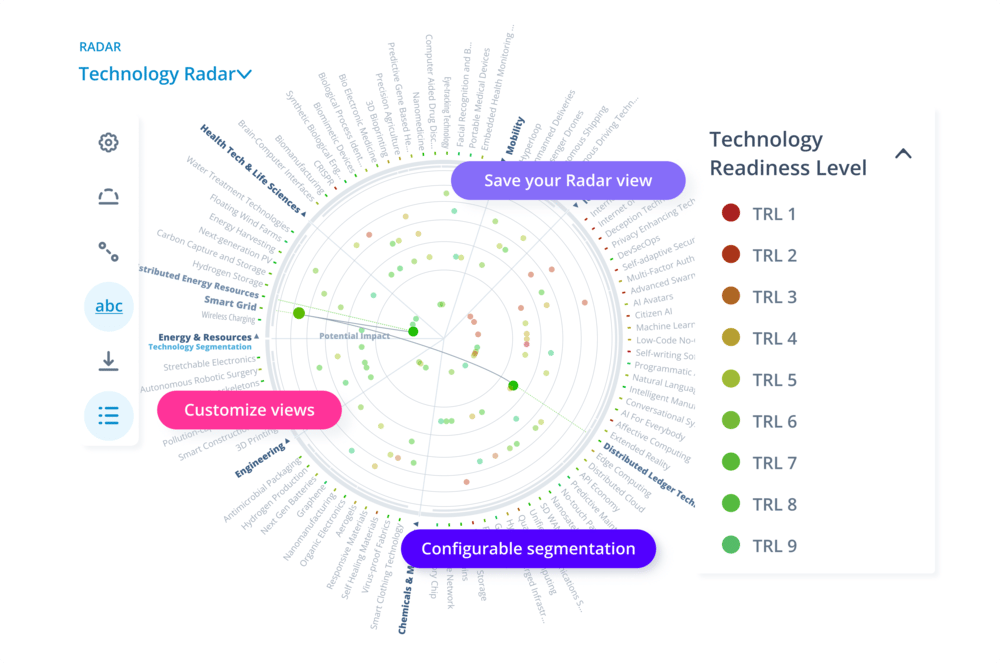 Visualize emerging tech and identify their relevance for your business. Today, tomorrow, and in 5 years' time.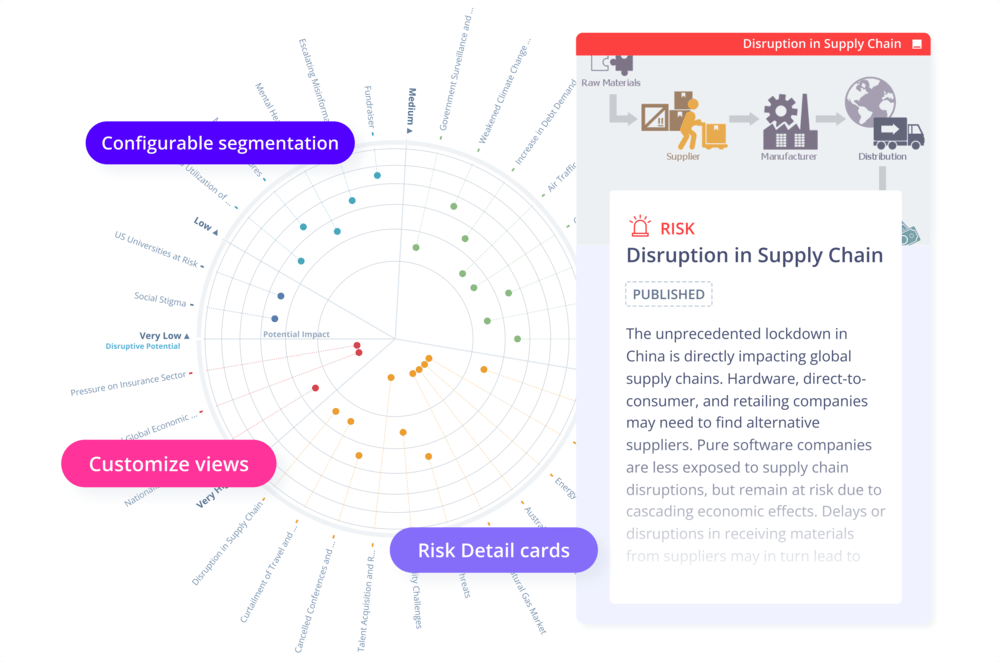 Establish an early-warning system with a risk radar to monitor threats to your company.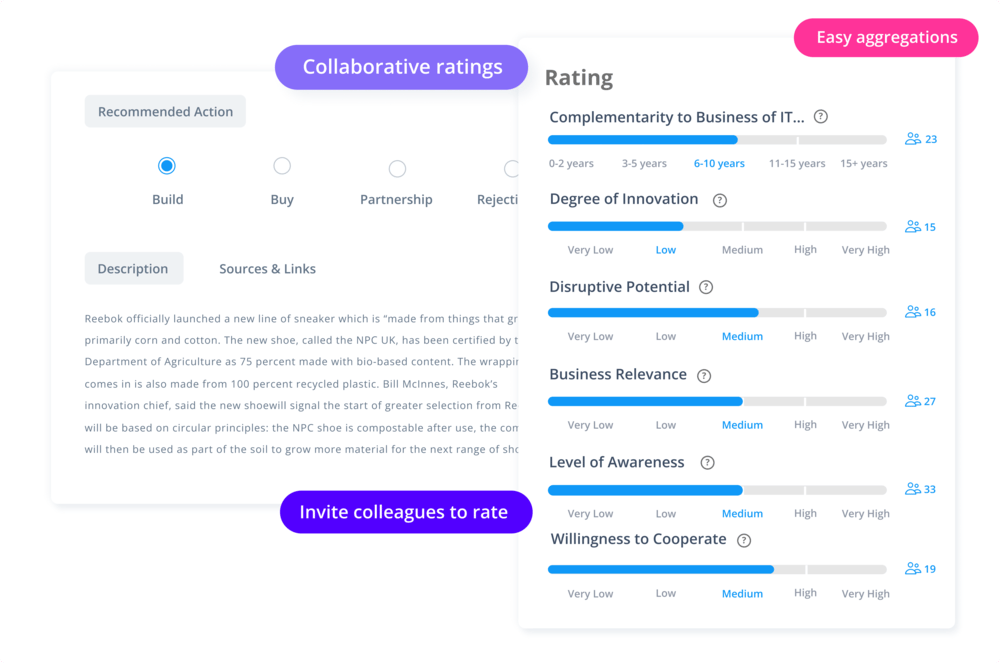 Customizable criteria enable team members and external experts to rate content in a way that combines collective knowledge.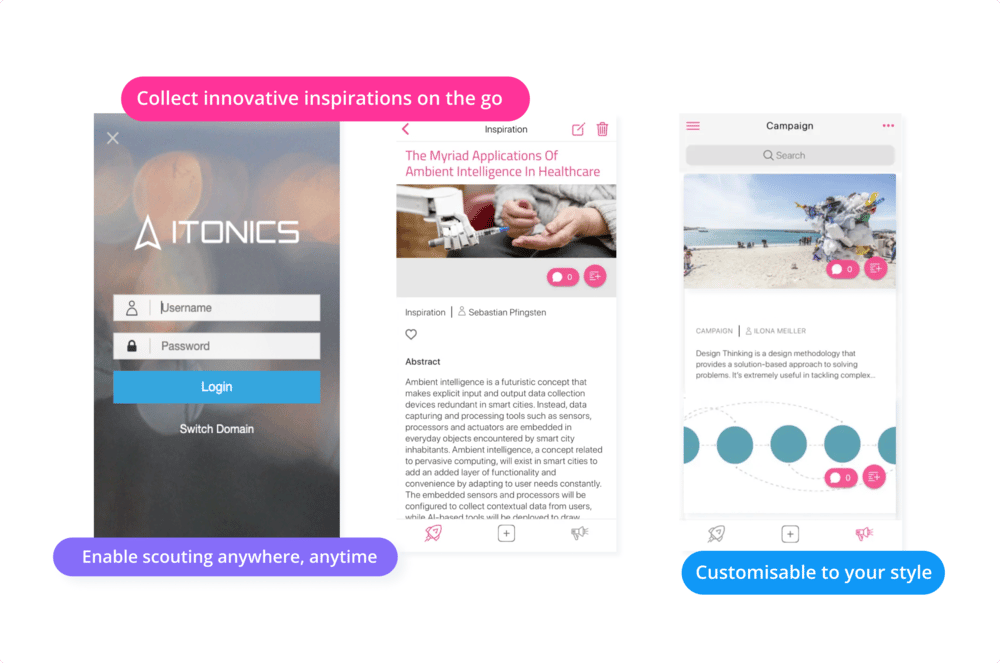 Capture inspirations on your phone while on the go. Now anyone, anywhere can be a scout.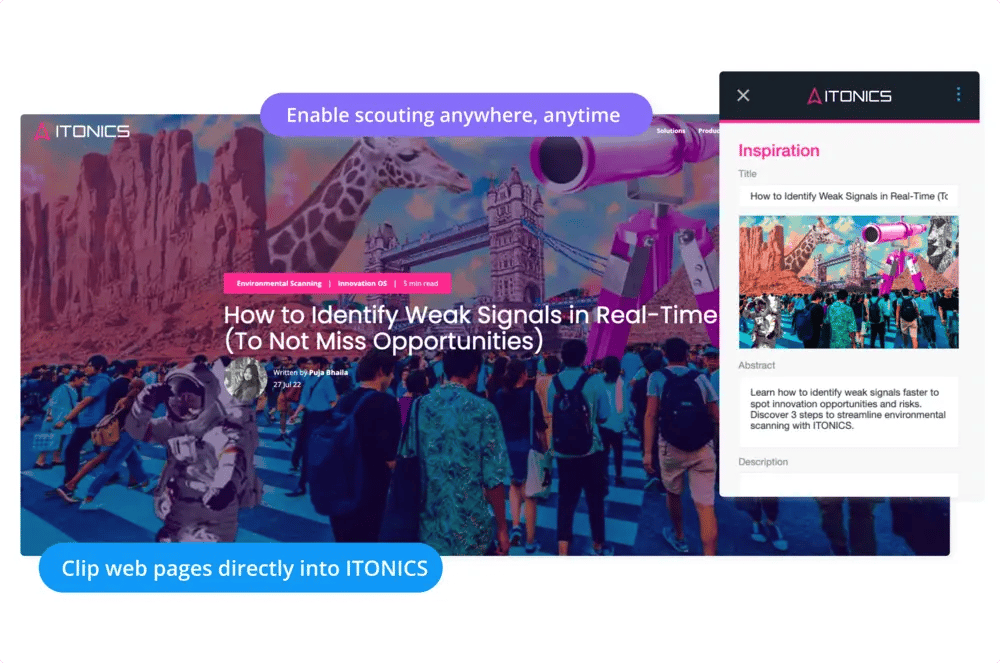 Simple browser extension to collect inspiring content from the web and easily save it directly to the ITONICS Innovation OS.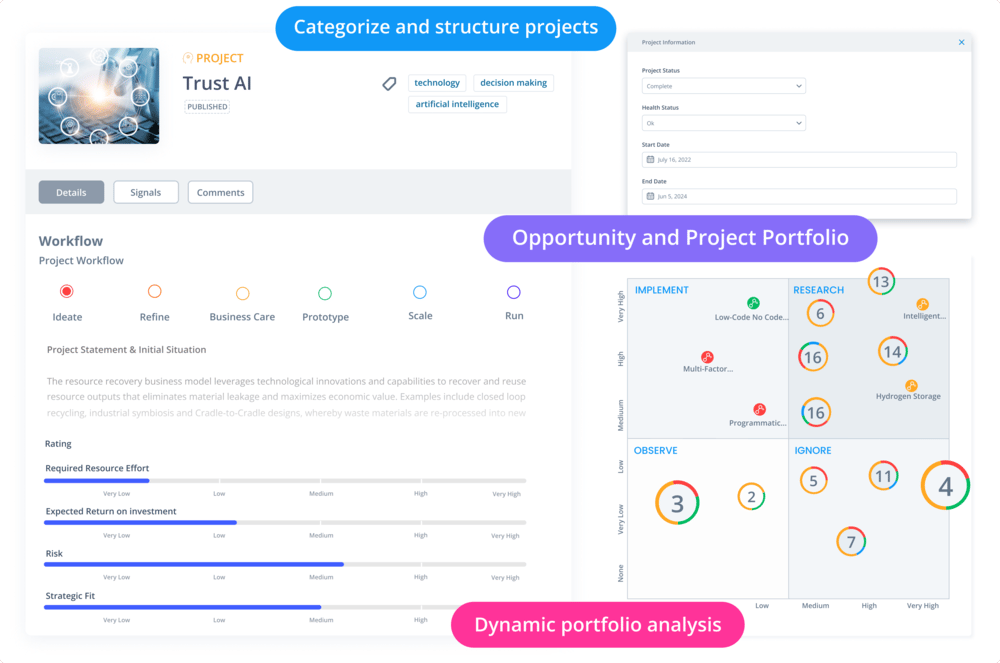 Connect portfolios with strategy and inform priorities through project workflows, boards, budget planning, and reporting.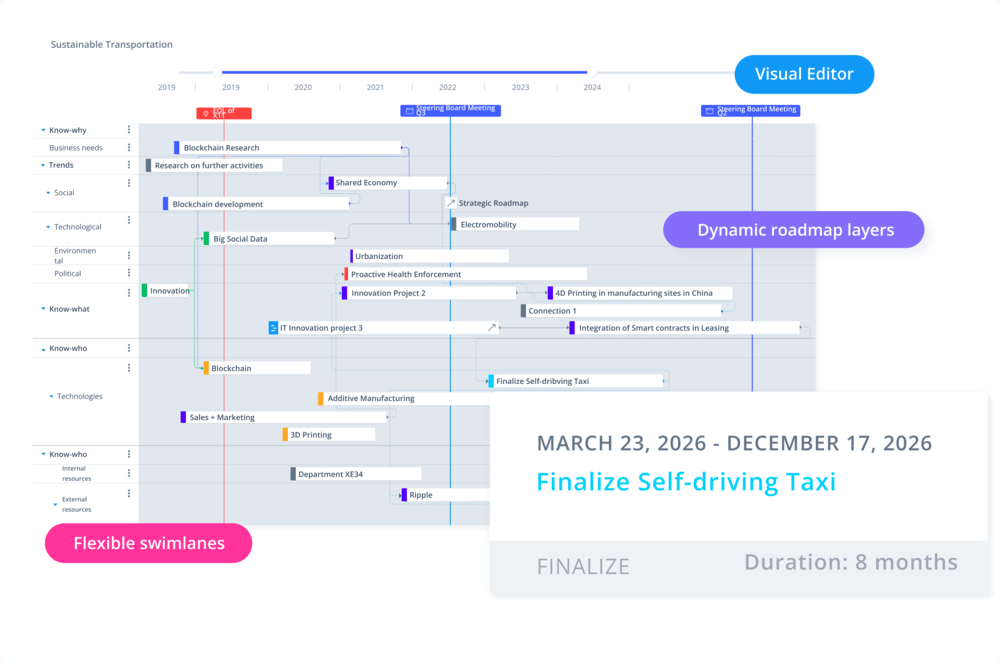 Accelerate time-to-market with multilayer roadmaps. Align the efforts of different business units and execute your strategy.
Make better, faster, smarter decisions
Read more on our unique, proven methodology that covers the following innovation questions: Where to Play, How to Win, and What to Execute.

Best-practice stories from true innovation rockstars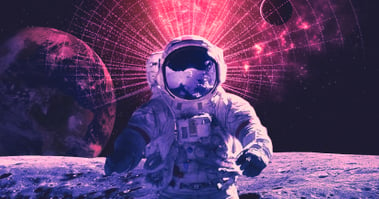 Your guide to turn trends into opportunities with strategic foresight.
Download Toolkit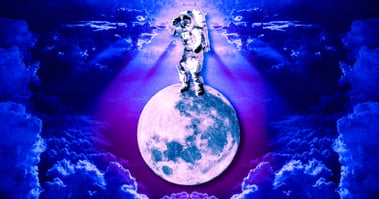 On-demand masterclass series about best practices and insights in strategic foresight.
Watch Webinar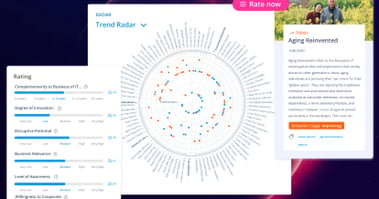 Learn how to evaluate trends and technologies with the ITONICS Innovation OS in this guide.
Download Guide