CUSTOMER SUCCESS STORY
Technology scouting to drive therapeutic innovation
How Merz Therapeutics is expanding its product portfolio using a tech scouting platform powered by ITONICS.
scouted products & companies
patents, publications &
clinical trials
"The ITONICS Innovation Platform supports us in scouting new technologies and products for our pipeline. The huge amounts of data generated in this process are easily searchable for the colleagues involved and can be supplemented and evaluated together."

– Dr. Maarten Ruitenberg, Head of Technology Scouting & Operations, Merz Therapeutics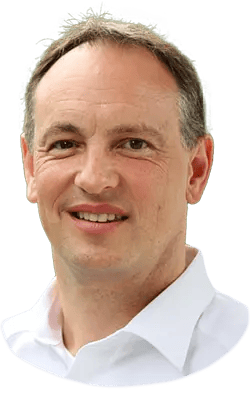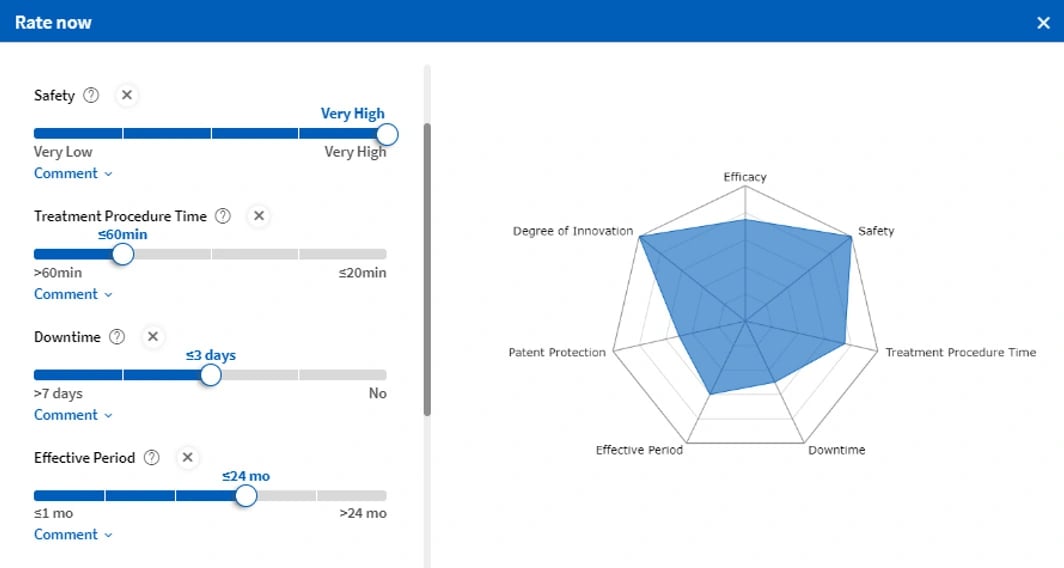 THE CHALLENGE
Accelerate portfolio expansion through competitive intelligence
From the very beginning, innovation has been a core element of Merz's corporate culture and strategic direction.
In 2020, Merz created three independent businesses: Merz Aesthetics, Merz Therapeutics and Merz Consumer Care. The new structure will allow for more specialized customer focus and will increase operational agility and speed to market. The creation of three separate businesses is expected to continue fueling the strong growth.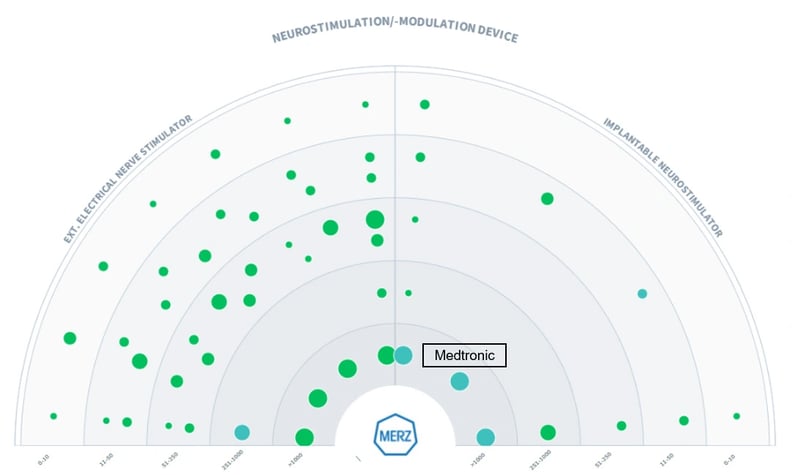 Tech scouting at Merz Therapeutics
The Technology Scouting and External Innovation Teams at Merz Therapeutics are responsible for establishing and evaluating the competitive landscape of the current product portfolio.
Since 2018, technology scouting has been supported by ITONICS' tools to more transparently gather and evaluate insights on activities in the business environment. This allows for informed decision-making to expand the company's portfolio.
Technology scouting is an essential part of establishing and expanding the competitive landscape of Merz Therapeutics.
Based on the Scouting and Screening Team's suggestions for business opportunities, the Business Development (BD) Board can take strategic decisions on the company's portfolio expansion.
Departments (R&D, Tech Scouting, Marketing, Corporate Development) worked in silos and collected information separately.
There was no single point of truth for competitive intelligence.
Rigid tools (e.g. Excel lists) led to heavy workload and data loss.
Stay up to date
Are other companies developing similar products? Is the competition becoming a threat to us?
Expand the portfolio
Are there technologies or products that fit the portfolio to grow? Can we co-develop these with other companies?
Foster collaboration
How can silos be broken down? How can knowledge on competitive intelligence be shared?
THE SOLUTION
A single point of truth for competitive intelligence
The ITONICS Innovation OS allows Merz to easily share information about external innovation opportunities across departments and countries. By being able to use a single system for data search, storage and sharing, teams are empowered to quickly review and assess opportunities.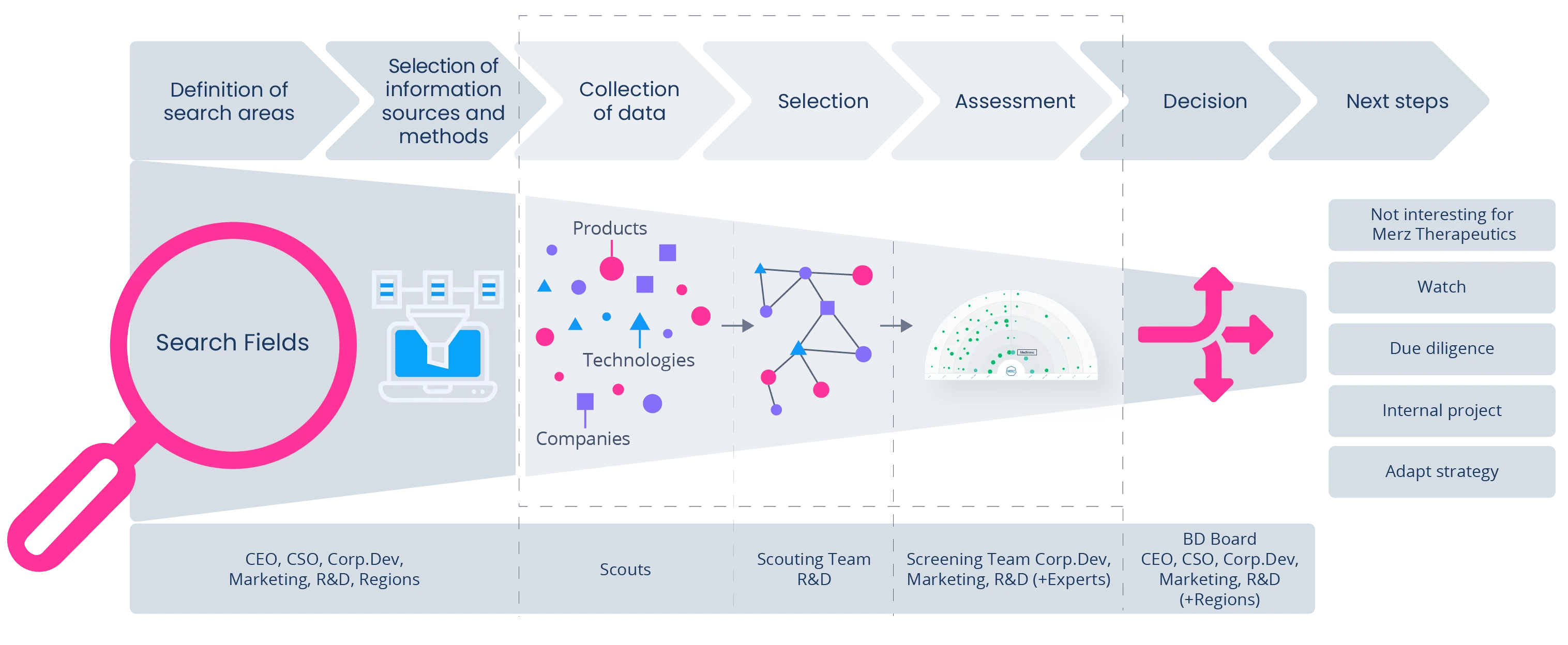 Competitive information and activities are easier to find, simpler to filter, and presented in a visually appealing way in the Radars.
Emerging technologies, companies, and competing products that offer value can be discovered at a faster pace.
The Signals Feed enriches products, technologies, and companies in the platform automatically with additional relevant information.
A single point of truth was created to break down silos, bundle competitive knowledge, and drive faster decision-making across Merz Therapeutics.
The Technology Scouting and Innovation Teams can now provide board functions with the most interesting business opportunities.
Portfolio expansions are proactively triggered by the accumulated and evaluated knowledge on the platform.
DOWNLOAD SUCCESS STORY
About Merz Therapeutics
Merz Therapeutics is part of the Merz Group, a family-owned company founded in 1908 by the pharmacist and chemist Friedrich Merz in Frankfurt, Germany. Merz Therapeutics set itself the goal to improve patients' health - bringing better outcomes to more patients.
Learn more about how innovative companies implemented a world-class innovation ecosystem. Get a free demo!