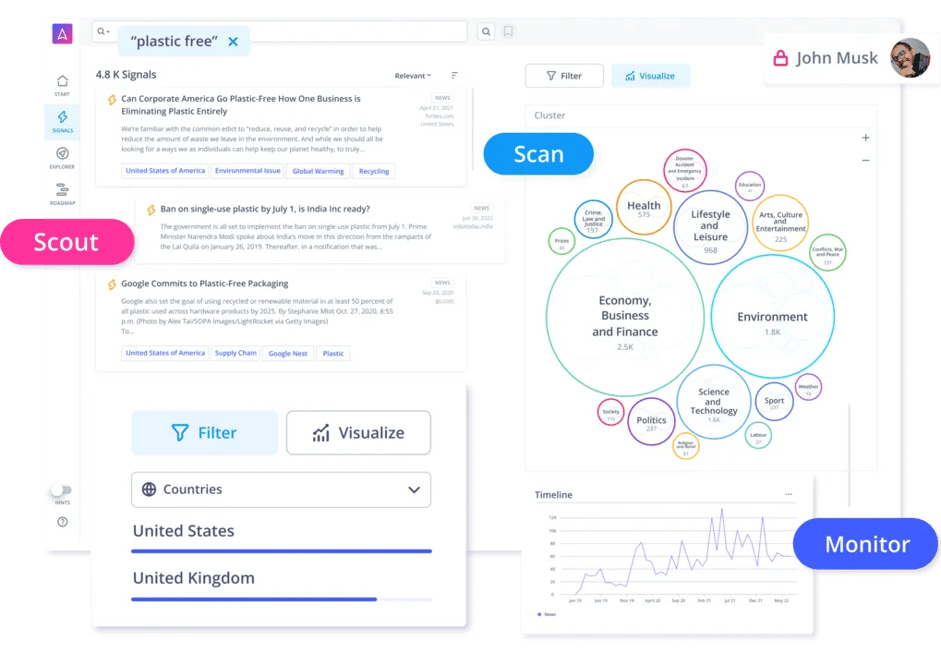 Trusted by global innovation leaders
Search faster. Scan widely. Scout smarter.
Reduce human effort with AI-enabled searches. Give your global scouting network the ability to manage the overflow of information, reduce the noise and get to what's important. Synchronize processes on one platform.
Unify environmental scanning
Organize and structure research
Scientific publications, patents, news, RSS
Enable collaborative scouting
Fast-track intelligent insight
Thousands of data sources at your fingertips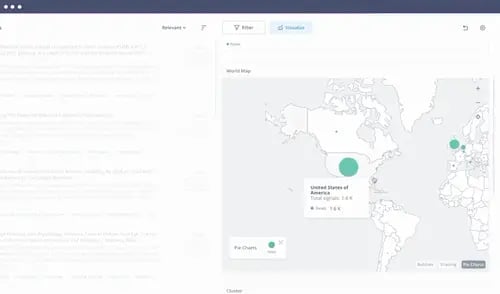 Stay on top of change and disruption
Live signals feed from patents, news, publications, and reports
Get instant access to millions of data points from verified sources
Upgrade your global teams' search experience enhanced by Natural Language Processing (NLP) technology
Monitor developments over time to assess the dynamic of drivers of change
Enable cross-functional teams to scout, organize and process content in one click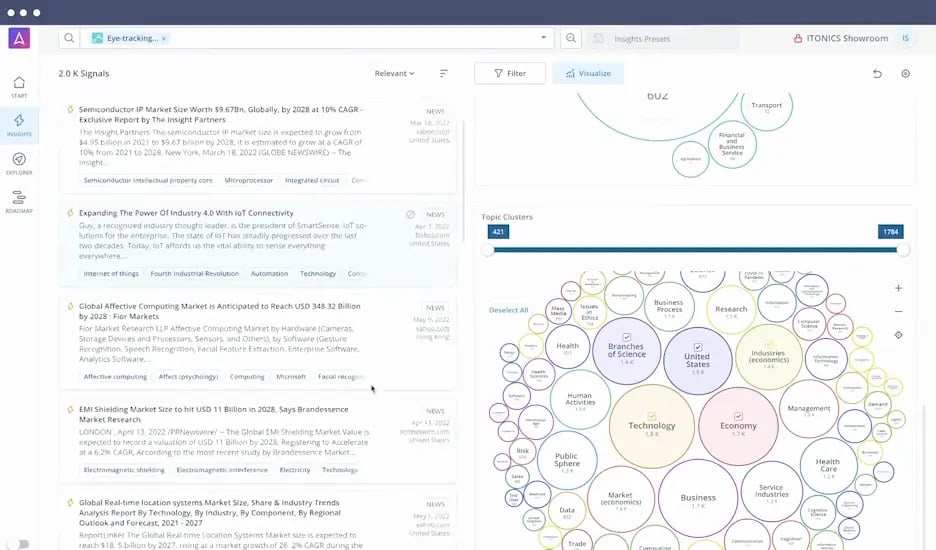 Narrow down searches to navigate through vast amounts of data
Go from high-level perspectives to granular insights instantly
Automate scanning, scouting and monitoring
Move data to insights fast
On-demand data filtered in a few clicks
Standardize searching
Save specific filters to use later easily, or share with colleagues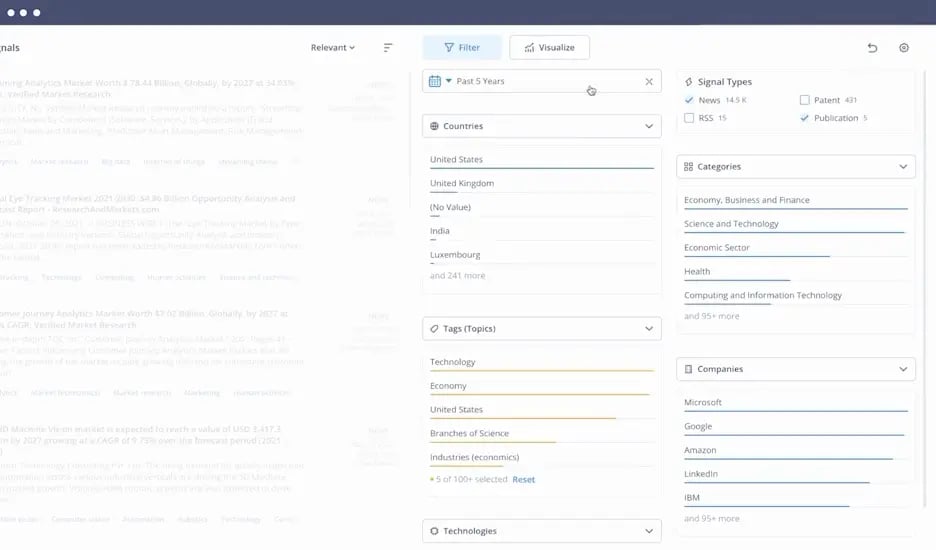 Enable all users to explore data in context
Timeline, world map and topic cluster visualizations in a flash
Instantly see where your topic is trending with world map visualizations
See whether a topic is increasing or declining with the timeline visualization
Visually compare and monitor developments over a specific time period
Enable everyone to segment data quickly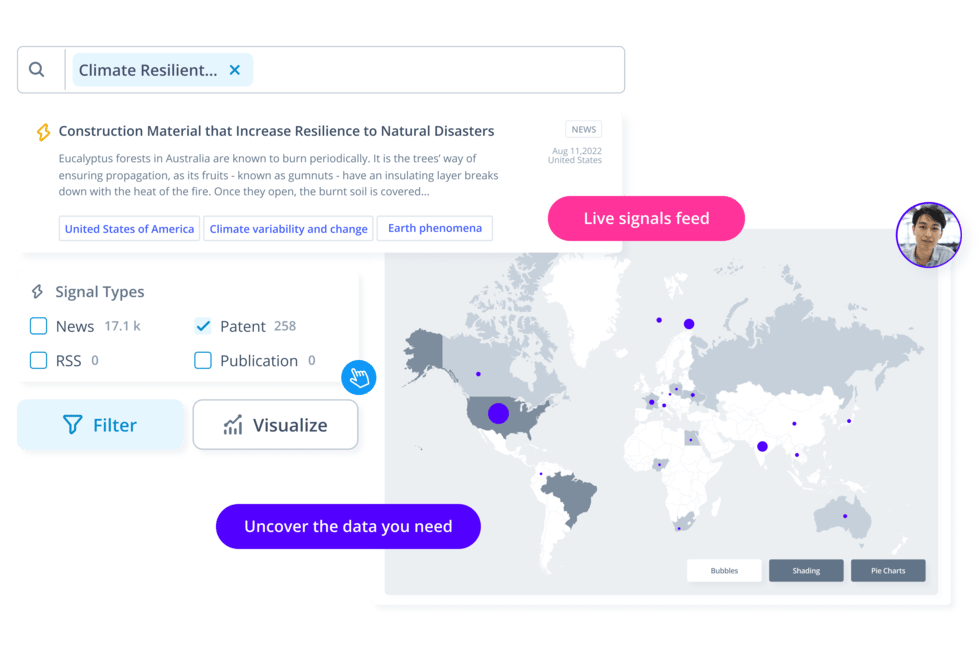 Activate scouting teams of the future. Automate time-consuming processes.
For you to take bold bets on the future, you need to analyze more and more data.
Leverage machine intelligence to provide ongoing evidence of market shifts.
Free up valuable resources so teams can process more data, more intelligently.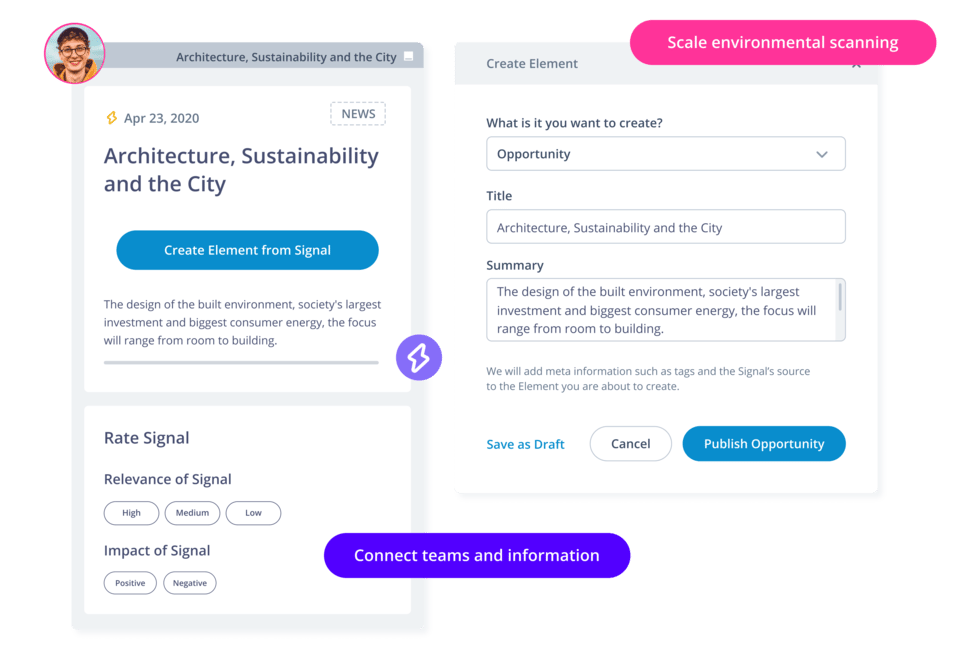 One central point of truth that makes it easier to share information
Building internal capabilities, and scaling environmental scanning requires structured processes.
Organizing, categorizing, and managing your content does not have to be difficult.
Synchronize disconnected tools and techniques on one platform. Seamlessly connect environmental scanning to strategy, innovation, risk, R&D, and portfolio management.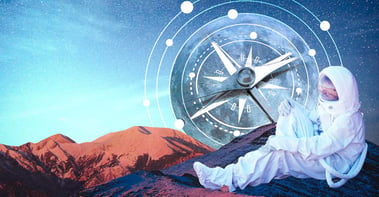 Discover how you can use ITONICS Insights to enhance your environmental scanning.
Download How-To Guide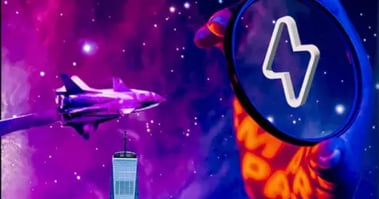 About our software tool to scan millions of data sources and identify weak signals in real-time.
Download Product Fact Sheet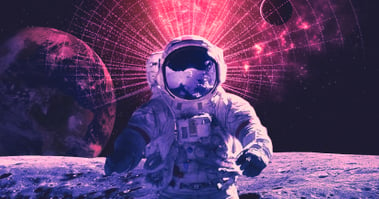 Your guide to turn trends into opportunities with strategic foresight.
Download Toolkit
Got more questions? We've got answers.
How do I use ITONICS Insights to identify trends and emerging technologies?

ITONICS Insights delivers the information needed to discover early signals of change. It sorts through millions of data points from verified sources, including news, scientific publications, and patents, then classifies the information with automatic tagging. Once you have explored and chosen which trends and technologies are relevant to your business, you can then use the Timeline visualization to monitor how they are developing over time. Use this as evidence to determine which forces are shaping the future.
How do I make sense of all the information about competitors and my industry?

ITONICS Insights is an auto-filtered signal search engine. It reduces the human effort in monitoring your corporate landscape by using Natural Language Processing technology to sort and classify millions of data points. This frees up human capacity for intuitive analysis and sensemaking. Narrow down your search with the Insights filters. Once you've customized the criteria to deliver relevant results about your industry and competitors, save it as a search preset that you can reuse and share with coworkers. A Radar visualization is then the right tool to make sense of the information you have gathered.
How do I find good partnerships or startups to collaborate with?

You can scout for startups and partnerships with ITONICS Insights. Define your research area to a particular industry or technology. Combine relevant keywords and apply filters so that search results deliver signals featuring potential partners and startups that you can process and research further. Define a shortlist of attractive partners fast.
Can my team use ITONICS Insights to scout emerging technologies?

Yes, ITONICS Insights is an excellent tool for environmental scanning of emerging technologies. Decide the theme of your research area, such as a particular industry and technology area. Use your existing knowledge of keywords in the industry to conduct a filtered search and discover emerging technologies. With ITONICS Insights, you can unify your team's technology scouting on one powerful platform. The ITONICS Innovation OS provides one single source of truth where technology scouting can easily feed into subsequent phases of innovation.
Why should I choose ITONICS Insights?

ITONICS Insights makes collaborative scouting easy. Use it to stay up-to-date with the latest developments around your topic of interest. It scans thousands of verified sources in real-time and filters according to your preferences. Since Insights is part of the ITONICS Innovation OS, the opportunities you discover can quickly be processed into action.