USE CASE > TREND SCOUTING
Identify changes. Explore opportunities with trend scouting.
Use the ITONICS Innovation OS to scout trends and identify weak signals to uncover changing consumer needs and behaviors.
Automate scouting, scanning, and monitoring trends
Maximize the time and resources of global scouting teams
Identify business opportunities based on industry-specific trends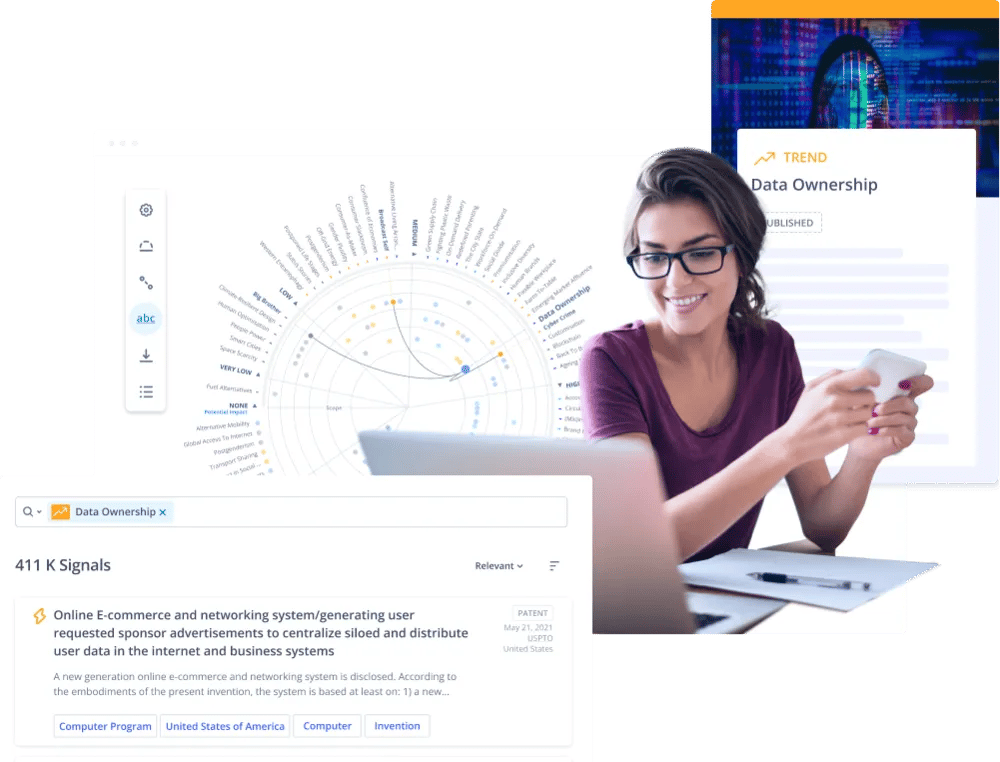 Trusted by global innovation leaders
Why is trend scouting important?
Trends are external forces impacting an organization. They can be structured in categories like Social, Technological, Economic, Environmental, and Political trends. Compared to emerging technologies defining the Technology Push, trends reflect the so-called "Market Pull," mostly defined by changes in consumer behaviors and needs over time.
Knowing which trends may impact your business enables you to prepare for and adapt to societal change. One of the most important activities in innovation management – trend scouting – continuously identifies and analyzes changing needs and wants.
Detect signals of change faster
Kickstart your trend scouting with the ITONICS trend content and industry presets included in your system and updated periodically. Augment scouting, scanning, and monitoring with AI-enabled signal feeds that provide real-time information on trends important to your industry, geography, and research topics.
Reduce the human effort required to spot and monitor important trends with filtered data that fit your search intent. Save time by allowing distributed teams to scout trends within one online platform and build cross-functional innovation ecosystems. Identify trends, risks, and startups that have potential—short, mid, and long term.
Enable your innovation communities to focus their efforts while still investigating environments broadly. Organize and categorize data with ITONICS best-practice templates on one digital platform.
Our client DMK worked with 500,000 trend scouts worldwide to derive new business opportunities by identifying weak signals and trends in the food industry.
Build your trend database
Collect spontaneous ideas, market observations, competitor activities, and inputs from industry events on the go. By using ITONICS Inspirator App and Webclipper, your trend scouts can capture anything relevant to your business.
Huge amounts of data become searchable with ITONICS Insights by using advanced search, filters, and tags. Enrich existing trends, risks, and startup content with new and related signals. Provide ongoing evidence of market shifts and relevant topical themes.
ITONICS' client Intel runs a global trend community, bringing together experts from across the organization. Together, they collect, evaluate, and interpret relevant insights emerging in their corporate landscape.
Overcome internal silos and merge disconnected sources in one company-wide database.
Analyze drivers of change collaboratively
Visualize your data on the ITONICS Radar to get a 360° view of what's important. Continuously build a competitive advantage and stay ahead of the curve. Analyze data and arrive at answers quickly to inform strategy at the right time.
Engage the entire organization to identify, discuss, and rate trends relevant to your company's future. Harness collective intelligence with configurable rating functionality. Validate insights to inform strategic decision-making.
Provide your community with specific focus points and engage management to prioritize certain opportunities.
Align your teams on the future to make bold moves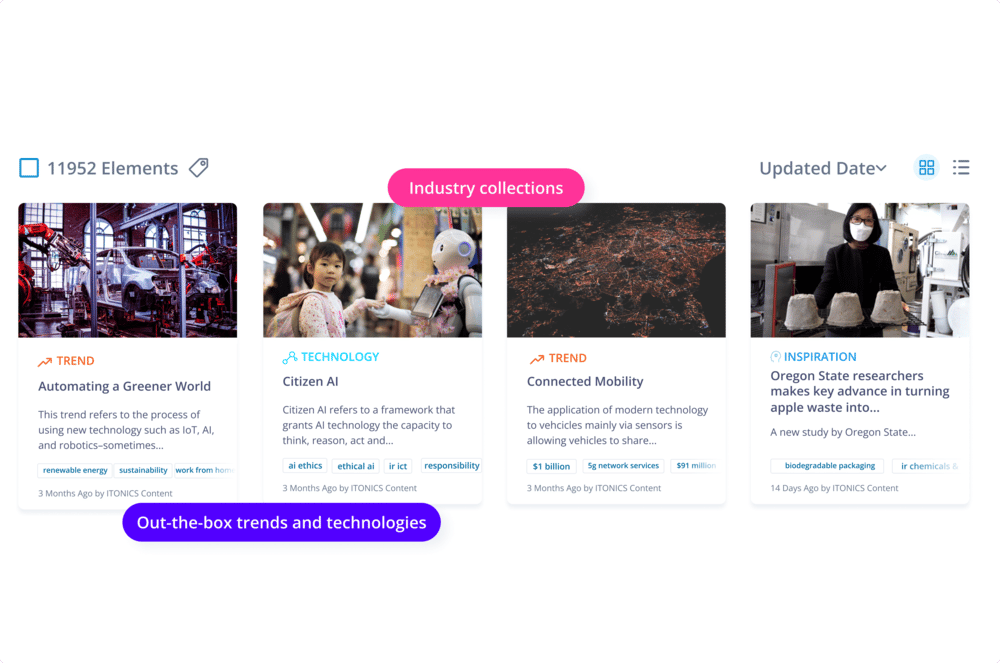 Kickstart your environmental scanning with ready-to-use trends and technologies compiled by our analysts.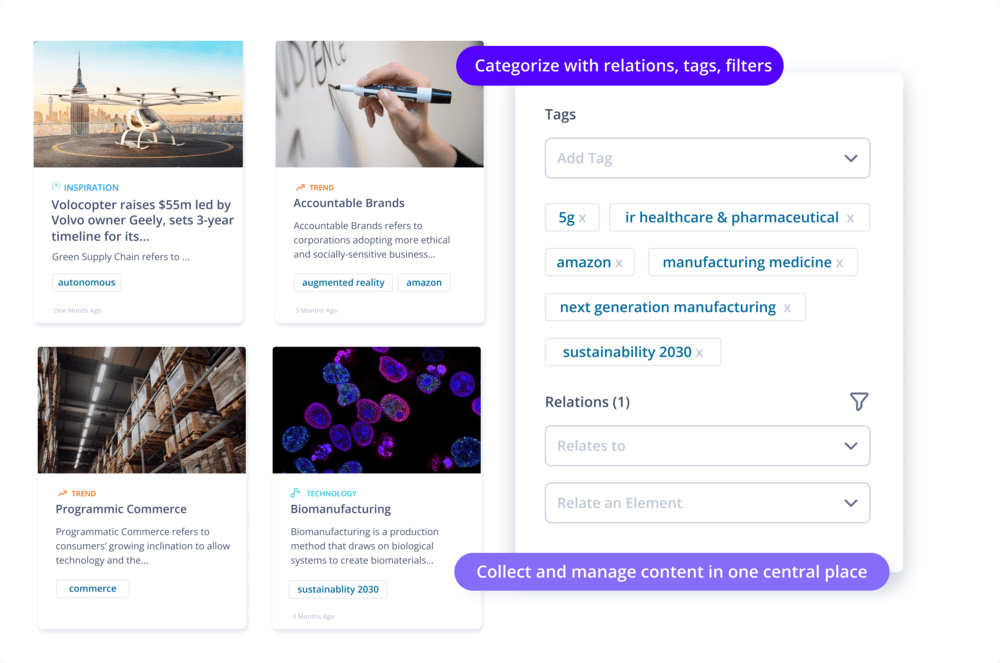 One solution to bring all your innovation efforts together, enrich it collaboratively and evaluate it across different views.
Save time with AI-enabled environmental scanning that sorts through masses of data so you can focus on what matters.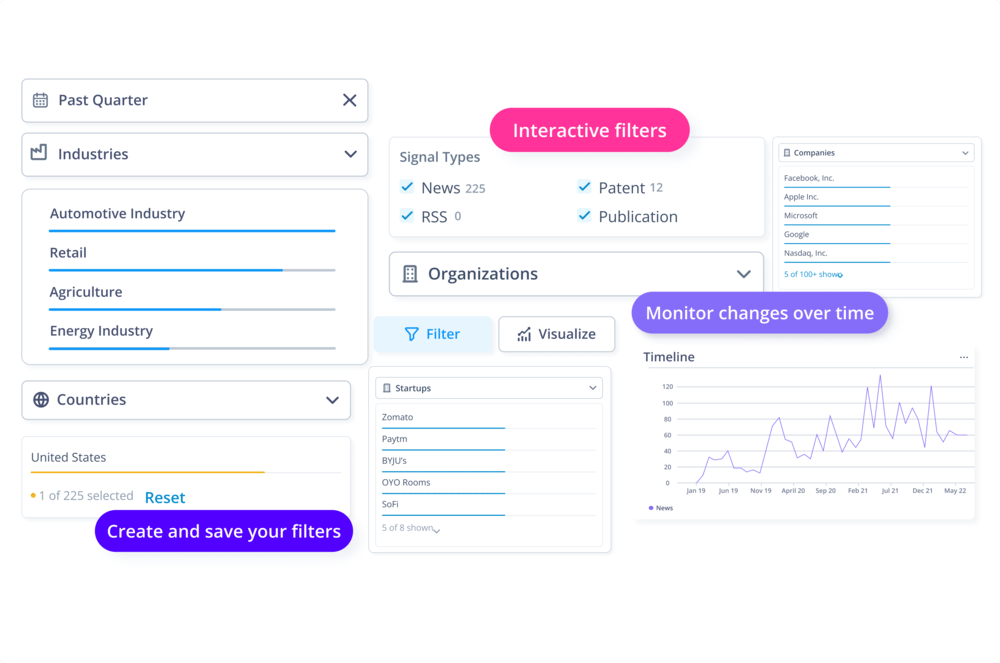 Navigate vast amounts of data with advanced search filtering and the ability to visualize signals over time and geography.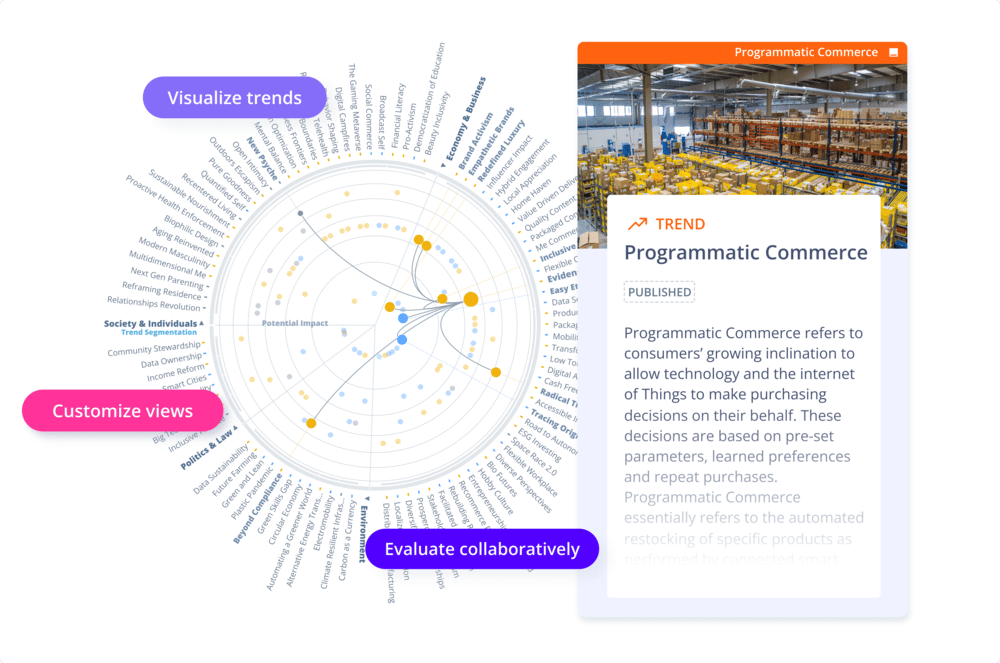 Explore trends and uncover new opportunities for growth using interactive radars.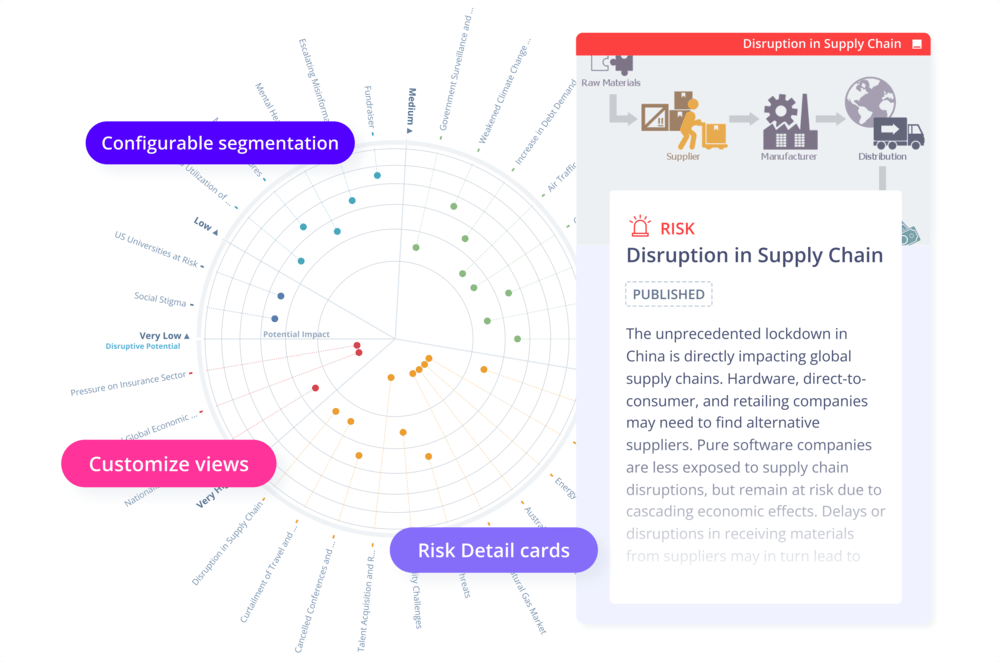 Establish an early-warning system with a risk radar to monitor threats to your company.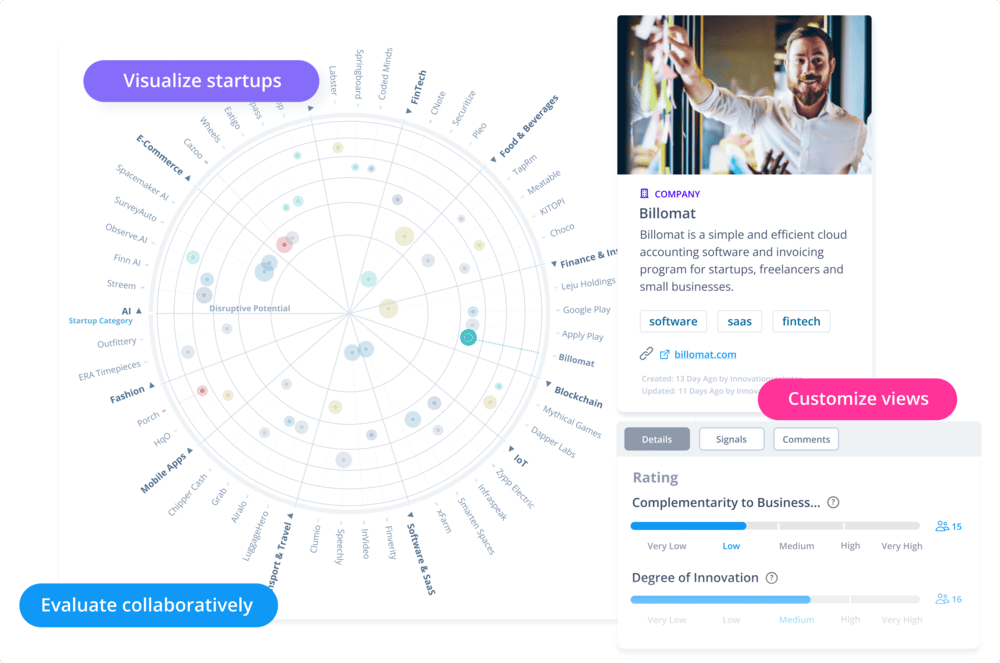 Accelerate the realization of your innovation goals by finding relevant startups to partner with.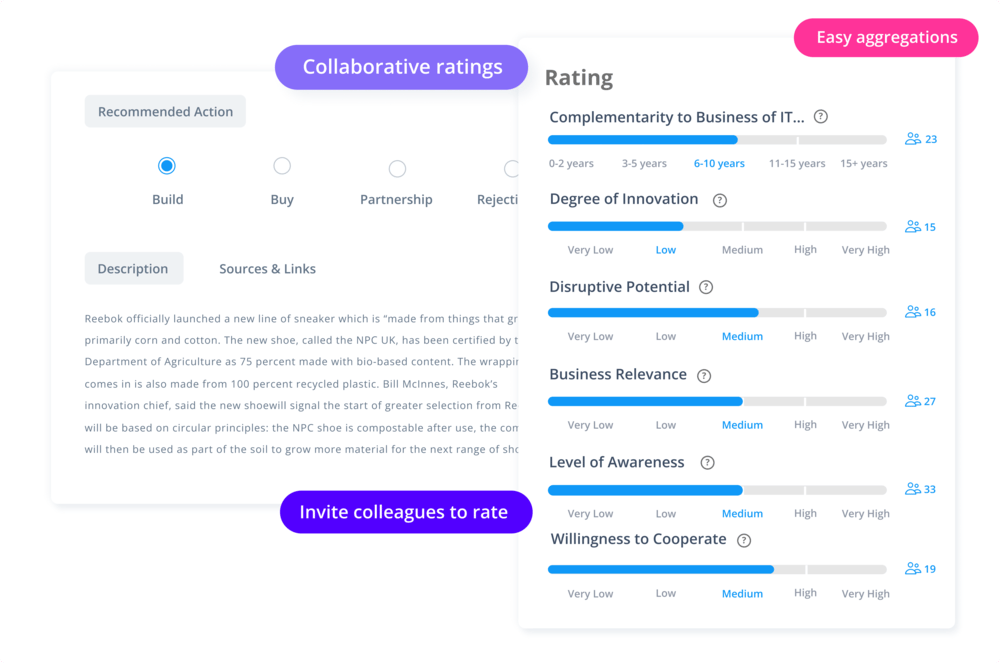 Customizable criteria enable team members and external experts to rate content in a way that combines collective knowledge.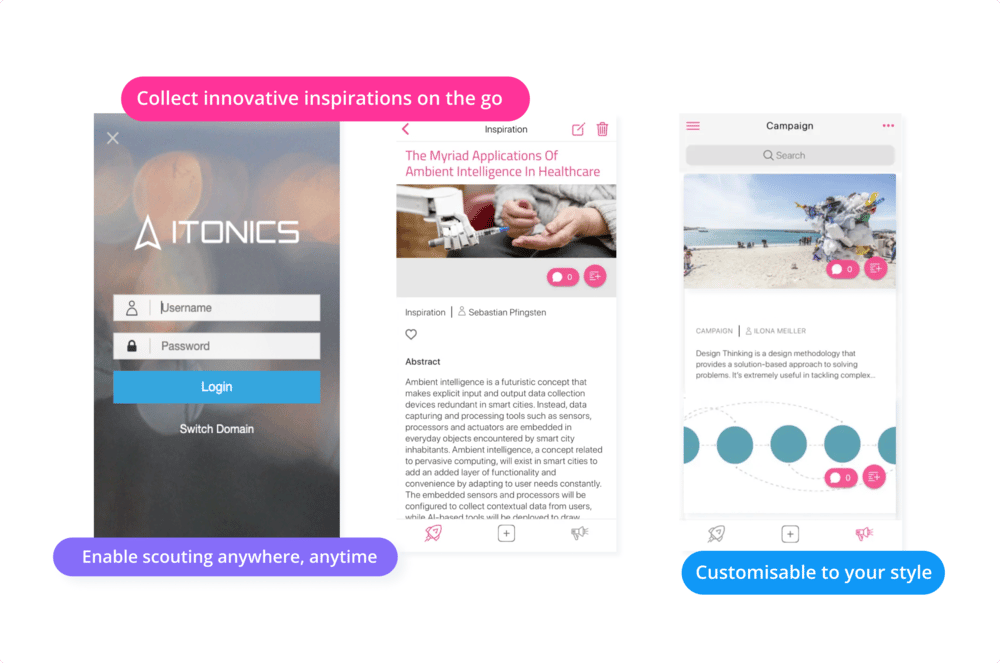 Capture inspirations on your phone while on the go. Now anyone, anywhere can be a scout.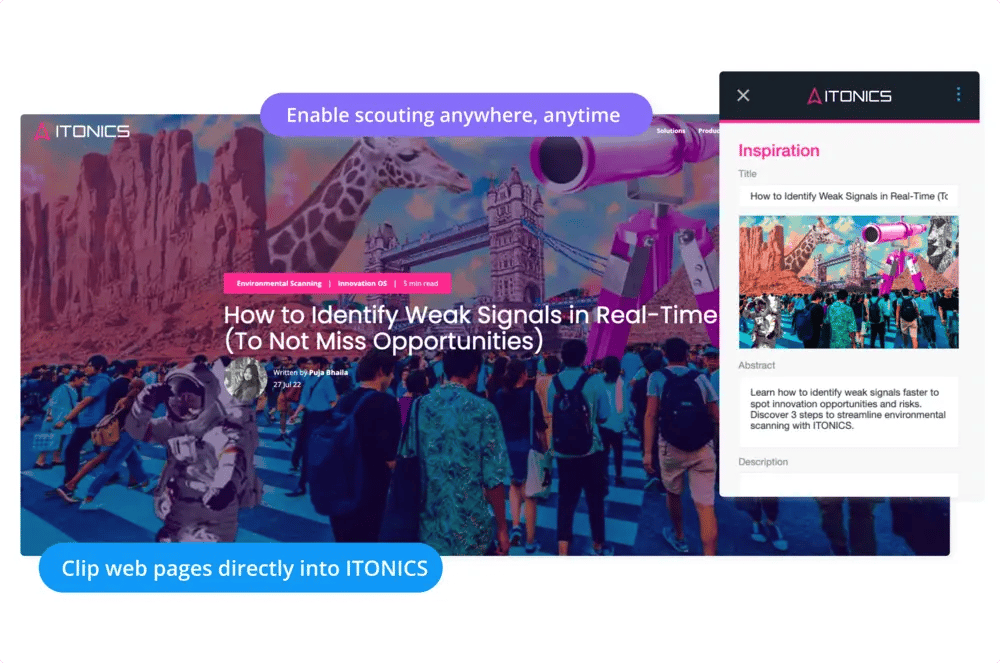 Simple browser extension to collect inspiring content from the web and easily save it directly to the ITONICS Innovation OS.
Use a single point of truth to empower your trend scouting teams
Read more on our unique, proven methodology that covers the following innovation questions: Where to Play, How to Win, and What to Execute.

Best-practice stories from true innovation rockstars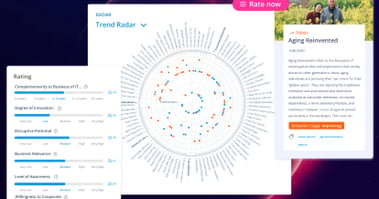 Learn how to evaluate trends and technologies with the ITONICS Innovation OS in this guide.
Download Guide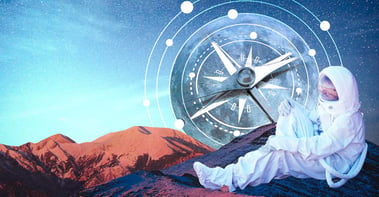 Discover how you can use ITONICS Insights to enhance your environmental scanning.
Download How-To Guide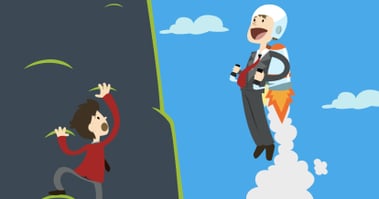 How to identify innovation opportunities and stay ahead of your game.
Download White Paper