CUSTOMER SUCCESS STORY
Establishing a company-wide innovation network
How KSB is achieving a company-wide culture change with a digital innovation platform using the ITONICS Innovation OS.
saving on processing time of ideas
"Our biggest challenge was the connection and knowledge sharing between our employees and the establishment of a more integrated process. KSB reacted accordingly by breaking down traditional organizational structures partnering with the solution provider ITONICS."

– Frank Udo Kimm, Head of Idea Management, KSB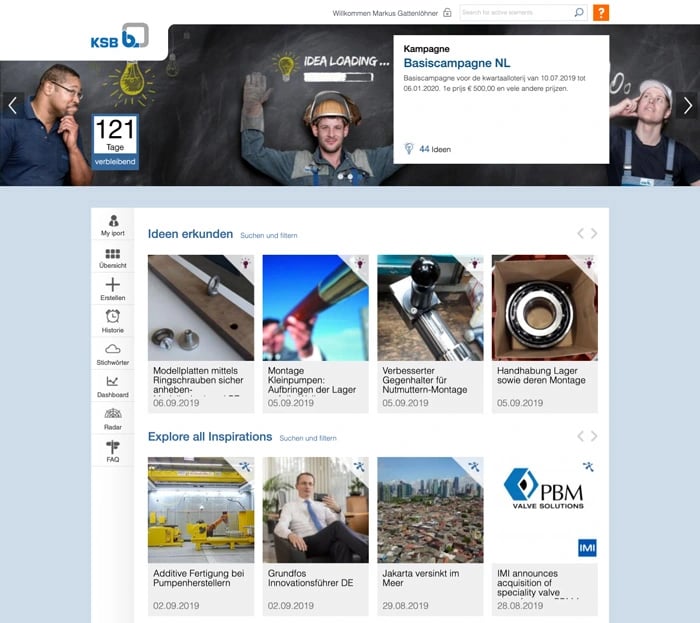 THE CHALLENGE
Turning innovation into a global, integrated performance engine
Ensuring a sustainable competitive edge in an increasingly digital landscape requires proactivity and informed decision making.
Companies need to tear down internal knowledge barriers in order to react to any changes in the market, to detect innovation potential and to adapt strategies accordingly.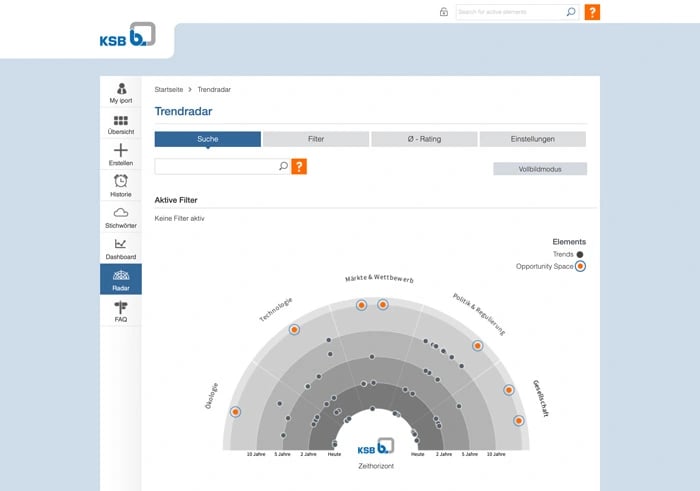 Initial situation at KSB
In order to break down internal knowledge silos, KSB, a leading supplier of pumps, valves, and related systems, implemented the innovation platform iport in 2017.
Today there are over 7,043 active users and more than 1,100 ideas have been submitted. Based on the ITONICS innovation platform, all employees worldwide can actively participate in the idea and innovation management.
Small group of participants, no community
Small, local improvements
Mostly only production areas involved
Little effect of idea management on entire company
Limitation of idea content by statue
Limited activation mechanisms
Digital innovation process
Transition to a modern and digital idea and innovation management
Connect teams globally
Establish a transparent platform for creativity, communication, and potential for development
Single point of truth
Increase the degree of openness (globally and externally) and drive trend and technology content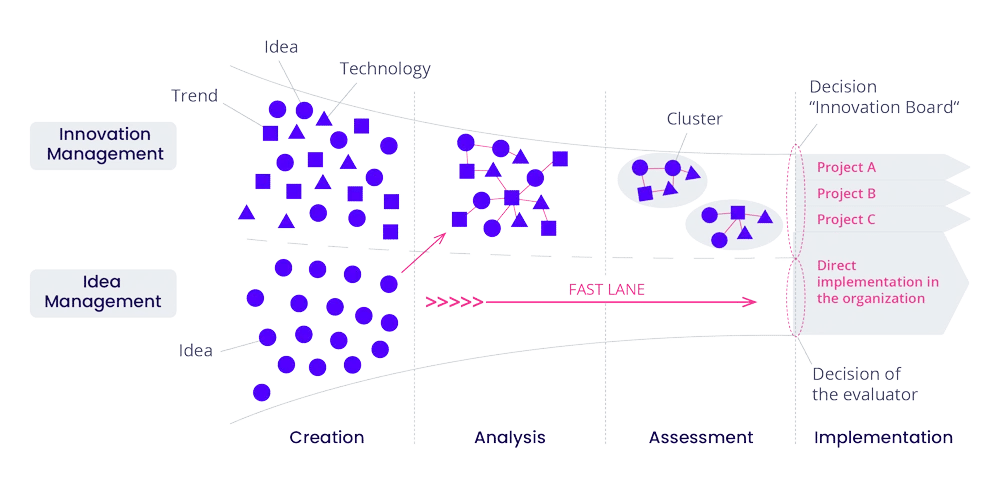 THE SOLUTION
The digital backbone of a KSB-wide innovation network
Together with ITONICS, KSB has built a digital backbone for global knowledge and innovation management. The platform enables a new type of communication and is thus an essential part of the cultural change towards more openness and curiosity about the future.
Gamification and targeted incentivized campaigns increase the system's attractiveness and user motivation.
It is now possible to identify strategic innovation fields for growth in possible attractive markets and use generate new ideas.
Comprehensive dashboards enable continuous performance management.
7,043 users from 16 locations are active. More than 1,100 ideas were submitted since the launch oft he platform.
The processing time of an idea from submission to implementation continuously decreased by more than 60%.
Employees can now comment, like, and discuss each other's ideas - on the platform and offline.
DOWNLOAD SUCCESS STORY
About KSB
KSB is a leading supplier of pumps, valves, and related systems. These are used in a large variety of applications ranging from building services, industry and water transport to waste water treatment and power plant processes. KSB employs today more than 15,000 people.
Learn more about how innovative companies implemented a world-class innovation ecosystem. Get a free demo!