Trusted by global innovation leaders
Develop winning ideas using idea management software
Use the leading idea management software to grow your global innovation ecosystem by involving global teams, collaborators, experts, customers, and startups. Collect, evaluate, report on, and integrate ideas to maximize innovation potential.
Foster intrapreneurial thinking and culture
Collaboratively rate and discuss submissions
Incentivize participation through gamification
Multiple campaigns at the same time
Continuous improvements or moonshot campaigns
Customizable to match your branding and workflows
Idea management software for open or closed ideation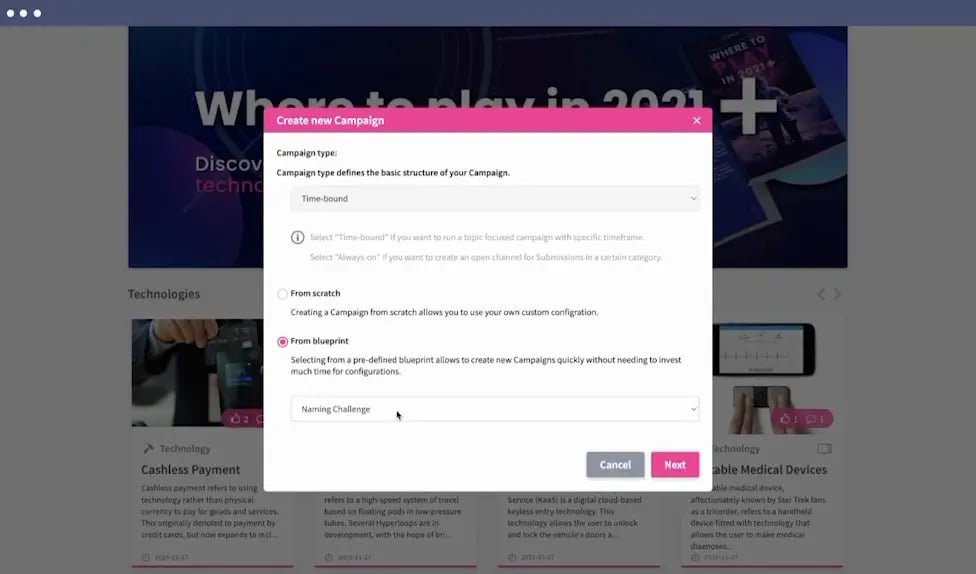 Connect strategy, projects and people for growth
Create and save best-practice templates
Manage all innovation data in one central idea management software
Collectively rate ideas to back winning opportunities
Time-bound or always-on phase-gate innovation campaigns
Configurable campaign workflows and rights and roles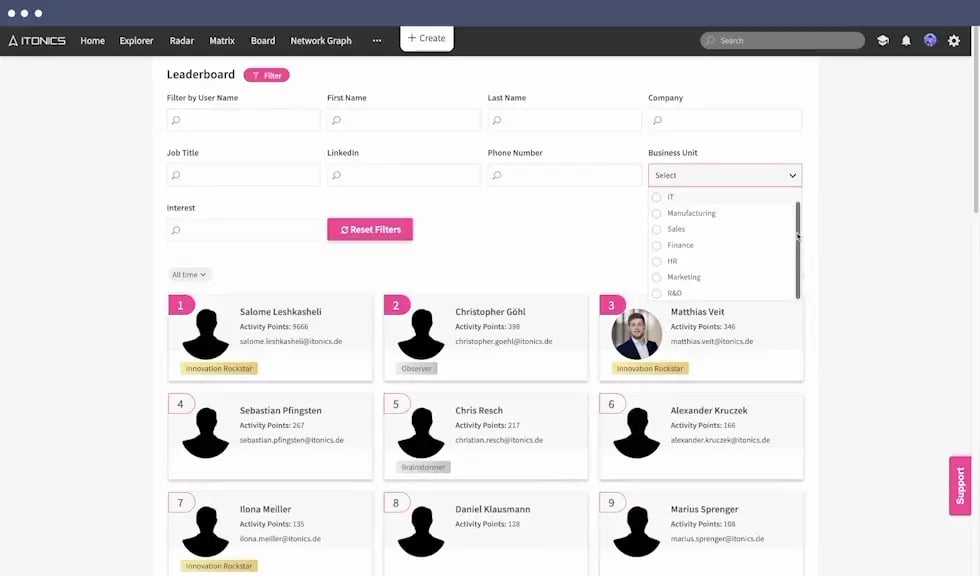 Maximize engagement
Connect campaigns to your public web presence
Clearly inform campaign participants with dedicated action buttons
Inspire interest with newsletters and notifications
Customize campaigns with your branding
Gamify and nudge to keep up motivation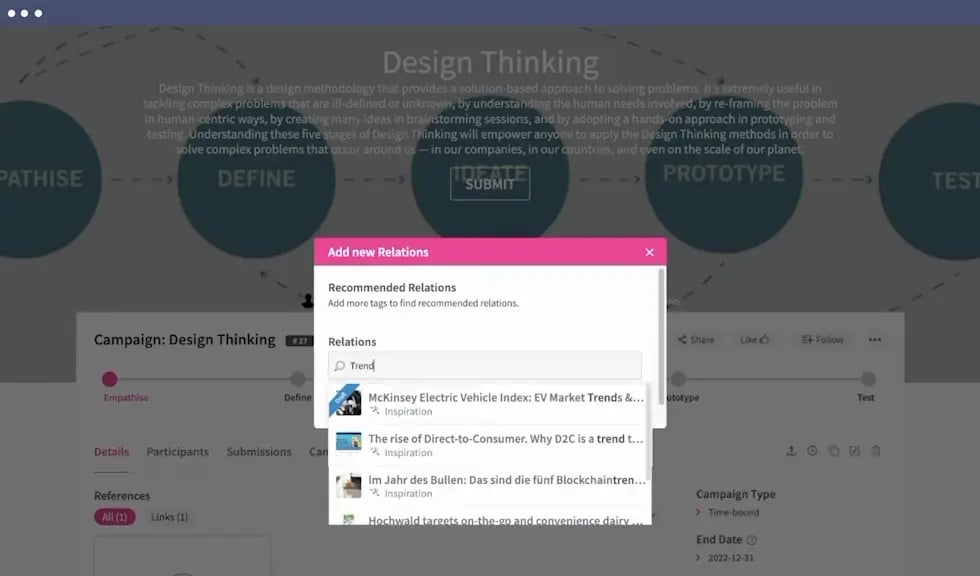 Drive ideas to implementation
Campaign-specific permissions allows the right level of participation
Collective evaluations highlight what to focus on
View campaign data and results with dynamic visualizations
Built-in reporting tools
Quick campaign overviews in configurable dashboards
Maintain focus and control. Set repeatable best practices.
The idea management software can be tailored to your language, corporate identity, process, and culture: individual branding, information objects, workflows, and processes allow consistency across all current and future innovation activities.
Saved templates, KPI and activity tracking and phase-gate processes make sustainable ideation possible.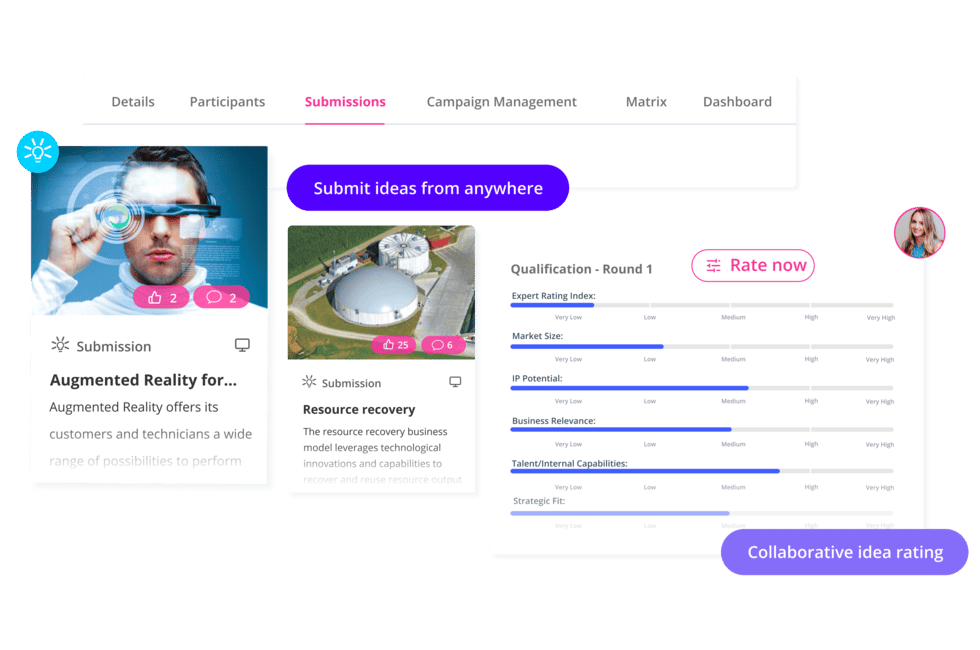 Anchor ideation in a single point of truth
The ITONICS ideation tools enable you to build a culture of innovation by stimulating targeted creativity.
Connect ideation activities to business opportunities. Compare, analyze and prioritize ideas and partnerships that contribute to your company's overall strategy.
Transform ideas into projects. Steer implementation and growth on one single point of truth. Connect all efforts to achieve unmatched innovation.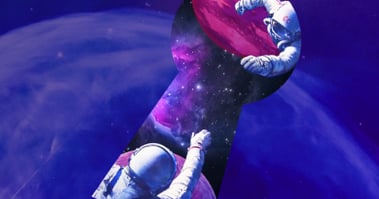 About our software tool for collaborative and integrated ideation campaigns and idea management.
Download Product Fact Sheet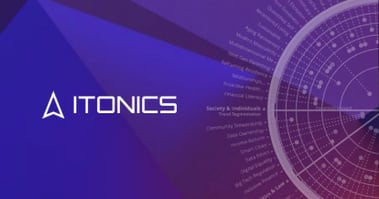 How to gain transparency, shape innovation and steer growth with the #1 Innovation OS.
Download Report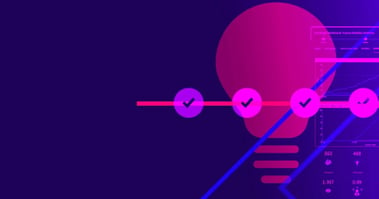 All you need to know about ideation in innovation management.
Read More
Got more questions? We've got answers.
How do I gather innovative ideas from colleagues?

ITONICS Campaigns has unrivaled flexibility in configuring how you gather ideas. Decide whether to create top-down or bottom-up ideation challenges, set the timeframe, and select the fields of information you want participants to submit. You can embed a form externally to receive submissions as part of open innovation. Invite users within your organization to participate, or granularly select the stakeholders and experts you want to involve.

Our gamification system incentivizes participants to submit and evaluate ideas. Participants start on the custom Campaign page and submit their idea according to the required details, images, and descriptions specified by the campaign manager. Before saving and submitting, they also have the opportunity to relate their idea to trends and technologies already on the platform, thereby providing the evaluators with additional context.
Can I invite external experts to contribute to ideation?

Yes, bring internal and external expertise together on one innovation management software. You increase the value of the outcome when you engage individuals with diverse backgrounds and experiences to share and combine their knowledge to solve your challenges. There is the option to embed a form externally to receive submissions as part of open innovation. Collaborate with inventors or startups by providing them the opportunity to submit proposals online, fast and easy.
How does the ITONICS idea management software increase engagement?

The idea management software from ITONICS provides gamification functionality to immerse participants in innovation activities and incentivize them. Users get activity points and achievement badges by performing actions on the ITONICS Innovation OS, including submitting ideas, or raating, commenting, and discussing ideas of others in Campaigns.

Activity feeds inform users about updates and motivate them to frequently revisit the innovation campaign they are engaged in. Customizable newsletters and integrations into corporate collaboration platforms nudge intrapreneurs to become active contributors to ongoing innovation activities.
How many people can participate in an ideation campaign?

Whether you're seeking incremental improvements or big disruptive concepts, ITONICS scales, from 10 to 100,000 innovators. Our clients have engaged thousands of individuals around the globe to gather input on their most attractive business opportunities. In 2015 for example, 36,600 Cisco employees participated in their company-wide ideation challenge delivered through the ITONICS idea management software. That is more than 55% of their employees globally!
Why is ITONICS Campaigns the best idea management software?

ITONICS Campaigns is the leading idea management software. By using ITONICS for ideation campaigns, you can collect and evaluate ideas from employees as well as external parties. You can then process those ideas on the same platform. The workflows on Campaigns are configurable to your needs. The ITONICS Innovation OS serves as one single source of truth for your organization to follow through from idea to execution.