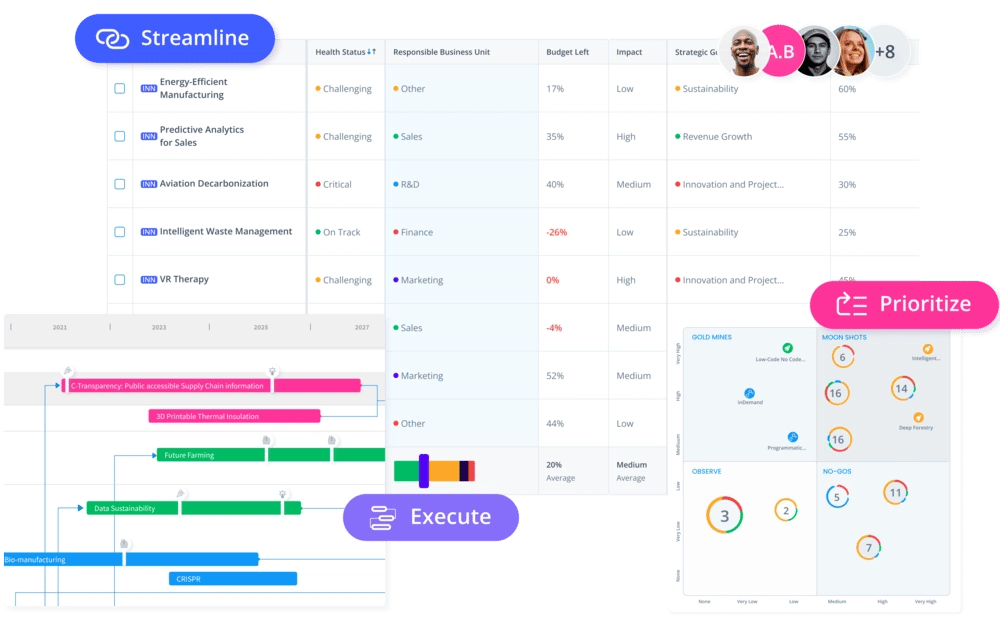 ITONICS PORTFOLIO
Portfolio management software to deliver growth from your innovation strategy
Drive results with confidence. Seamlessly align, prioritize, and execute your most valuable growth initiatives. Deliver unwavering value while adapting to disruptions. Allocate resources precisely when and where needed.
Trusted by global innovation leaders
De-risk innovation
Gain early insights into risks and attain a balanced innovation portfolio. Make informed decisions by identifying non-ROI projects and adapting to dynamic situations with confidence.
Clarity and consistency
Reinforce monitoring, reporting, and impactful decision-making with a clear line of sight in one single view. Connect strategy and execution. Balance and recalibrate your innovation portfolios.
Steer with success
Adapt to changing environments by integrating projects, programs, and portfolios with foresight intelligence. Drive business value with collaborative and connected roadmaps.
Your decision command center to drive results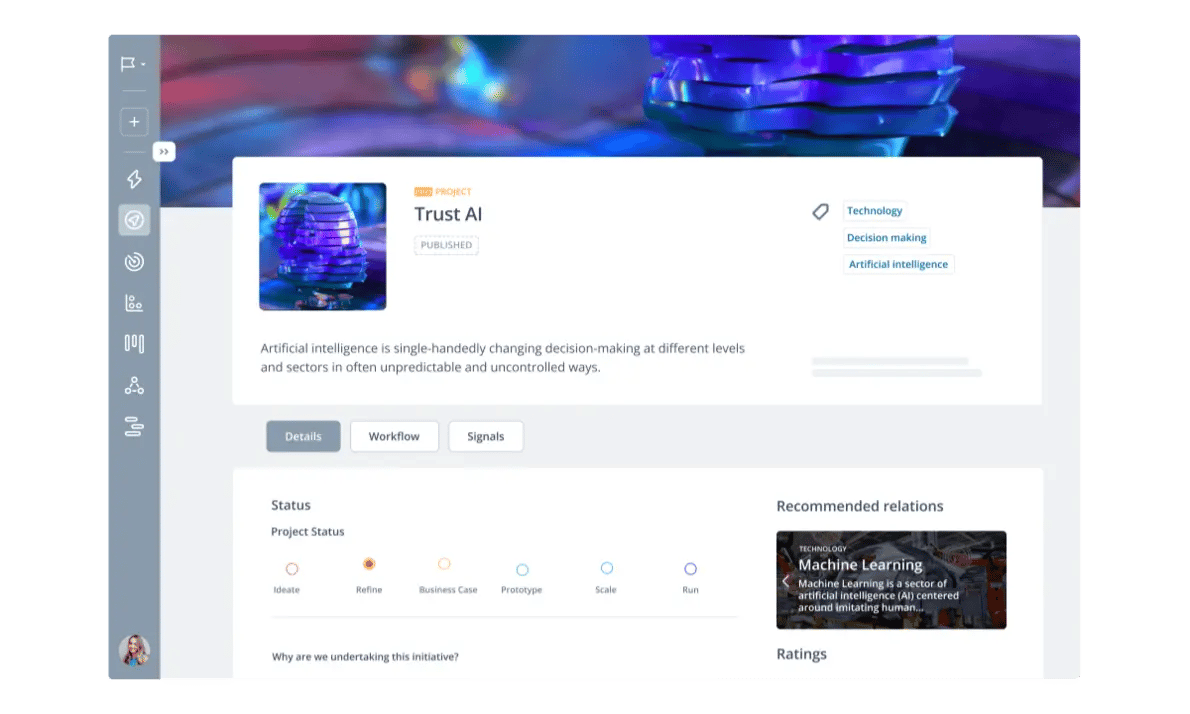 Remove inefficiencies and duplication of efforts
Streamline your innovation portfolios with Kanban Boards, tagging, categorizations, and automated recommendations. Gain a comprehensive, centralized portfolio view that simplifies the maintenance, analysis, reporting, and optimization of your innovation projects.
Monitor and govern initiatives and aggregate KPIs to align resource allocation for analysis and adaptation.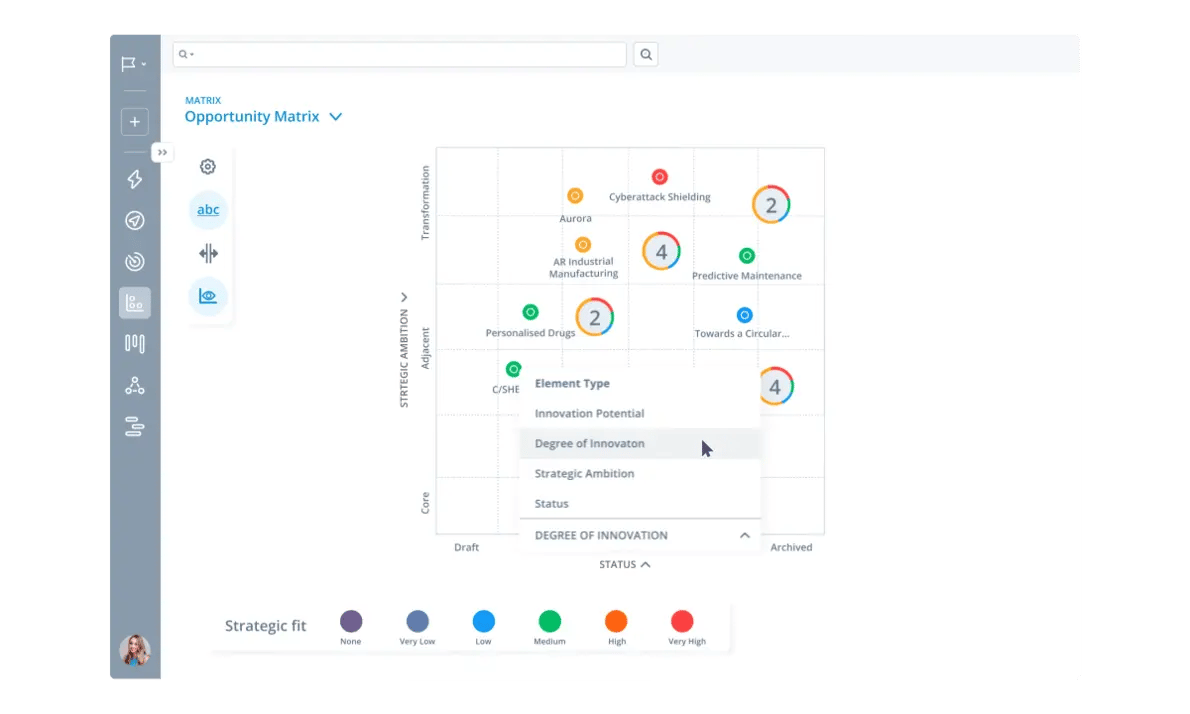 Adjust risk exposure and anticipate change
Balance quick wins and moonshots with Matrix insights. Leverage change, proactively manage risks, and streamline execution. Amplify potential by reducing inefficiencies with interactive Roadmaps and streamlining execution.
Achieve efficient innovation execution for improved ROI.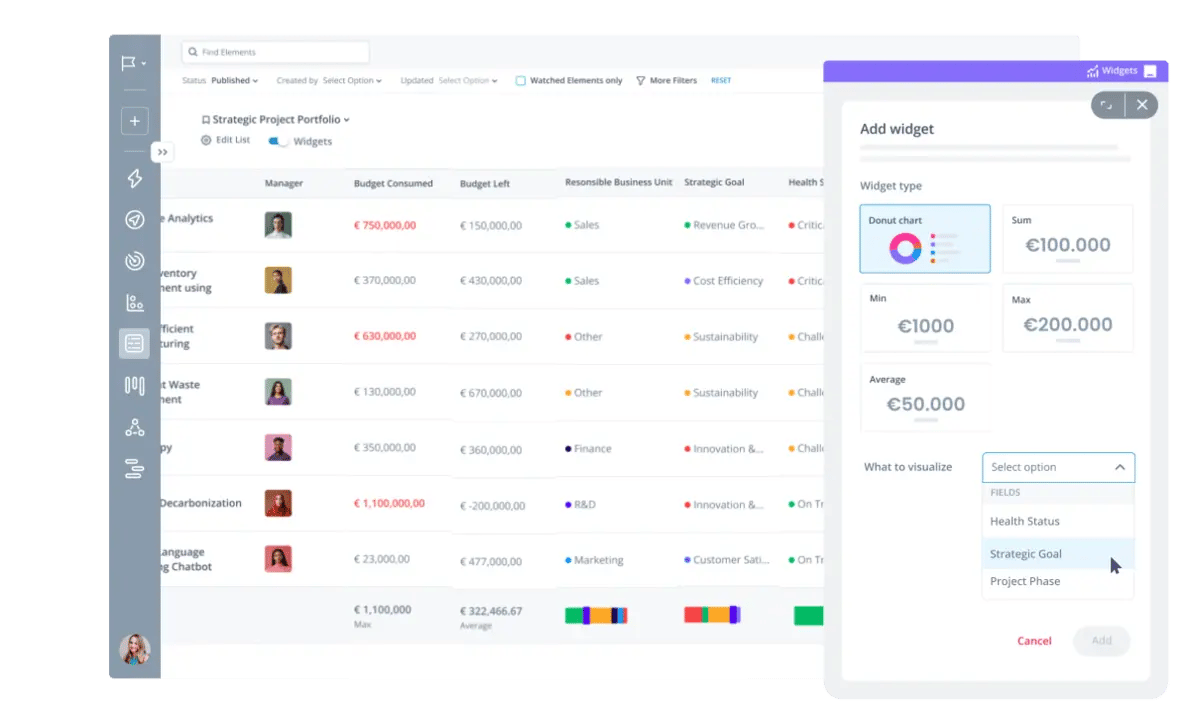 Enhance clarity and consistency
Strengthen oversight and reporting and visualize critical interdependencies. Aggregate information across your portfolio to understand resource usage, evaluate portfolio health, and rapidly respond.
Maintain strategy-to-execution alignment on one single source of truth.
€ 3,000,000
Average savings by eliminating duplication
5x
ROI increase through savings
€ 30,000
Average savings with standardized systems
€ 30,000
Average savings replacing decentralized software
Why the best innovators work with ITONICS Portfolio
See how our portfolio management software can maximize ROI
The only Innovation OS to scale your innovation pipeline from scouting to execution
Read more on our unique, proven methodology covering the Where to Play, How to Win, and What to Execute within innovation.
Innovation portfolio software that scales with you
Customize your enterprise-grade innovation portfolio management journey with our flexible pricing tiers. Choose the plan that aligns with your goals and maximize your ROI.
Got more questions? We've got answers.
Why use portfolio management software?

Streamline how you allocate resources and maximize returns on investment by smartly optimizing your innovation portfolio. Portfolio management software aggregates and sharpens project, program, and portfolio information, making it easy to monitor, govern, evaluate, and adapt your initiatives. Boost your innovation portfolio's success by using portfolio management software to regularly check if it's aligned with your strategy, your main business goals and if resources are evenly distributed for well-rounded growth.
Who is ITONICS Portfolio for?

ITONICS Portfolio is a modern, interactive strategic portfolio management software tailored for teams and leaders striving to optimize growth initiatives and elevate portfolio performance to meet organizational growth objectives.

Specifically beneficial for innovation managers, EPMOs, and executives across various industries, ITONICS Portfolio empowers you to make well-informed decisions concerning resource allocation and risk mitigation, ensuring a streamlined path to successful innovation.
What benefits does portfolio software bring to my business's performance?

Portfolio management software provides a structured framework to strategically manage and allocate resources to your growth initiatives. It enables your teams to optimize your portfolio by aligning projects with overarching business goals, reducing duplication of efforts, and prioritizing high-impact initiatives.

With real-time insights and comprehensive analytics, the software empowers informed decision-making, leading to better resource allocation and risk management. This results in improved innovation success rates, faster time-to-market, and a more balanced and impactful approach to growth, ultimately driving your business's overall performance to new heights.
Why should I choose ITONICS Portfolio software?

ITONICS Portfolio provides a versatile software solution that empowers organizations to seamlessly synchronize strategic investment planning and execution, fostering proactive and reactive adaptations. Ensure a seamless flow from strategy to execution with visualization tools that showcase progress and interconnections, quickly revealing potential redundancies and inefficiencies.

Elevate efficiency and decision-making through advanced collaboration tools. By seamlessly integrating with ITONICS Foresight and ITONICS Ideation, it establishes a comprehensive, systematic innovation ecosystem, offering reliable and replicable processes to fuel your growth journey.
How long does ITONICS Portfolio software take to set up?

Use ITONICS best practice templates to kickstart your portfolio management activities on the system. Our experienced customer success teams are ready to support you in setting up your system. Use our comprehensive self-service Knowledge Base and online Academy to help you find the right answers to your questions.
Will I need to adapt my current process to utilize ITONICS Portfolio software?

No. You can configure ITONICS to suit your individual processes. For Starter and Team editions, our best practice templates and workflows streamline your portfolio management process from day 1.