CUSTOMER SUCCESS STORY
Increasing innovation efficiency and impact at Toyota
How Toyota Motor Europe is using the ITONICS Innovation OS to bring together manufacturing centers in Europe on one digital platform to empower innovation.
projects centralized on platform worth
>20M EUR
external companies registered
on platform
Targeted innovation requires a "single point of truth", a single source of information to guide people and to make it easy for them to find what's going on in our organization. The ITONICS Innovation OS is such an environment, bringing together more than 500 Toyota members from our European manufacturing centers on one digital ecosystem.


– Andrew Willett, Senior Expert, Toyota Motor Europe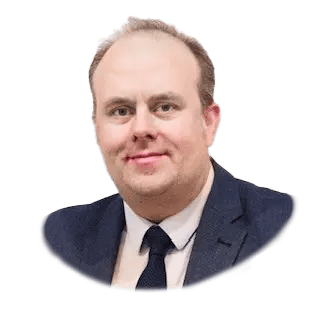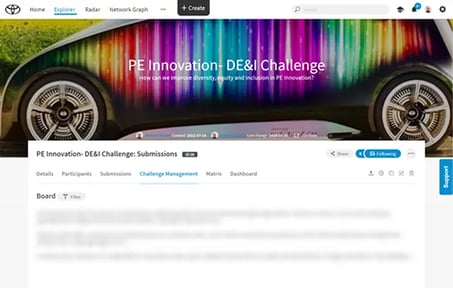 THE CHALLENGE
Enabling innovation across European manufacturing centers
Innovation has picked up speed, especially in the automotive sector. Toyota Motor Europe's production engineering innovation teams rose to this challenge, tasked with streamlining all manufacturing centers in the European region in terms of maximizing research and innovation efficiency.
As part of this initiative, 40 innovation software systems were put through their paces across various teams and departments. The ITONICS Innovation OS proved to be the system that best met the requirements of a top-level system for innovation. The platform is now used by more than 500 Toyota members across Europe with the goal of rolling it out to more parts of the organization.
Innovating the Toyota way
The global automotive company Toyota can undoubtedly be considered an innovation leader in its industry. The world-renowned Toyota Way, a set of guidelines and principles, has created a corporate philosophy and organizational culture leading to a common language within the company, regardless of cultural diversity across continents.
Toyota has maintained its own uniqueness and power when it comes to innovation. The "members," as Toyota calls its employees, are offered numerous opportunities to continuously contribute, implement, and drive new ideas across the organization.
All Toyota members are encouraged to contribute new ideas and drive innovation forward.
Toyota saw an opportunity to bring innovation closer to European manufacturing centers and equip people with necessary tools to collaborate on innovation.
Digital approaches are needed to compensate for fewer supplier visits and conferences since the COVID-19 pandemic.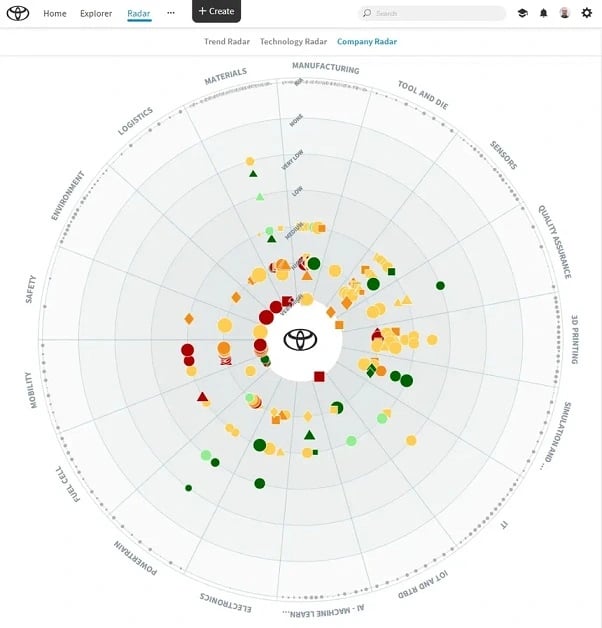 Objectives of implementing a central innovation system
Dissolve information silos
Consolidate disparate sources of knowledge and scattered information across Toyota on a single platform.
Reduce costs
A much more digitized environment is expected to reduce costs along the innovation process.
Confidentiality
The system must be inclusive but at the same time ensure data governance across sites, teams and forms of employement.
THE WAY FORWARD WITH ITONICS
A digital innovation pipeline for end-to-end efficiency evaluation
Using the ITONICS Innovation OS, Toyota Motor Europe gathers and assesses information on future trends, technologies, companies, competitors, projects and more on the platform. In addition, the system supports virtual events and pitches where new project proposals for R&D and production engineering are presented. These proposals can be submitted and evaluated by experts on the platform and turned into real innovation initiatives.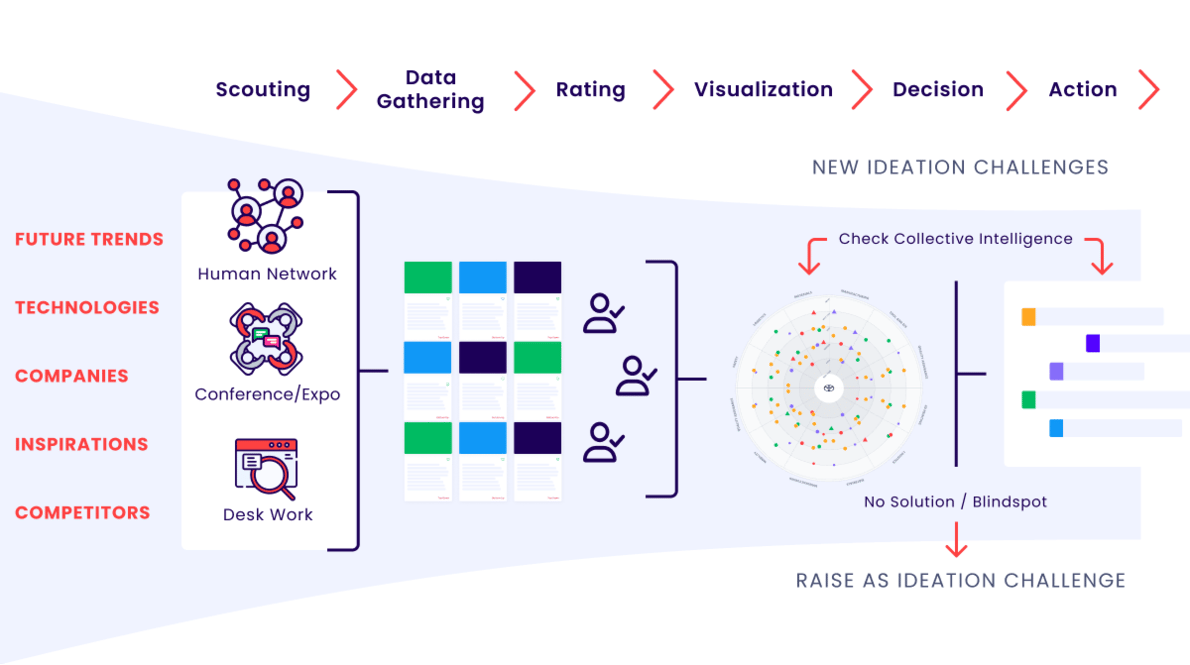 Single source of truth: Toyota has centralized research and innovation information on a single platform, enabling visualization of metrics across the organization and the creation of an innovation pipeline for end-to-end efficiency evaluation.
Pool of future opportunities: Today, there are 200 projects of varying sizes on the platform, valued at more than €20 million, and a clear pipeline of new opportunities and proposals.
Virtual events: The platform was successfully leveraged as a digital tool before, during and after 58 external events with several hundred virtual contributors to evaluate new companies, proposals and projects.
Ideation: Innovation challenges drive cross-corporate product development and the improvement of day-to-day operations including topics such as safety, diversity, equity, and inclusion.
Process optimiziation: By utilizing the workflow functions of ITONICS, Toyota can now connect early-stage market research efforts with actual realized projects and final impacts.
Cost reduction: A more digitized environment keeps time-consuming attendance at conferences, travel expenses, and duplicate data storage to a minimum and helps reduce costs.
Engagement & collaboration: Collaborative ratings lead to an easier and more uniform evaluation of companies and projects. Digital reviews and comments in the platform drive higher engagement rates and foster a culture of open communication.
Seamless information sharing: Different locations, teams, and members with varying employment types can continuously access, enrich, and share necessary information across the organization.
Controlled access: Confidentiality can be maintained through multiple user and rights concepts, so that interim personnel such as interns or contractors also gain access to the platform.
About Toyota Motor Europe
Toyota Motor Europe NV/SA (TME) oversees Toyota's European manufacturing and engineering operations, as well as the wholesale sales and marketing of Toyota, GR (Gazoo Racing) and Lexus vehicles and parts and accessories.
To learn more about Toyota, the 'Toyota Way' and the use of the ITONICS Innovation OS, listen to the Innovation Rockstars podcast episode with Andrew Willett.
Learn more about how innovative companies implemented a world-class innovation ecosystem. Get a free demo!
More best practice stories from other ITONICS clients