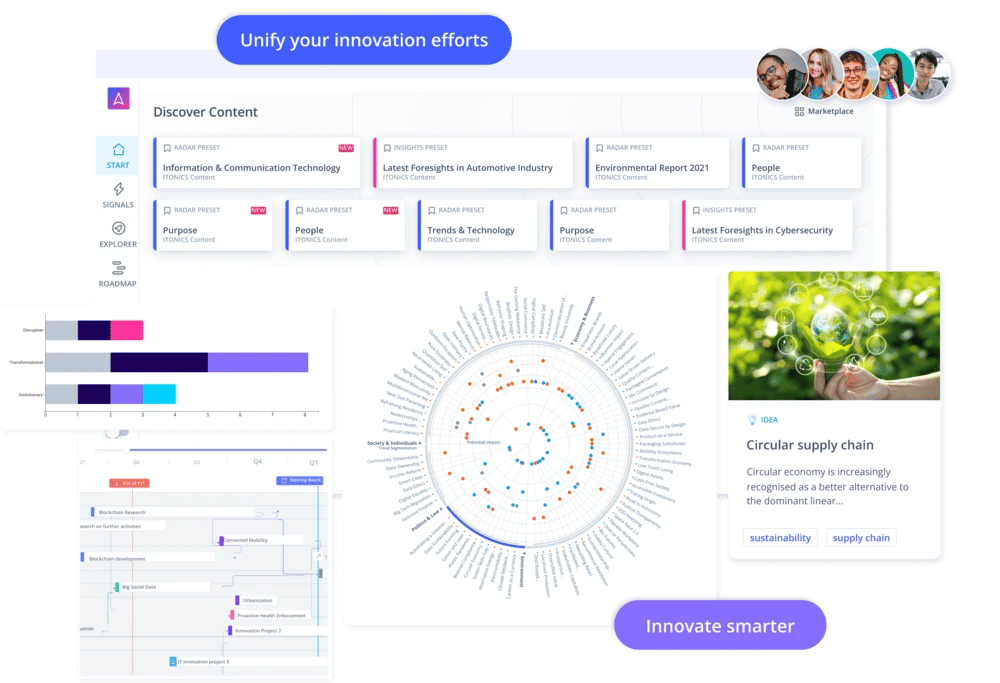 ITONICS INNOVATION OPERATING SYSTEM
Innovation management software to help you accelerate growth
The ITONICS Innovation OS is here to systemize all activities from strategy to execution, at scale. For teams that want to radically upgrade their innovation processes and capabilities with the #1 innovation management software.
Trusted by global innovation leaders
Empower teams to pursue innovation as the driver of growth
Innovation software serves as a digital backbone to do global innovation management for teams of any size. Build a company-wide innovation culture with an interconnected network of innovators.
Make huge amounts of data searchable cross-company
Transparency through interactive visualizations
Activate a global community to innovate together on one innovation software
Build balanced innovation portfolios and agile roadmaps
Gain enterprise-wide line of sight on innovation activities
Automations and workflows to make the innovators' life easier
The leading end-to-end innovation management software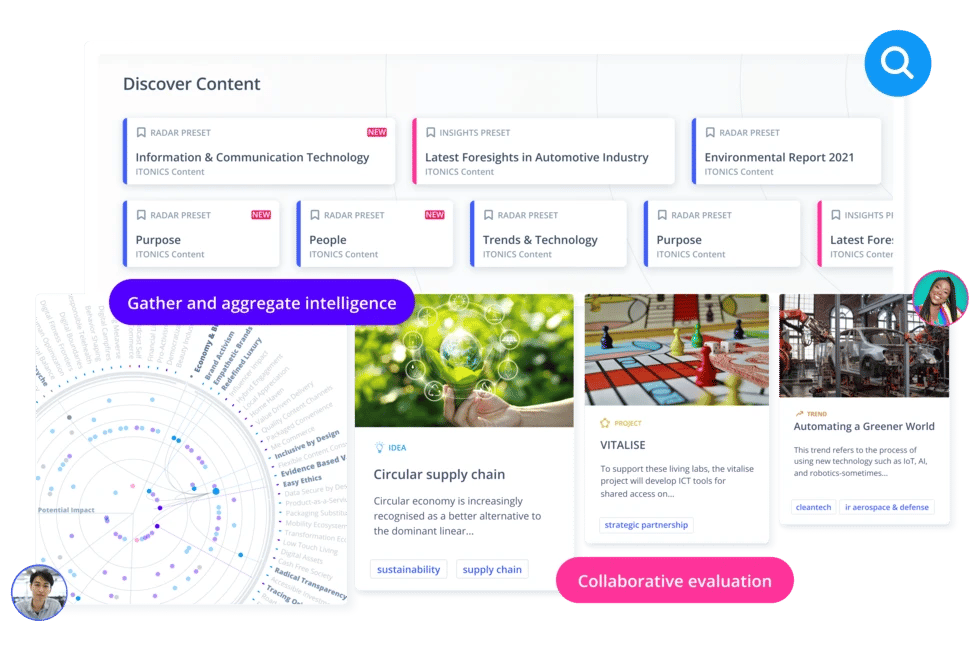 Build a global innovation ecosystem
Use the ITONICS innovation management tools to integrate innovation into teams' regular activities. Gather and aggregate ideas and intelligence on one digital innovation platform.
Use internal experts to their full potential and foster company-wide collaboration.
Evaluate information to build on collective intelligence and ensure alignment.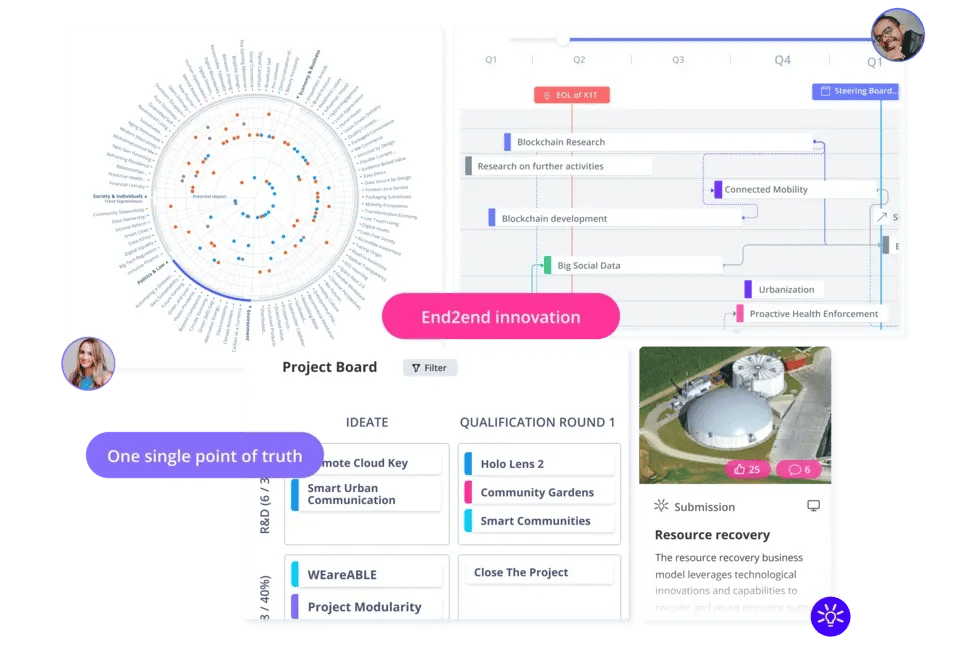 Enhance alignment across business units
Integrate information throughout the end2end innovation process, from strategy to execution.
Configure the innovation software for your specific use case. Involve your teams to turn innovation into a core competency.
Use cases for the ITONICS Innovation Software
Why innovation leaders work with ITONICS
Here's what you need to get started quickly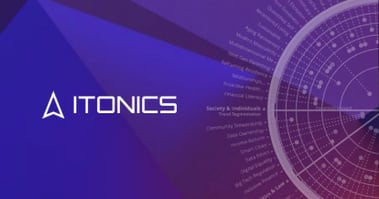 How to gain transparency, shape innovation and steer growth with the #1 Innovation OS.
Download Report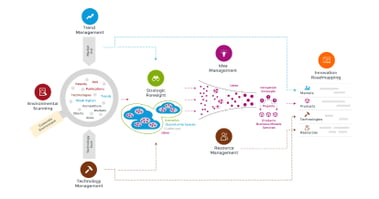 The ITONICS end-to-end innovation approach in one picture: Where to Play, How to Win, What to Execute.
Download Poster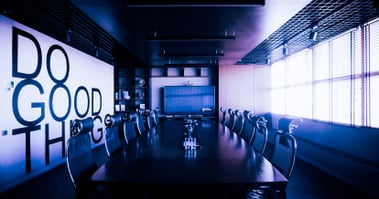 The innovation manager's framework for designing successful growth functions.
Download Framework
Got more questions? We've got answers.
What is innovation management software?

Innovation management software is a comprehensive suite of digital tools designed to empower organizations in driving innovation, right from strategy to execution. It enables companies to systematically uncover and leverage opportunities for sustainable growth and maintaining a competitive edge. The software facilitates the streamlining, integration, and automation of a wide spectrum of innovation activities, and encourages co-creation across different business units, organizations, and geographical locations.

The ITONICS Innovation Operating System is a one-stop innovation management software. Unlike traditional software to manage innovation, ITONICS ensures transparency and promotes collaboration to break down silos and leverage collective intelligence. Instead of you and your colleagues using a range of different tools for growth strategy, foresight, environmental scanning, ideation, open innovation, portfolio management, or roadmapping, ITONICS is one integrated solution. It becomes a single point of truth to unify your company's innovation activities, instead of scattered efforts by different teams across various documents and tools. With ITONICS, innovators can scan through vast amounts of data, find answers quickly, and drive strategic decisions all the way through to project execution.
Why is innovation management important?

Innovation management is crucial as it fosters an environment of continuous improvement and creativity within an organization. It provides a systematic process for organizing, monitoring, and executing each stage of the end-to-end innovation process within an organization, from foresight and ideation to portfolio management and commercialization. In our rapidly evolving business world, innovation management helps organizations maintain a competitive edge by adapting to changing markets and consumer needs. Without effective innovation management, businesses risk falling into stagnation and obsolescence.
How can innovation management software benefit my business?

Innovation management software can benefit your business in several ways, including helping you streamline your innovation processes, improve collaboration between teams, and stay ahead of the competition. It can also help you identify new opportunities for growth and innovation, and make better decisions based on data and insights.
How does ITONICS help me to create an innovation culture at my company?

ITONICS makes it simple for employees to participate in innovation, share ideas, and be recognized—without any training. Sophisticated gamification and nudging mechanisms keep motivation and engagement high. Single sign-on, a branded web portal, rich collaboration features and a slick user experience guarantee a fast roll-out and grows that intrapreneurship you need in volatile times.
What features can I use in the free trial?

We offer a 30-day free trial that has all the functionality of the Professional edition of the innovation management software, including powerful features such as Trend and Emerging Technology Radars, our Insights engine for environmental scanning, Matrix functionalities for innovation portfolio management, and Roadmaps to streamline strategic execution. You can immediately start your individual corporate foresight analysis, invite colleagues to collaborate with you during the trial, and explore our rich content portfolio of trends, technologies, inspirations, and signals shaping your industry and vertical.
Why should I choose the ITONICS Innovation OS?

The ITONICS Innovation OS is the leading innovation management software. The platform offers a simple and efficient way to centralize all your data related to trends, emerging technologies, startups, competitors, opportunities, scenarios, idea challenges, and innovation projects. ITONICS is not just trends. Or ideas. Or projects. It's all the way from strategy to execution on one digital platform. On ITONICS, all growth, transformation, and new business activities are transparent, interlinked, planned, structured and managed. The most innovative organizations around the globe innovate on ITONICS—come and see, how and why. Check all use cases of the ITONICS Innovations OS!