USE CASE > ENVIRONMENTAL SCANNING
Scan and analyze your business environment
Use the ITONICS Innovation OS to understand change, spot opportunities, and make better decisions for today and tomorrow.
Automate the search for weak signals
Enhance scouting with an AI-driven feed
Transform data into insights faster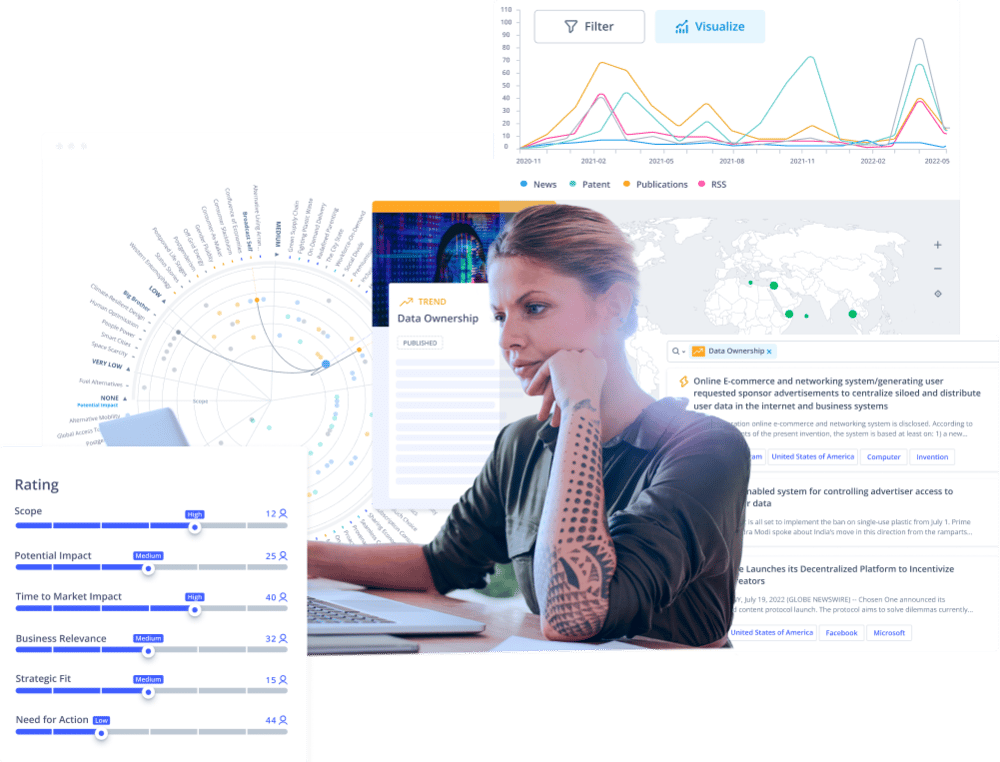 Trusted by global innovation leaders
Why is environmental scanning important?
Environmental scanning is the process of comprehensively and continuously scanning and analyzing external factors that may impact an organization's business environment. The process involves the scouting, scanning, and monitoring of trends, technologies, startups, potential partners, and competitors.
By staying informed and ahead of changes in their external environment, organizations can identify opportunities and threats, and make informed decisions about their business strategy. Environmental scanning can be conducted using a variety of tools and techniques, such as market research, competitive analysis, and trend analysis. Having a structured framework to gather, organize and create innovation intelligence enables informed and evidence-based strategic decision-making.
Identify weak signals in real-time
Access millions of data points from thousands of verified sources with ITONICS Insights. The Insights engine uses Natural Language Processing (NLP) technology to automate scouting by sorting through vast amounts of data. Get filtered data from RSS Feeds, news, patent databases, and scientific publications relevant to your search intent.
Distributed global scouts can scan your business environment for new startups, trends, emerging technologies, and relevant competitor developments on one single point of truth. Anytime, anywhere. Advanced search features enable quick filtering of data to get clarity.
Centralize your research, establish standardized processes, and build a unified insights ecosystem.
Now anyone can be a scout
Teams worldwide can scout for signals of change using ITONICS Insights, Webclipper, and the Inspirator app. Stay on top of continuously evolving environments and make sure you know which of today's weak signals could shape tomorrow's trends and technologies.
Manage the overload of information and reduce the noise to identify the most relevant drivers of change. Radars enable global teams to assess trends, technologies, and more to mitigate risk and keep companies ahead of the curve.
Clients such as Bosch, DZ Bank, or KTM use ITONICS to scout and collaborate with promising new partners, achieving company-wide alignment.
Evaluate the impact of drivers of change with your teams
Involve your entire organization in identifying, discussing, and rating trends, technologies, startups, or competitor developments relevant to your company's future. Ratings leverage collective intelligence and get teams invested in innovation.
With ITONICS' support, Cisco was able to accelerate its technology foresight process by implementing the Cisco Technology Radar platform, allowing 150 technology scouts worldwide to share their insights.
Provide your community with specific focus points and motivate management to prioritize certain opportunities.
Support cross-company foresight programs
Augment scouting, scanning, and monitoring activities to arrive at data-driven decisions faster. Use ITONICS trends and emerging technologies content available out-of-the-box to kickstart your environmental scanning. Identify what's driving change in your industry, vertical, geography, and beyond – short, mid, and long term.
By establishing a continuous pipeline of research on new players in the market, teams can pinpoint potential partners and key competitors. Enable teams to connect external knowledge as supporting evidence to internal knowledge.
Thrive in a world of increasing market volatility. With confidence.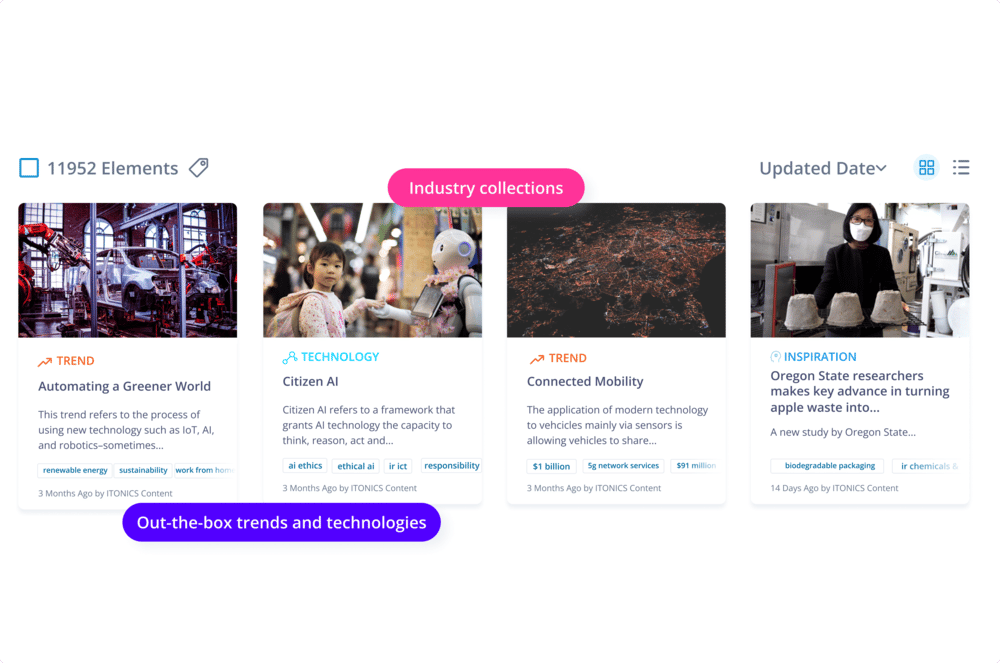 Kickstart your environmental scanning with ready-to-use trends and technologies compiled by our analysts.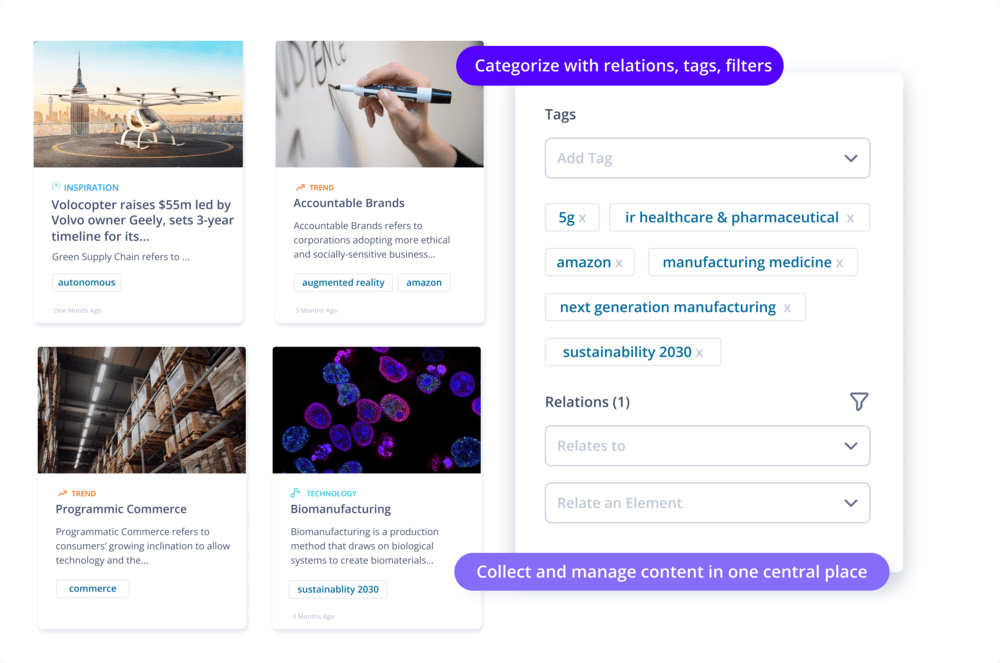 One solution to bring all your innovation efforts together, enrich it collaboratively and evaluate it across different views.
Save time with AI-enabled environmental scanning that sorts through masses of data so you can focus on what matters.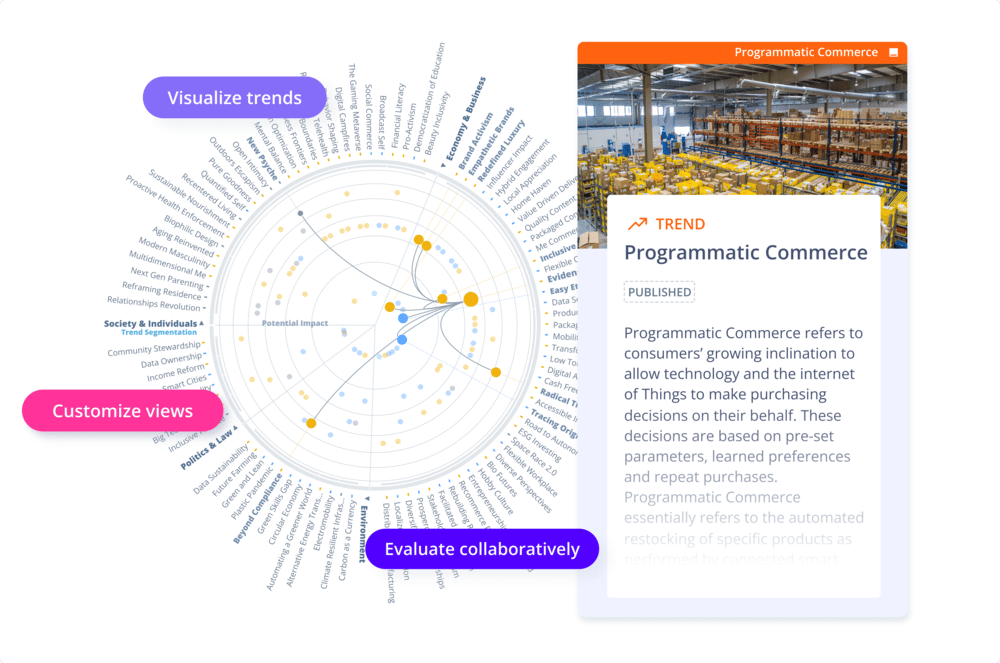 Explore trends and uncover new opportunities for growth using interactive radars.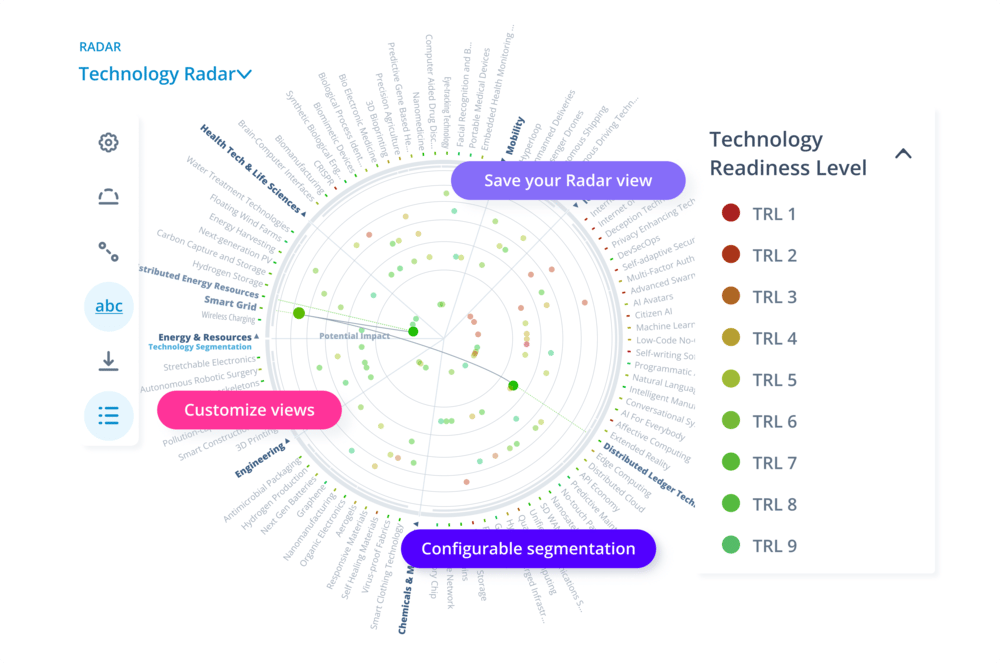 Visualize emerging tech and identify their relevance for your business. Today, tomorrow, and in 5 years' time.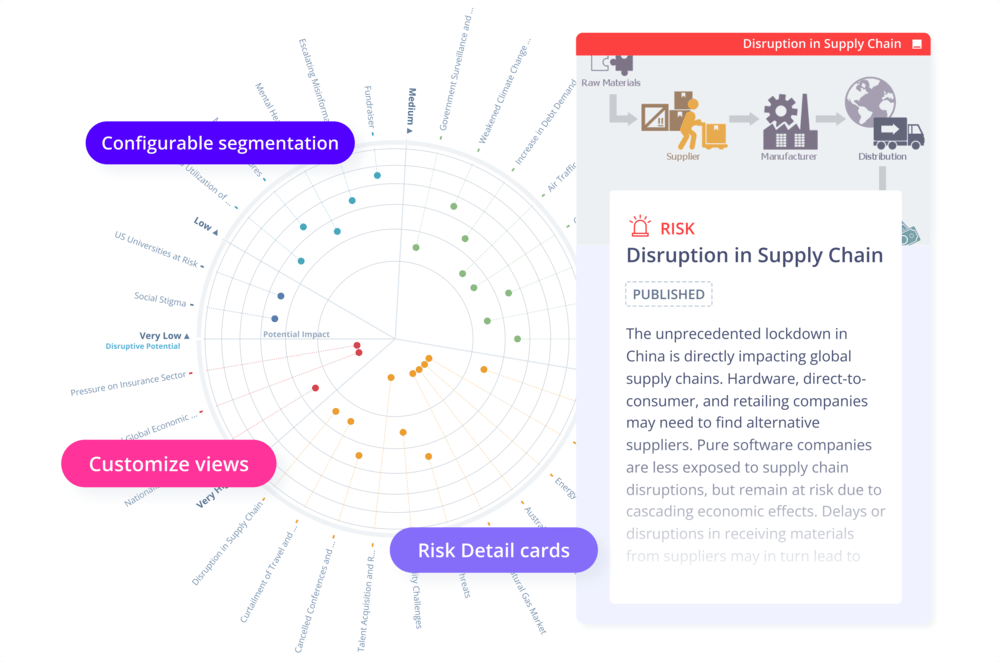 Establish an early-warning system with a risk radar to monitor threats to your company.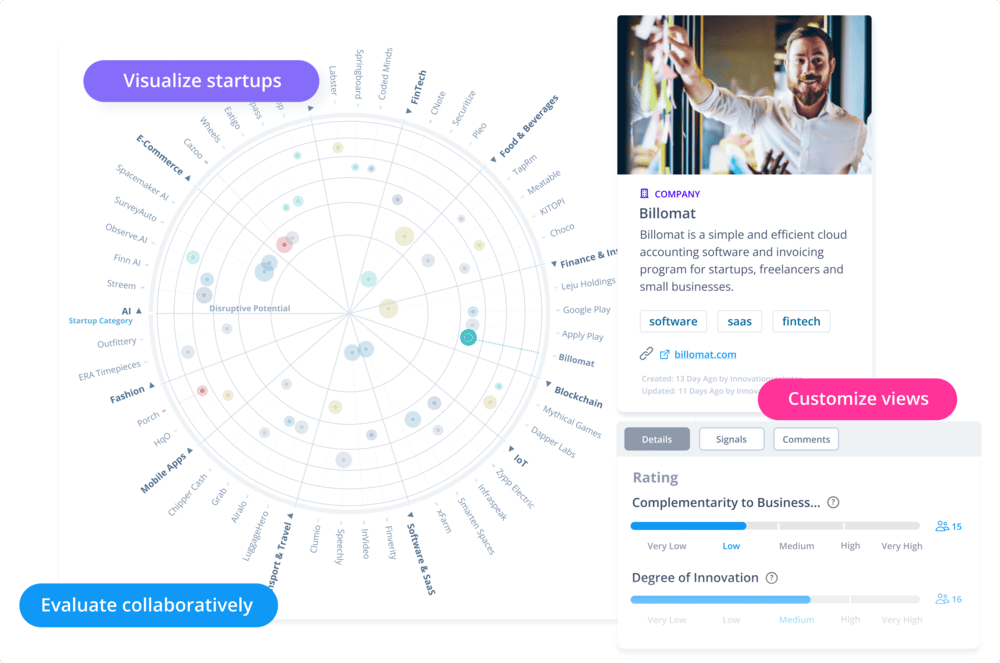 Accelerate the realization of your innovation goals by finding relevant startups to partner with.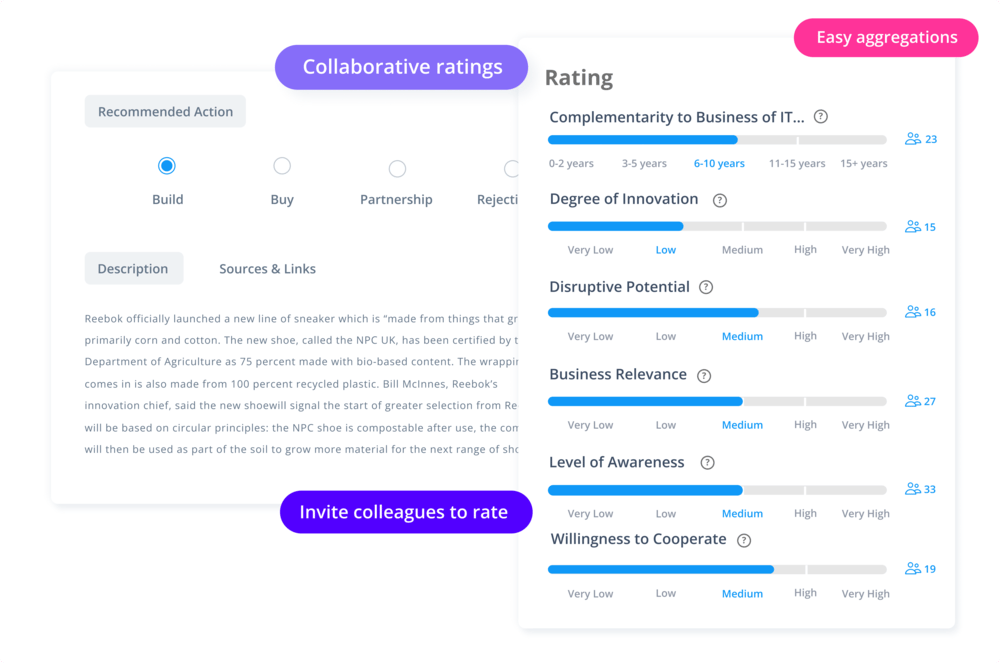 Customizable criteria enable team members and external experts to rate content in a way that combines collective knowledge.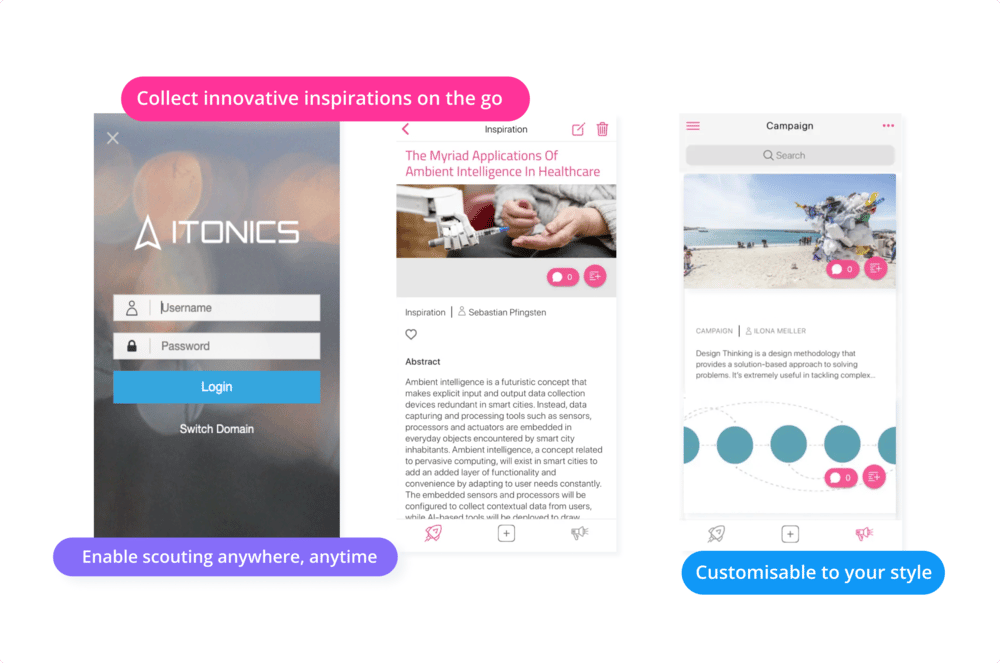 Capture inspirations on your phone while on the go. Now anyone, anywhere can be a scout.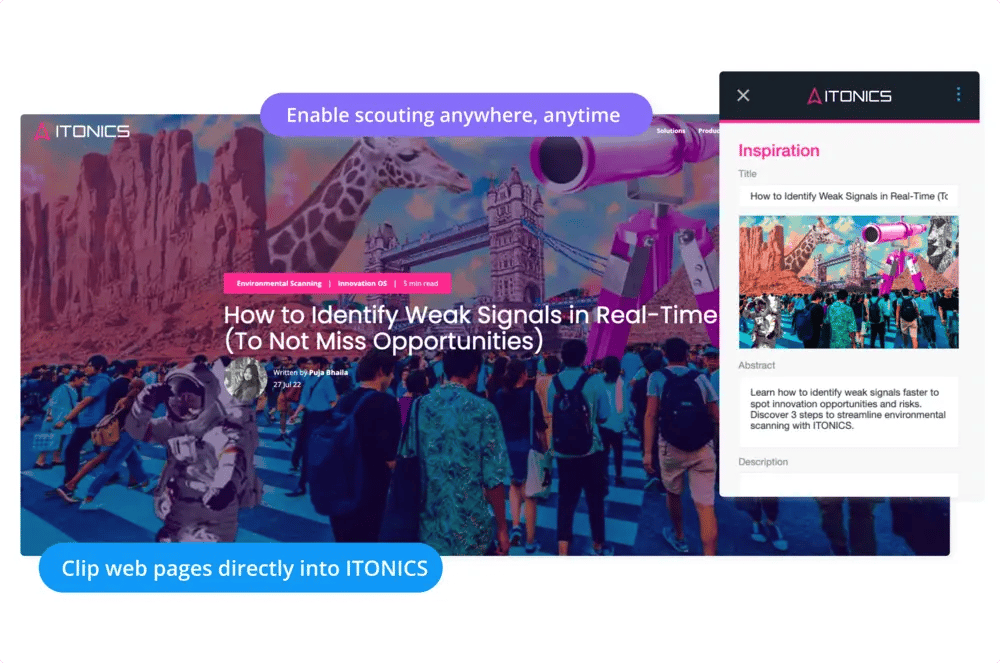 Simple browser extension to collect inspiring content from the web and easily save it directly to the ITONICS Innovation OS.
Use a single point of truth to empower your scouting teams
Read more on our unique, proven methodology that covers the following innovation questions: Where to Play, How to Win, and What to Execute.

Best-practice stories from true innovation rockstars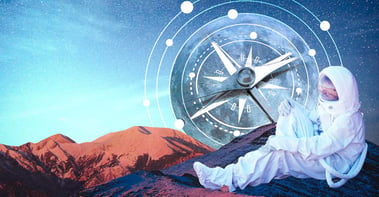 Discover how you can use ITONICS Insights to enhance your environmental scanning.
Download How-To Guide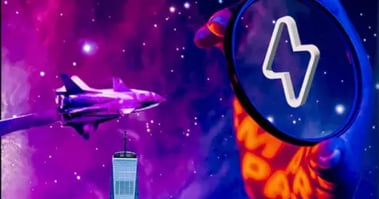 About our software tool to scan millions of data sources and identify weak signals in real-time.
Download Product Fact Sheet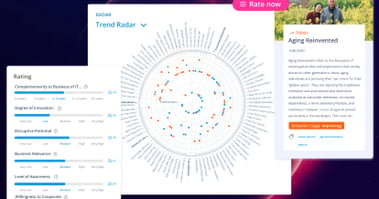 Learn how to evaluate trends and technologies with the ITONICS Innovation OS in this guide.
Download Guide