CUSTOMER SUCCESS STORY
Smart trend scouting with 500,000 trend scouts
How DMK Group collects food trends and inspirations worldwide
"The partnership offers us direct access to qualified scouts within the framework of ad hoc studies and deep dives with added value. What also distinguishes ITONICS from large consultancies or software houses is the competent and personal way in which projects are planned and implemented together."

- Kristin Mitlewski, Manager Innovation & Trends, Corporate Strategy, DMK
THE CHALLENGE
Worldwide trend scouting in multiple trend metropolises
The food industry is characterized by changing consumer demands and needs, individual trend developments in the regions and strong international competition.

Identifying weak signals in the business environment at an early stage and deriving new business opportunities is an essential part of DMK Group's successful innovation management.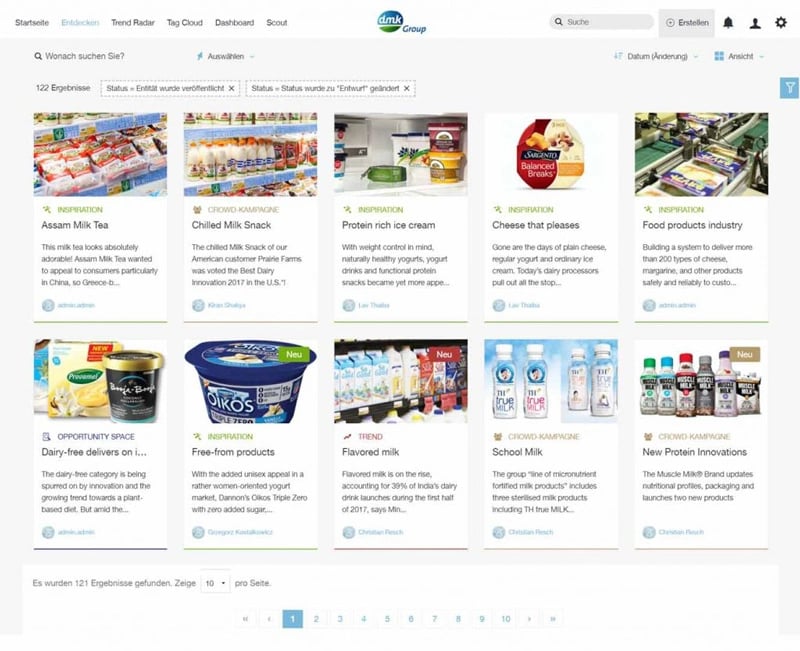 Trend scouting at DMK
With 25 locations in Germany and the Netherlands and around 7,700 employees, the DMK Group is the largest German dairy company, processing milk into foods of the highest quality. With annual revenue of 5.8 billion euros, the DMK Group is also one of Europe's leading companies in the dairy industry.
No own worldwide trend scouting network
Partially internal trend scouting activities & partially outsourcing of trend scouting activities to third parties
Limited resources in trend management
Time-consuming manual aggregation & documentation of trend scouting results in static documents
Global scouting community
Direct connection of external trend scouts to the internal trend management process
Fully digital process
Digital and transparent trend scouting worldwide
Respond to change
Collecting trend signals globally to respond to changing consumer needs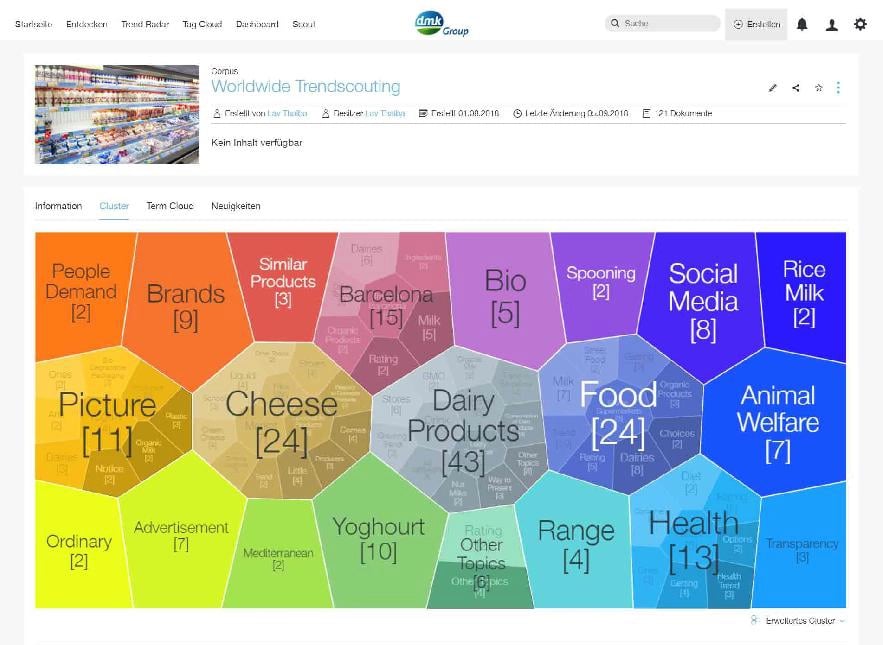 THE SOLUTION
Trend scouting platform: Faster. Digital. Transparent.
In order to meet future challenges, DMK has been using the trend scouting tools of ITONICS since 2018 to scout global trends in the food sector and respond quickly to changing customer needs.
Within four weeks, 450 inspirations for 30 food trends were scouted in several trend metropolises.
All scouting results are available in digital form which enables automated analysis and further processing.
Semantic analyses and the digital linking of results to trend topics considerably reduce the manual effort involved in trend scouting.
All trend scouts are qualified in advance with regard to food trends and nutrition.
Sociodemographic data on trend scouts allow better interpretations of the results.
DOWNLOAD SUCCESS STORY
About DMK
With around 7,700 employees at more than 20 locations in Germany, the Netherlands and other international hubs, Germany's largest dairy cooperative processes milk into food of the highest quality.

The product portfolio ranges from cheese, dairy products and ingredients to baby food, ice cream and health products. As one of the largest suppliers to the German food retail industry with a total revenue of 5.6 billion euros, DMK Group is one of Europe's leading dairy companies.
Learn more about how innovative companies implemented a world-class innovation ecosystem. Get a free demo!