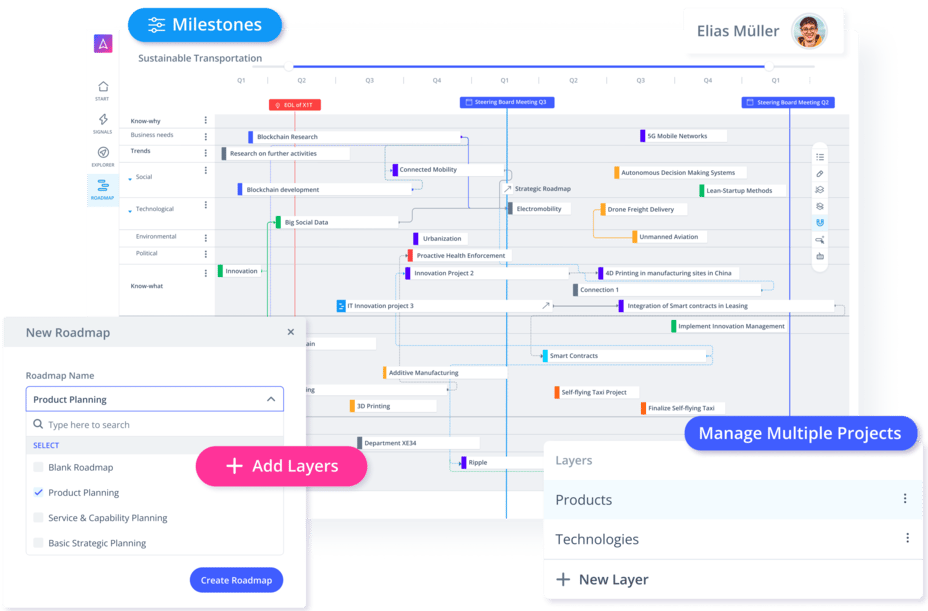 Trusted by global innovation leaders
Streamline activities. Set a clear direction.
Use our roadmap software to understand the current state of innovation initiatives and projects at a glance and prioritize accordingly. Monitor progress and adapt to change in real-time.
Agile digital roadmaps and scenarios
Top-down strategic and bottom-up pragmatic planning
Integrate multiple layers of innovation projects
Interactive and customizable views
Simulate critical paths and optimize execution
Identify synergies and possible inconsistencies
Visualize strategy. Communicate progress. Align action.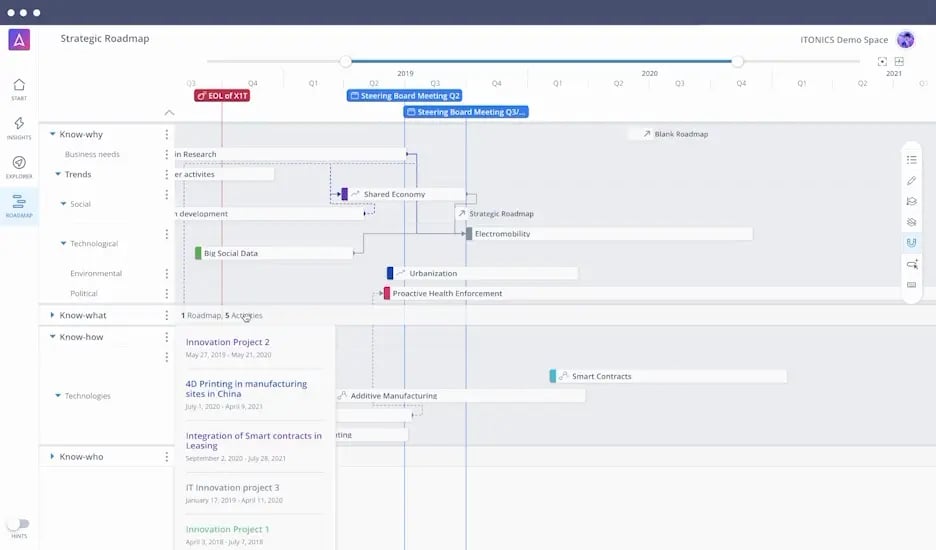 Easily create and structure Roadmaps
Get started quickly with the ITONICS roadmap software using best-practice templates
Modify columns and swimlanes to suit your requirements
Add activities in seconds
Plan projects along milestones
Assign different deliverables to the responsible teams
Visually identify bottlenecks quickly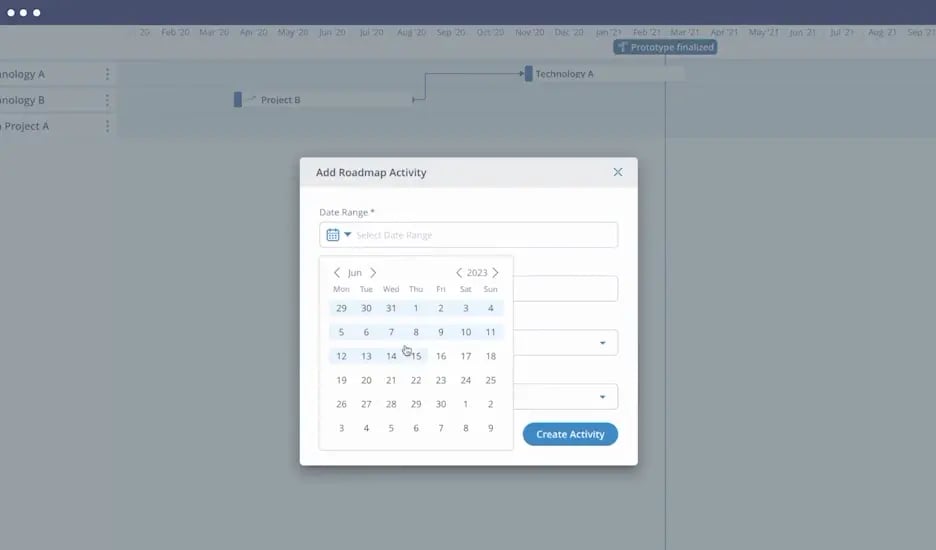 Sync, compare and filter projects
Create custom roadmaps that suit your needs
Spot critical paths and dependencies
High-level views or filter by time period, project, trend, technology, or teams to see more detail
Compare the actual project schedule with the initially planned schedule
Quickly identify projects that are on track, challenging or critical with color coding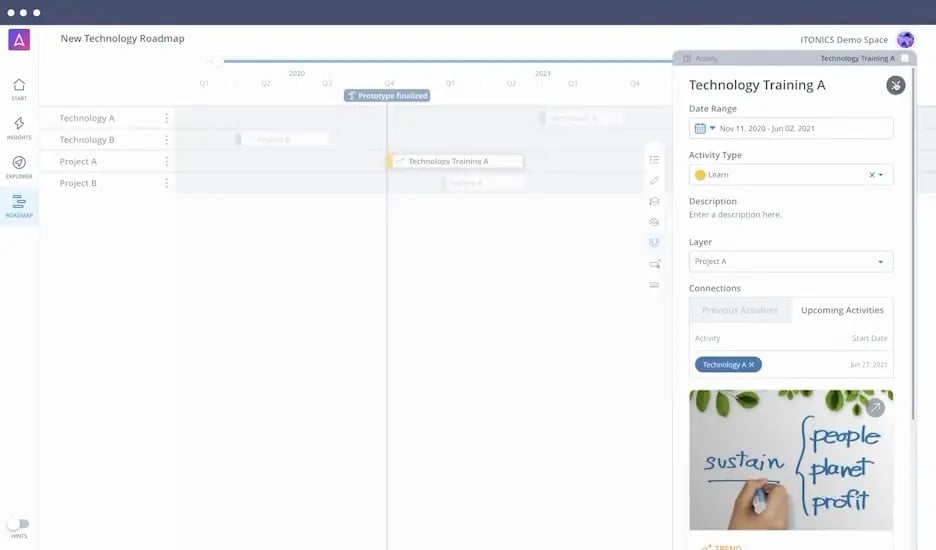 Report on progress and communicate updates
Create, combine, and aggregate roadmaps for individual departments, business units, or the whole company
Export roadmaps in one click
Use custom filters to create boardroom-ready views
Save different states of roadmaps for later comparison of past versions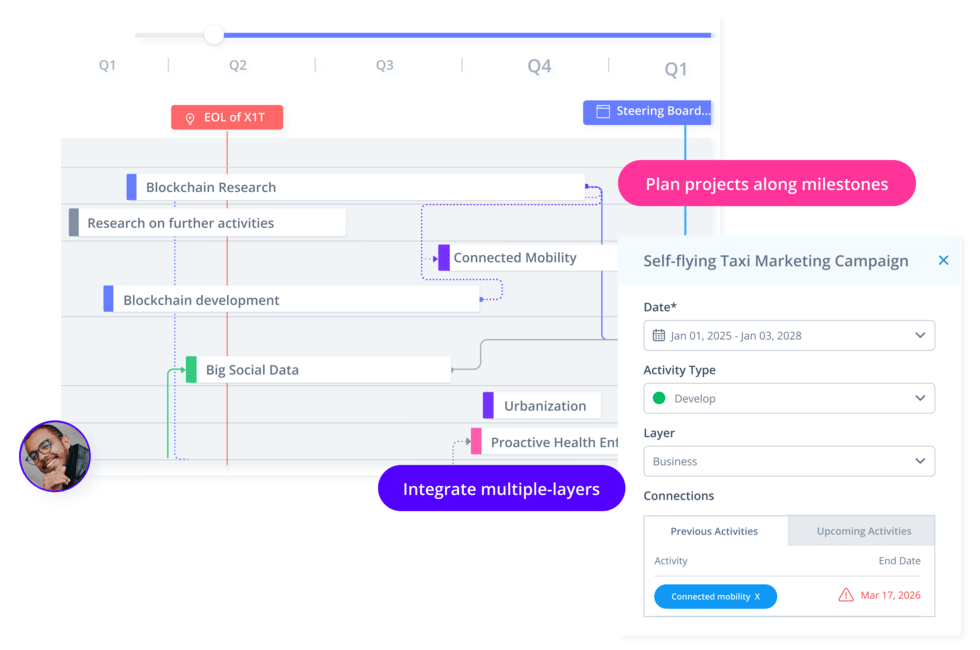 Translate strategy into business deliverables for growth
Leverage the ITONICS roadmap tools to steer how business units work together. Fast-track the implementation of your technology, product, and go-to-market strategies.
Understand how business dynamics, competition, budgets, capabilities, and internal know-how influence your innovation aspirations.
Use roadmap layers to view interconnections and see how market dynamics impact desired outcomes.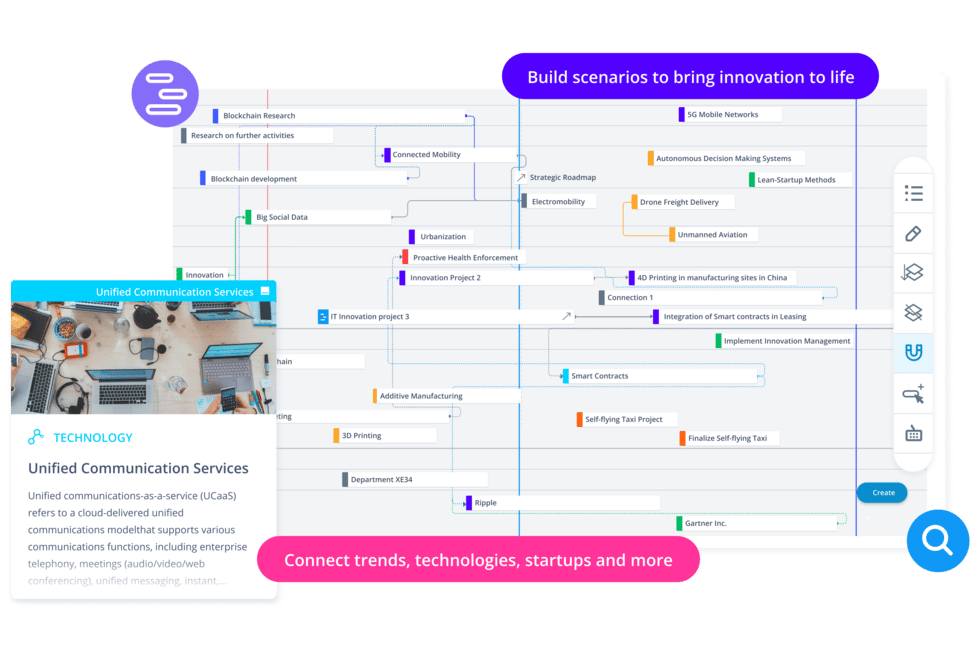 Reduce the risks associated with innovation initiatives
Gain valuable perspective on drivers of change in real-time. Connect trends, technologies, startups, and more to your Roadmap activities.
Build scenarios to identify the impact of potential changes, balance trade-offs, and visualize the effect of adjusting investment priorities.
With our roadmap software, teams can easily perform critical path analysis and evaluate, adjust funding, and prioritize based on strategic objectives against resource and risk constraints.
Here's what you need to get started quickly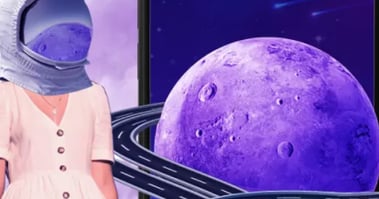 About our software tool for collaborative and integrated roadmapping.
Download Product Fact Sheet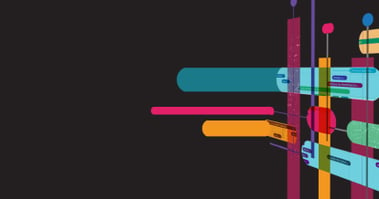 All you need to know about roadmapping in innovation management.
Read More
An application-oriented guideline and success factors of roadmapping.
Download White Paper
Got more questions? We've got answers.
How do I use milestones on a Roadmap?

Milestones in your roadmaps are essential in breaking down goals and initiatives to deliverables in projects and workstreams. A milestone displays as a vertical line on the ITONICS Roadmap with a customizable icon on top. Use milestones to align the organization and rally teams around deliverables. It could be an internal milestone such as presenting a prototype, or it can be an external event such as a conference where the new product will be demonstrated.
How do I foresee pitfalls and mitigate risk with Roadmaps?

The Roadmap lets you make connections between activities to visualize dependencies to identify hurdles and critical paths to completion. You can quickly spot pitfalls within a roadmap, for instance, if an activity won't be done in time for another dependent activity—even across business units or verticals. Use the Roadmap to understand how different factors influence the progress of your innovation initiatives. Without it, innovation efforts are at risk of becoming unsynchronized with capability and resources. You can also add scenarios into Roadmaps to consider unforeseen market events.
How do I align stakeholders and drive strategy execution with Roadmaps?

The Roadmap visualizations allow transparency on all activities and strategy execution. Either top-down from a strategic perspective, or bottom-up from one project to everything interlinked and dependent. By creating an overarching roadmap, you have a straightforward entry point to communicate the larger plan to the organization and align stakeholders. It is also an effective way to compile progress updates from different departments. Just assign a responsible representative in each team to update their activities, then the roadmap becomes a shared, dynamic view of progress.
Are there Roadmap templates I can start with?

Yes, get started quickly with best-practice Roadmap templates. Select from the most common roadmap types used in different industries, including Product Planning, Service & Capability Planning, Knowledge Asset Planning, and Strategic Planning. You also have the freedom to create your own templates from scratch using our dynamic roadmap tools.
Why is ITONICS the best Roadmap software?

ITONICS Roadmap is the leading roadmap software for R&D and innovation teams. Instead of maintaining your roadmaps in rigid and isolated documents, use our dedicated online software solution for end-to-end innovation management. Because the Roadmap is part of the ITONICS Innovation OS, you can link activities to trends, technologies, opportunities, campaigns and other drivers of change that your team has identified and evaluated. The functionality to enrich and customize the Roadmap provides you with the opportunity to create a holistic view of strategy execution suited to your organization's needs.