CUSTOMER SUCCESS STORY
Turning ideas into action at DISH
How DISH Network Corporation is leveraging ITONICS to unlock groundbreaking ideas and integrate new innovations into the company's strategy, operations, and product development.
projects in the innovation process pipeline
"Our industry thrives on innovation, and having a cohesive platform to manage our innovation process is vital. ITONICS is a game-changer for the innovation programs at DISH. It provides us with the comprehensive, efficient, and transparent single point of truth we needed."
– Morgan Kirby, Engineering Director,
DISH Network Corporation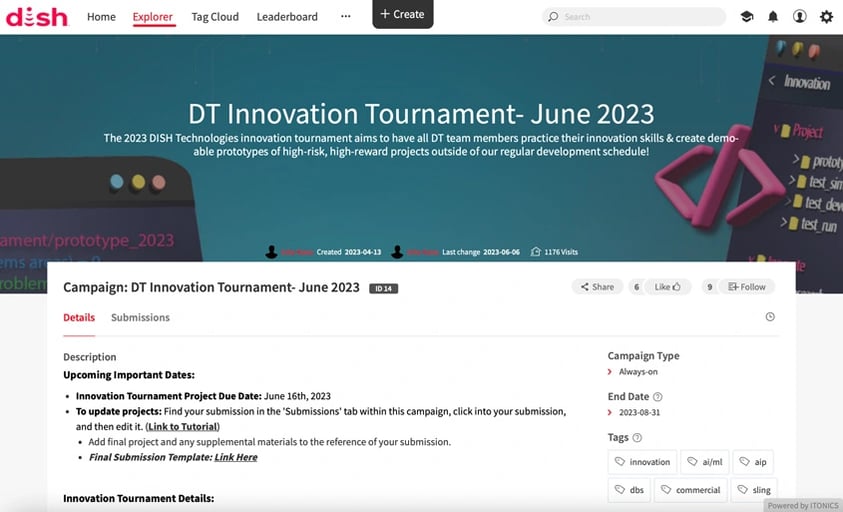 THE CHALLENGE
Efficient innovation programs
In the dynamic world of the media industry, the mandate to remain competitive is not merely an aspiration, but a business necessity. For a pioneer like DISH Network Corporation, known for its direct-broadcast satellite service, innovation serves as its operational lifeblood. The rapid advancement of technologies and evolving consumer behaviors continuously reshape the media landscape, underscoring the need for DISH to persistently evolve and transform. The introduction of fresh ideas and innovation is vital to retaining market relevance, enhancing the customer experience, and driving sustainable growth.
As a frontrunner in the media industry, DISH has consistently spearheaded innovation to meet the changing demands of its consumer base. With ITONICS now in its toolkit, DISH is all set to continue pushing boundaries and shaping the future of media technology.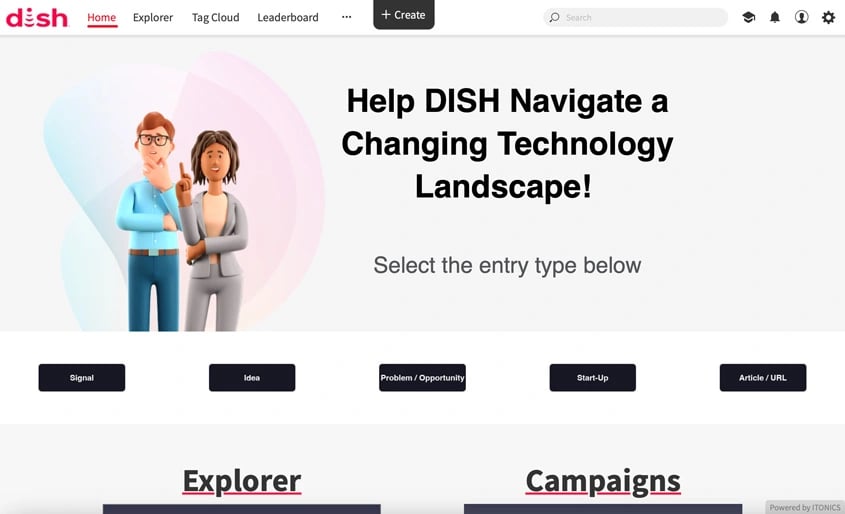 Initial situation at DISH
DISH Network encourages its employees from all business units and functions to actively contribute innovative ideas, relevant news, and emerging trends. Initially, this information was gathered via Google Forms. Submissions were collected bi-weekly, subsequently screened by the respective directors, and subjected to a mandatory analysis. The outcome of this would guide the potential implementation of these ideas.
Lack of a streamlined, unified platform for managing the innovation process, which was spread across forms, spreadsheets, and slide decks.
Difficulties in managing the innovation process and ensuring that information is captured correctly
Lack of transparency for participants in the innovation program, particularly in how submissions were evaluated and feedback was given
A time-consuming, manual, and weekly-reoccurring process was required to determine key innovation metrics
Previous system did not allow DISH to "zoom out," see trends, and understand relationships from the innovation submissions they received
Objectives of implementing a central innovation platform
The need for a new system arose with the intention to enhance and streamline the existing process. The goal was to consolidate all innovation activities under a single, unified platform for greater efficiency and coherence in managing and integrating ideas.
Streamlined process
Create an efficient, unified platform for managing DISH's innovation program, replacing the previously fragmented and inefficient system.
Central knowledge hub
Establish a transparent, organized system where DISH employees can input, rate, and discuss innovation ideas. Thereby increasing collaboration and transparency.
Automated metrics analysis
Facilitate automated analysis of key innovation metrics, replacing the time-consuming manual process with a more efficient approach.
THE WAY FORWARD WITH ITONICS
A single point of truth for ideas and innovations
DISH leveraged ITONICS' campaign feature to host its annual Innovation Tournament, a modified form of a hackathon involving over 300 participants across a two-month period and resulting in 80 completed projects. This initiative was run across four phases including team sign-ups, project plan submissions, the innovation tournament, and judging.

3. Innovation Tournament

Teams that completed their project plans moved on to the Innovation Challenge phase.

During this phase, teams worked on their project and created prototypes and demos. Their final submissions were added to their campaign submission in anticipation of judging.
4. Judging

In the final judging phase, project stakeholders reviewed each team's final submissions, including developed prototypes and project demos. Through rigorous evaluation, they provided feedback, identified outstanding projects, and announced the champions of the Innovation Tournament.
1. Sign Up

The first phase involved having teams sign up to the Innovation Tournament using the campaign feature.

Here, teams provided details such as their names, members, their chosen topic areas, and their preliminary project ideas.
2. Project Plan

With the details from the sign-up phase in hand, submissions were moved to the project planning phase.

The teams revisited and refined their initial submissions by responding to an array of project plan questions. These questions aimed to help teams crystallize their innovation ideas, detailing out the specifics of the project, their execution strategy, required resources, and any potential risks they foresaw.
Efficiency enhancement: The new digital platform enhanced the efficiency of the innovation process, reducing the complexity and confusion caused by the former fragmented system.
Increased participation: The Innovation Tournament saw participation from over 300 individuals, forming 98 teams, resulting in 80 high-quality projects—surpassing metrics from past tournaments.
Implementation success: Of these, 20 innovative projects are moving through the DISH innovation process pipeline for potential incorporation into internal processes or the product pipeline.
Transparency: It increased transparency in the innovation program, fostering a more collaborative and open environment.
Process automation: The manual work of determining key innovation metrics was significantly reduced, saving time and resources.
Insightful analytics: The platform allowed DISH to see trends and understand relationships between various innovation submissions, helping identify promising opportunities.
About DISH Network Corporation
DISH Network Corporation, based in the United States, is a prominent television service provider that also owns the direct-broadcast satellite service known as Dish, frequently referred to as Dish Network. It is also responsible for the operation of Sling TV, an over-the-top IPTV service. Furthermore, DISH provides mobile wireless services through its subsidiary, Dish Wireless.
Learn more about how innovative companies implemented a world-class innovation ecosystem. Get a free demo!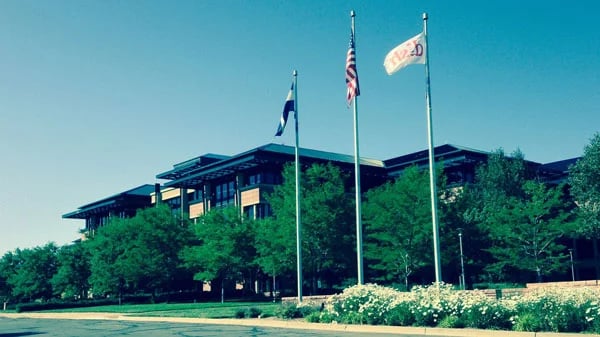 More best practice stories from other ITONICS clients