CUSTOMER SUCCESS STORY
Deriving business opportunities based on trends
How DMK Group established a high-performance trend management
"Crucial for the success of our project was ITONICS' expertise in trend management. We were not just looking for a software partner, but for someone who is familiar with the topic and who we can trust."
– Barbara Siegert, Head of Innovation / Corporate Strategy, DMK
THE CHALLENGE
Early identification of business opportunities based on food trends
The identification and interpretation of trends are some of the most important activities in innovation management. Trends reflect consumer needs and changing consumer behaviors over time.
DMK Group, one of the leading dairy companies in Europe, is faced with new technologies, changing customer habits, and a fierce international competition in its industry. The early identification of new business opportunities on the basis of relevant food trends is becoming an essential task to meet future challenges.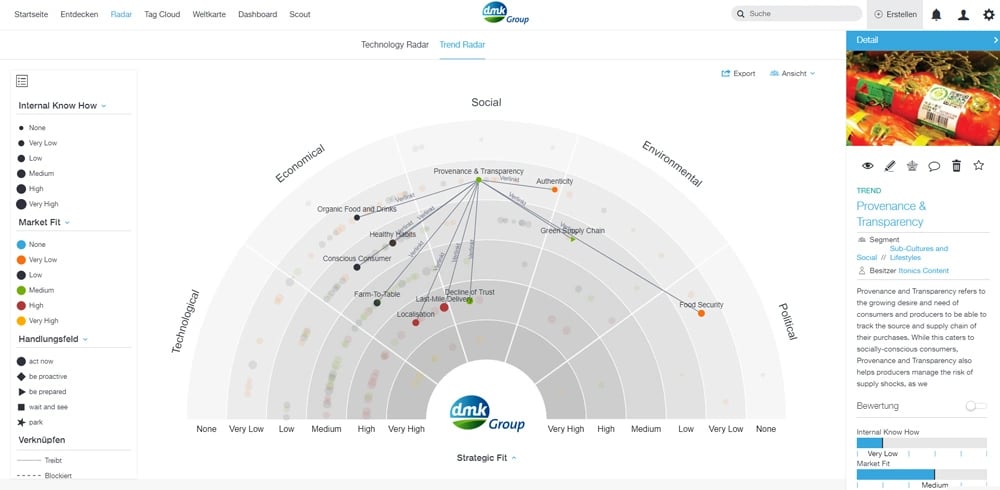 Limited resources for trend management
Time-consuming aggregation, evaluation and documentation of scouting results
Manual trend scouting activities
Knowledge sharing within the trend scouting community needs improvement
No integrated network of internal trend scouts
From trends to opportunities
Establishing an integrated trend management process from trend scouting to business opportunities
Trend scouting network
Developing an efficient trend scouting network consisting of internal trend scouts.
THE SOLUTION
DMK's new high-performance trend management unit
Supported by ITONICS Radar and ITONICS Inspirator, DMK Group implemented a powerful trend management process from trend scouting to the derivation of new business opportunities and scouted over 2,000 relevant inspirations in five food trend areas with only a small scouting team.
Accessible trend knowledge for the whole community and resolution of individual data silos
Establishment of a new innovation mindset with a common language for trends and innovations across all departments
Reduced time to collect, aggregate and analyze trend knowledge
Better and faster recommendations on business opportunities for the individual business units based on profound trend knowledge
Integrating internal trend scouts who collected 2,000+ relevant inspirations at 30 trade fairs and conferences within one year
DOWNLOAD SUCCESS STORY
About DMK
With around 7,700 employees at more than 20 locations in Germany, the Netherlands and other international hubs, Germany's largest dairy cooperative processes milk into food of the highest quality.

The product portfolio ranges from cheese, dairy products and ingredients to baby food, ice cream and health products. As one of the largest suppliers to the German food retail industry with a total revenue of 5.6 billion euros, DMK Group is one of Europe's leading dairy companies.
Learn more about how innovative companies implemented a world-class innovation ecosystem. Get a free demo!