It is the fourth year in a row now that ITONICS is part of Europe's Business Festival for Innovation and Digitization taking place in Hanover from June 11-15, 2018. On the conference, you can get to know our highly customizable software features, cutting-edge innovation management methodologies, and our individually tailored consulting and workshop offers. Learn about our newest features and functions and how our software solutions are able to solve the problems you face in innovation management.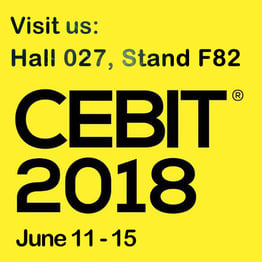 CEBIT 2018 focuses on business, leads, and ideas. As a triple-punch event featuring exhibits, conferences, and networking, CEBIT covers the digitization of business, government, and society from every angle. Its four sections – d!conomy, d!tec, d!talk and d!campus – represent an entirely new approach, but one thing remains: the show's core focus on generating leads and business for all concerned.
You want to have a chat with us about the hot stuff that is going on in innovation management or check out the live demo of our different innovation management software modules? Come by at our exhibition booth in Hall 027, Stand F82.

Do you want to schedule a meeting at the conference with us? For booking personal appointments or getting one of the free tickets, don't hesitate to contact our Demo Manager Alexander Kruczek.
Phone: +49 911 600 60 5531
Email: alexander.kruczek@itonics.de