Ecosystems rely on systems, communities, and participants working in synergy. According to the Gartner® Hype Cycle™ for Innovation Management Techniques, 2021, innovation ecosystems can be very beneficial for organizations. When interdependent players leverage each other's strengths and capabilities to transform data to knowledge and knowledge to action, ideas become a reality, and sustainable proficiency gets developed.
Why Your Organization Needs an Innovation Ecosystem
At the peak of the COVID-19 pandemic in 2020, pharmaceutical companies that previously competed with each other leveraged each other's expertise to collaborate on solutions to the myriad challenges facing the world. Innovation ecosystems facilitate the process of innovation across many different players in a decentralized manner.
Today, innovation is not a once-off or linear process. Productive innovation requires more than the intelligence of a dedicated innovation team. Successful and sustainable innovation requires strong capabilities that are structured in a manner that supports collaborating with external experts and partners. Harnessing the shared momentum and direction of external players means that you could reduce costs and increase value.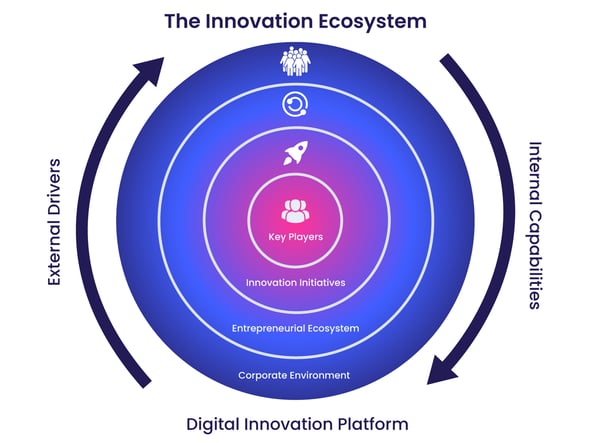 Capitalizing on partnerships, collaboration, facilities, and initiatives can also significantly reduce the risks associated with innovation projects. Initiatives like innovation labs, incubators, and accelerators, for example, support shared learning, and the use of diverse technologies provides opportunities to access various possibilities.
Converting innovation ideas to application occurs through complex relationships and interdependencies. Innovation ecosystems cultivate synergistic relationships and can reveal opportunities that organizations could not consider or realize without the reinforcements of an ecosystem.
How You Can Maximize the Potential of Innovation Ecosystems
There is an increased focus on innovation globally and across industries. The growth of innovation-oriented activities must include techniques that promote collaboration, interdependence appreciation, and knowledge sharing. The identification of solutions and purposeful application of technology benefit greatly from diverse perspectives and a combination of various skills and frameworks.
Interactions between innovation ecosystem players do not always have to be perfectly harmonized to be synergistic. Tensions between participants can produce even better results in some instances, and organizations can cultivate cultures that embrace collaborative frictions. Robust innovation capabilities can result from diverse interactions, and organizations can develop strong innovation ecosystem capabilities from this over time. Leaders that understand that superior ideas come from collective intelligence develop continuous innovation capabilities and can guide an internal culture that uses innovation ecosystems to meet diverse objectives.
In an innovation ecosystem, there is a logical flow of information where success depends on the active participation of players included. Be ready to participate, collaborate and contribute to leverage the power of this practice. Innovation as a growth driver needs the right conditions to flourish and leaders who provide the necessary support. Cultivating effective innovation ecosystems takes time. Gartner places Innovation Ecosystems on the 2021 Hype Cycle™ for Innovation Management Techniques at the Peak of Inflated Expectations stage.
Many organizations have already adopted innovation ecosystems as an established innovation strategy. Innovation ecosystems offer great future potential for elevating innovation opportunities, and organizations should take the time necessary to investigate and understand how this technique may work adequately for them.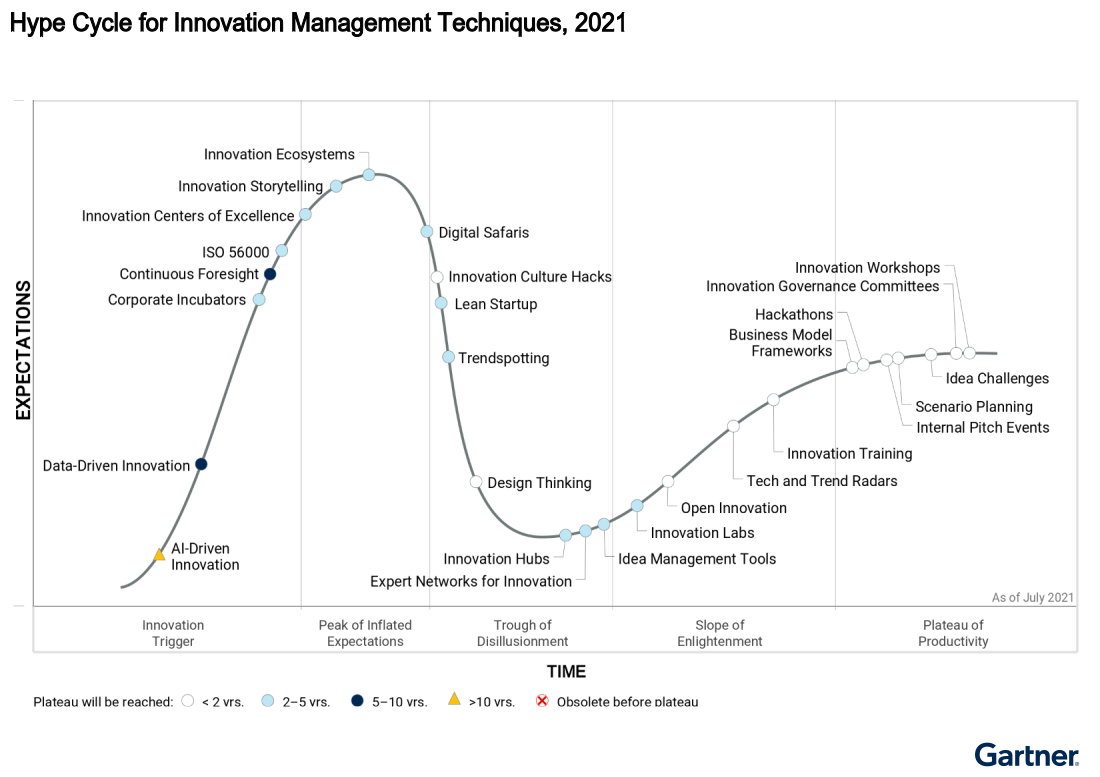 How ITONICS Can Help Build Your Digital Innovation Ecosystem
Thriving innovation ecosystems rely on structured and systematic processes that enable collaboration cross-company, across geographies and business units, and outside of organizational boundaries. The ITONICS Innovation OS facilitates this by acting as a single point of truth for all innovation activities – including allowing for broad participation and collaboration.
Experts from inside and outside your organization can easily contribute by rating trends, technologies, ideas, and potential partners. Dedicated workflows on the software enable participation and the management of collaboration activities. Use experts as recommended by the system to quickly get valuable contributions and include findings easily within your presentations and knowledge-sharing platforms.
The ITONICS Portfolio Management capabilities and Innovation Roadmap Features help you balance opportunities and threats with internal organizational strategy. You can easily transform knowledge into action by organizing your innovation opportunities and activities in a transparent and accessible manner.
Get started today with your 30-day free trial or a free software demo.
---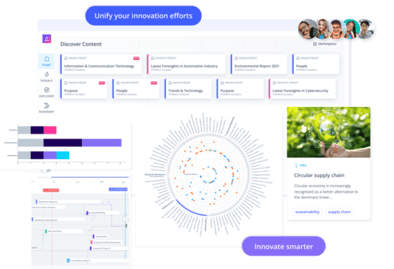 See the ITONICS Innovation OS in action
---
Disclaimer
Gartner, Hype Cycle for Innovation Management Techniques, 2021, 12 July 2021, Jackie Fenn et. Al.
GARTNER and Hype Cycle are registered trademarks and service marks of Gartner, Inc. and/or its affiliates in the U.S. and internationally and are used herein with permission. All rights reserved.
This graphic was published by Gartner, Inc. as part of a larger research document and should be evaluated in the context of the entire document. The Gartner document is available upon request from [insert client name or reprint URL].
Gartner does not endorse any vendor, product or service depicted in its research publications and does not advise technology users to select only those vendors with the highest ratings or other designation. Gartner research publications consist of the opinions of Gartner's research organization and should not be construed as statements of fact. Gartner disclaims all warranties, expressed or implied, with respect to this research, including any warranties of merchantability or fitness for a particular purpose.