Traditionally, organizations have kept their idea generation within the company, but with the ever-changing landscape of technology and globalization, open innovation has become essential for companies that want to stay ahead of the curve.
What is open innovation?
Open innovation is a collaborative approach to problem-solving that taps into the collective intelligence of a wide range of people. Open innovation submissions can include ideas around specific challenges or opportunities, proposals from potential startups and partners, and input directly from customers.
Open innovation can propel competitive advantage by supporting and validating the creation of unique products or services. And while open innovation has many benefits, it also poses some challenges.
One such challenge is that it can be difficult to manage and coordinate a large number of proposals and submissions. To be successful, open innovation initiatives must be well-organized and properly facilitated. Additionally, it is vital to provide clear guidelines and criteria for selection to ensure that the best submissions are chosen for further development or partnerships. With proper planning and execution, open innovation can be invaluable for generating new ideas and driving innovation.
What are the benefits of open innovation?
As a technique, open innovation has gained popularity recently due to its ability to generate many ideas from many different perspectives. The method, when done effectively, cultivates strong relationships with external expert partners. With outside-in startup scouting, it creates effective channels for startups to contribute towards competitive solutions. By clearly defining open innovation focus fields, contributing startups can concentrate their proposals and create targeted innovative solutions that meet your needs.
The ITONICS startup scouting approach: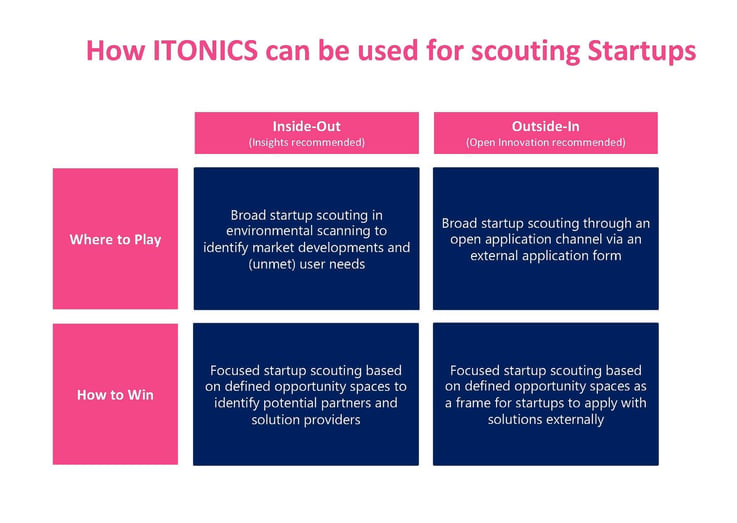 Also see: How to Use Open Innovation for Startup Scouting
Instead of depending only on in-house R&D departments to generate new ideas, open innovation allows crowdsourcing submissions from customers, suppliers, students, startups, and potential partners. It enables companies to tap into a wider pool of ideas and talent, leading to more successful and innovative products and services. It also allows companies to move to implementation stages faster. Through gathering and evaluating different perspectives, innovators are better equipt to identify where to focus efforts.
In a world where innovation is accelerating, organizations need to be able to adapt and respond quickly to new challenges. Many companies are now using open innovation to drive end-to-end innovation. When done effectively, open innovation practices can cultivate a culture of innovation within the organization. End-to-end innovation requires a rethinking of how value is created, from ideation all the way through to commercialization. Establishing open innovation practices that are well-developed, integrated, and easy to coordinate and maintain can significantly advance end-to-end innovation success.
Strategies to get started with open innovation
To begin your open innovation activities, you will need buy-in from stakeholders. Demonstrating the following will help you establish a common understanding of how open innovation can benefit end2end innovation efforts:
Define what open innovation means for your organization. What are your goals? What processes will you use? Who will be involved?


Explain the objectives of performing open innovation and how this would help meet business goals. Are you attempting to enter new markets, enhance service or product portfolios, drive outside-in startup scouting, reduce the risk and cost of existing innovation, or initiate a diversity of perspectives and ideas?


Detail how you will garner engagement. How will you reach external partners simply and securely? How will you communicate and incentivize engagement?


Share examples of successful open innovation projects. Showcase a few of these examples to demonstrate what's possible with open innovation.


Outline a step-by-step plan for implementing open innovation. How will you solicit ideas from employees, customers, partners, and other stakeholders? How will you evaluate ideas and manage the process? Will your open innovation campaigns be time-bound or always-on? How will your team manage rejected proposals?
In addition to your implementation plan, it will be crucial to have your efforts supported by robust phase-gate management capabilities.
How you can use ITONICS for open innovation
The ITONICS Innovation OS is an end-to-end innovation management solution designed to systemize all activities from strategy to execution, at scale. With ITONICS Open Innovation, we provide tools to unleash the power of open innovation in organizations and enable teams to access collective intelligence to gather solutions for short, mid, and long-term challenges - all on one central platform.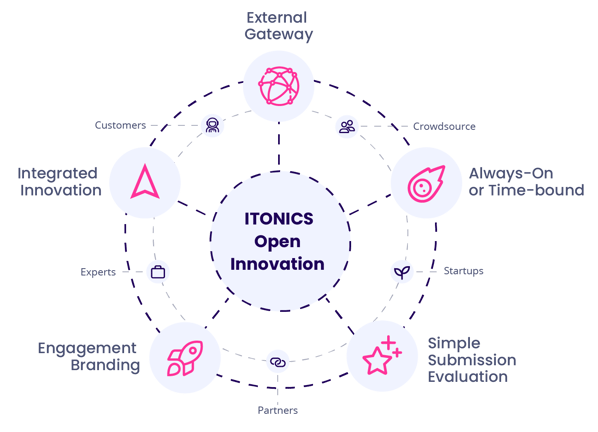 External Gateway
The External Gateway enables you to leverage crowd knowledge and expertise from your clients, partners, and relevant communities. Configure an external form to retrieve information from users outside of your ITONICS ecosystem.
The External Gateway is highly configurable and accessible for non-ITONICS users via a link. The site can be integrated into other web pages as desired, for example, your company homepage. The design of the External Gateway can be freely customized using HTML, CSS, and inline Javascript to match your corporate design.
Always-on or time-bound
Use the ITONICS External Gateway or ITONICS Campaigns to create time-bound or always-on open innovation.
Simple submission evaluation
Once you receive submissions, you can easily evaluate and manage them accordingly. Use the configurable Rating feature to assess submissions. You can also request specific experts to rate particular submissions.
Engagement branding
Let ITONICS help you create engaging material to educate your team and get them excited for the open innovation initiative.
Integrated innovation
Integrate open innovation seamlessly into end2end stages with the ITONICS Innovation OS. Scan, scout, and monitor easily and let the ITONICS Radar help you determine which drivers of change to act on. Once you see results from open innovation, move the best ideas to prioritization phases using ITONICS Portfolio. Once particular programs and projects are confirmed, the ITONICS Roadmap supports moving easily from idea to implementation.
Best practice examples for open innovation
The German multinational engineering and technology company Bosch creates solutions that are designed to spark enthusiasm, improve quality of life, and help conserve natural resources. To help them continuously achieve these objectives, Bosch launched the Bosch Open Innovation Partnerships platform.
Through this platform, Bosch provides startups, universities, large enterprises, and other experts the opportunity to submit solutions for specific fields of interest. It serves as a gateway to receive outside-in perspectives and allows Bosch to co-create with external partners. The integrated submission form, powered by ITONICS, helps them to quickly access, manage, and coordinate submissions and to identify potential partnerships.
After identifying promising solutions, ideas can be developed along a defined phase-gate process that accelerates innovation projects from idea to evaluation, and finally to implementation.
Another example is the Austrian motorcycle, bicycle, and sports car manufacturer KTM. With their Become a Partner Gateway, they provide startups and partners a platform to submit their solutions and ideas and to start a collaboration.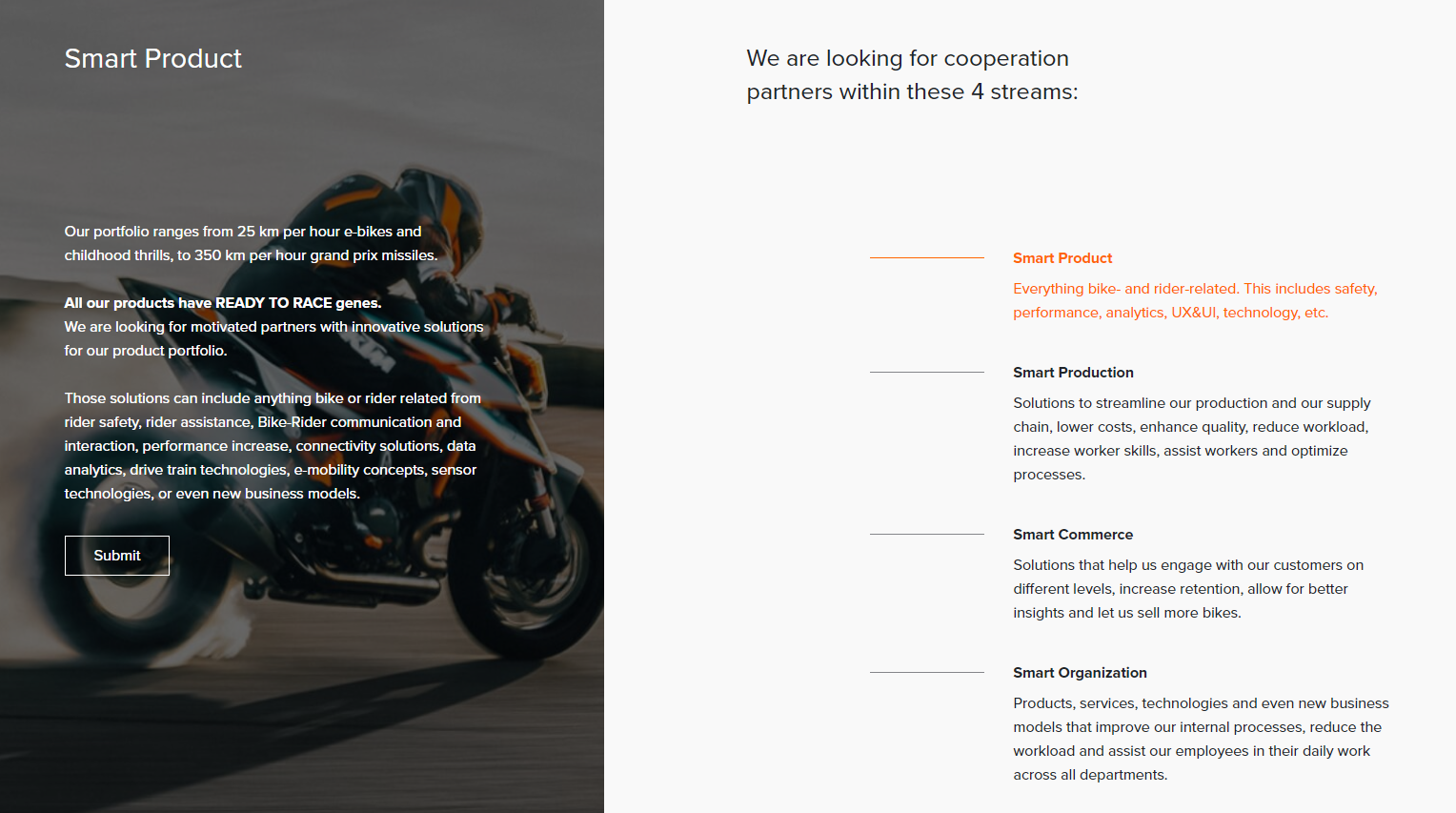 Learn more about how Bosch, KTM, and other innovation leaders around the globe are leveraging open innovation - in a free demo with one of our experts!