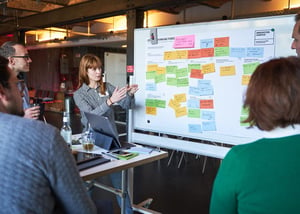 Since this year, ITONICS is part of the education program Innovation Campus of zero360 GmbH and the Gründerszene. The Innovation Campus is aimed at managers, professionals, and innovation drivers across all industries and combines project-based learning modules with expert lectures from practice.
In four consecutive modules, the participants are trained to become an innovation lead. In addition to design thinking, agile organization and leadership, methods and tools of trend and future research are also taught. For the first time, ITONICS Trend Radar will be used as a digital tool within the program that complements the analog interaction around the identification of relevant trends and the derivation of future growth fields.
The next four modules will take place between the 23.10.2019 and the 27.02.2020 in Berlin. On September 12, you can learn more about the Innovation Campus in a webinar.
23. – 24.10.2019 Module 1: Design Thinking

27. – 28.11.2019 Module 2: Agile Organisation

22. – 23.01.2020 Module 3: Trend and Future Research

26. – 27.02.2020 Module 4: Leadership
If you require more information and impressions, please contact us or our partners at the Innovation Campus directly.