Innovation Updates in August
Our monthly innovation updates provide you with an overview of the most relevant insights, best practices & tools from the innovation cosmos.


1. Gartner®: How to prioritize and balance your innovation portfolios
The process of innovation, be it developing a new product offering, investing in novel technology, or acquiring a startup, is a complex process that requires multiple stakeholders. From CTOs to executives to analysts, these parties may have different ideas about what constitutes innovation. You need to be clear in your organization about what type of innovation you are aiming for, the scope of the project and which stakeholders can help streamline that process through prioritizing the most critical elements.
Gartner outlines in one of their reports the most common portfolio models to design and regularly review innovation portfolios.
According to Gartner:
Innovation activities can become imbalanced, with a tendency toward "safer" but less impactful ideas, unless stakeholders agree and hold themselves accountable to deliberate portfolio targets.
The report recommends seven dimensions along which you can prioritize and balance your innovation portfolios:
Organizational level: Novelty, Market Impact, Timing, Scale
Program/initiative level: Focus, Participation, Breadth
These dimensions can be combined into innovation portfolio planning models, such as the Three Horizons Model or the Risk-Benefit Matrix, which are used to balance multiple innovation objectives.
Initially developed by McKinsey, the Three Horizons Model is a tried and tested method of exploring innovation across various organizational scenarios, helping business leaders prioritize focus and resources across three defined horizons.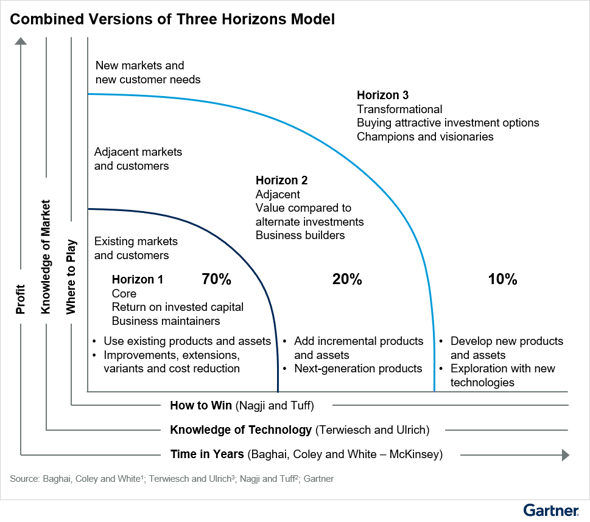 As per Gartner, the most commonly cited portfolio balance across the Three Horizons is 70% in Horizon 1 (core business), 20% in Horizon 2 (adjacent innovation), and 10% in Horizon 3 (transformational innovation).
Download the full Gartner report to learn more about the 7 Dimensions to prioritize innovation efforts and strategies to balance innovation portfolios successfully in your organization.
Download: Gartner® report on the 7 dimensions to prioritize your innovation efforts
Also read: The 7 Dimensions to Prioritize Your Innovation Efforts


2. Innovation partnerships and what makes them succeed
Innovation requires resources: staff, money, time, ideas, etc. Collaborating with other companies and leveraging each other's capabilities can have tremendous benefits in driving innovation in a cost and time-efficient way. It helps, for instance, to balance R&D costs, add expertise and knowledge, create new markets, and share risks. Even large companies are recognizing these opportunities and forming partnerships, especially in the tech sector, where innovation is moving fast.
However, partnering with other companies, that have their own interests and objectives, is not always easy and often fails. Reasons can be misguided goals, no efficient communication, resistance to sharing vital confidential information, or the not-invented-here syndrome. An article in the Harvard Business Review provides guidance for establishing successful partnerships (based on experiences Meta has made), including three simple but often neglected principles.
Rules of engagement

Trust is an important factor in partnerships. To sustain your partner's buy-in, you need to be open to sharing information, even if you fear IP leakage, and maintain transparency about certain decisions.
Resolving disputes

Partnering companies must be aware that disagreements and disputes are likely to arise. To resolve these quickly and efficiently, a proper system of dispute resolution needs to be in place. The goal of a resolution process should be to resolve disputes at the level at which they occur. Only if efforts to resolve disputes at that level fail should cases escalate up the dispute resolution system.
Allocating risk

The normal approach to risk sharing in collaborative partnerships is for each party to be responsible for its own costs throughout the process. However, this approach could prevent partners from committing high-level resources, which are often required to tackle challenging technical issues, for instance. The better way is for all parties to take risks in proportion to the potential benefits they are offered.

In a nutshell: For an innovation partnership to be successful, you need to establish clear rules of engagement that benefit everyone and figure out how to share risk equitably. When that's in place, you can iron out any emerging conflicts or concerns and accelerate innovation.

You're interested in this topic?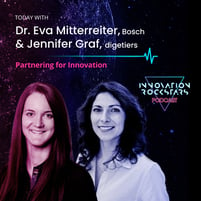 In our latest podcast episode, "Partnering for Innovation", you'll learn about the partnership between Bosch and digetiers, who have combined their strengths to offer transformation and business model innovation consulting services. Our guests talk about the challenges and benefits of their partnering approach and share their formula for success. Tune in!
3. Our trend of the month: Low Touch Living
Hygiene requirements, social distancing, and desynchronized living due to the pandemic have accelerated the evolution to Low Touch Living. Global culture and everyday life are increasingly seeing the integration of Low Touch Living, with more brands leveraging touchless technology to reshape customer experience, enhance accessibility, and differentiate offerings through service excellence. And industries as wide-ranging as retail, banking, gaming, automotive, and healthcare are embracing the new low- and no-touch economy.
Central to Low Touch Living, the field of touchless technology is advancing rapidly and further enabling the shift from touchscreens and shared devices such as kiosks, self-service counters, and interactive displays to a new paradigm of zero user interface (UI).
Zero UI refers to a controlled interface that allows user interaction with technology through voice, gestures, hand interaction, eye tracking, and biometrics such as facial recognition and contactless fingerprints. These new control interfaces rely on breakthroughs in image recognition and computer vision, natural language processing (NLP) and machine learning, and advanced sensor technology. Consumer robotics and smart devices, including appliances, TVs, and assistants, are examples of devices in which Zero UI is becoming prominent.
Several notable companies are investing in and developing their own touchless technologies to secure competitive advantage as Low Touch Living expands.
Earlier this year, Apple filed a patent for a new user interface with in-air gesturing. The patent describes improved ways for a device to interact with and manipulate objects in a 3D environment, especially in the context of a future mixed reality (MR) headset. It uses next-generation eye gaze/eye-tracking technology to interpret in-air gesture commands. The tech giant also recently filed a patent for a specialized smart ring system for MR applications.
Amazon has announced the launch of Alexa Game Control, which gives users an option for hands-free, voice-controlled gameplay. While currently in private beta and only available in North America, it has the potential to inspire game developers to create more interactive, accessible gaming experiences.
And at I/O 2022, Google's annual developer conference, the company teased a set of wearable augmented reality glasses. The early prototype demonstrated its ability to transcribe and translate a conversation in real-time, effectively providing captions for the wearer.
To explore other trends similar to Low Touch Living, check out the ITONICS Product Trend Radar containing 24 trends that examine how organizations will address the value, features, and quality of their offering amidst emerging needs and behaviors.


4. Fact of the month: McKinsey technology trends outlook 2022
McKinsey recently published new insights on which technology trends matter most for companies in 2022. The report highlights the development, possible uses, and industry effects of advanced technologies.
The key insights:
Artificial intelligence (AI) is by far the one with the highest innovation score (based on patents and research) and has a relatively high level of adoption by organizations
Future clean energy has the highest interest (based on news and web searches)
Future of mobility and future clean energy have the highest investments in relevant technologies, with more than $230 billion

Join 60+ innovation and technology experts and explore the intersections of AI, technology, and foresight at our AI-Enabled Tech Foresight Summit 2022!
Learn in exciting keynotes and panel discussions with top-notch speakers from the LEGO Group, World Economic Forum, Swiss Post, and many more, about the potentials and limitations of AI and machine learning.
Seats are limited - be fast and save your Early Bird tickets until August 31!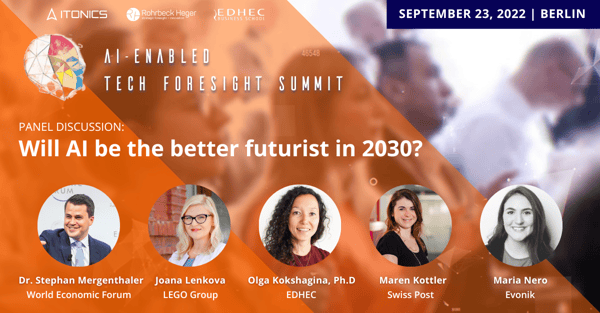 5. Your Monthly Dose of Innovation
To reimagine the future, we must be open to new possibilities. Join us on a journey to 2071. Pioneer new worlds and ways of living, and return to shape today's world for the better.
You happen to visit Dubai soon on your summer vacation or on a business trip? Don't miss stopping by the Museum of the Future.
Just exploring the website is a special experience. See for yourself!
---