Many business leaders might feel overwhelmed by the increasing complexity of today's business world. Growing uncertainty and volatility can be perceived as a threat to business stability, but on the upside, the rapid pace of technological change and disruptive trends can create the perfect conditions for innovation. However, organizations need to be able to prioritize and focus on the right innovation investments. This article examines the Three Horizons Model, an innovation portfolio planning model recommended by Gartner® to balance different innovation objectives.
The importance of innovation portfolios to focus innovation efforts
The broad spectrum of disruptive change across industries highlights the need for a dedicated focus on innovation to enable business continuity and sustainability. Business leaders are encouraged to strategically examine their organizations and identify innovation portfolios to focus their innovation efforts.
Nurturing an innovation orientation within your organization can improve your current offering and develop new business opportunities. According to Gartner, organizations can prioritize innovation efforts along seven dimensions to enable the development and optimization of their innovation portfolios.
The Gartner report "Define Innovation Along 7 Dimensions to Prioritize Your Innovation Efforts" underpins the premise that innovation is executing new ideas that create value. It equips business leaders and innovation champions with the inside track on leveraging insights to build a solid innovation portfolio.
Unlock innovation with the Three Horizons Model
According to Gartner, identifying innovation target portfolios can be supported by the Three Horizons Model, which has proven helpful in highlighting the need for a portfolio approach to innovation as outlined in the report.
Initially developed by McKinsey, the Three Horizons Model is a tried and tested method of exploring innovation across various organizational scenarios, helping business leaders prioritize focus and resources across three defined horizons.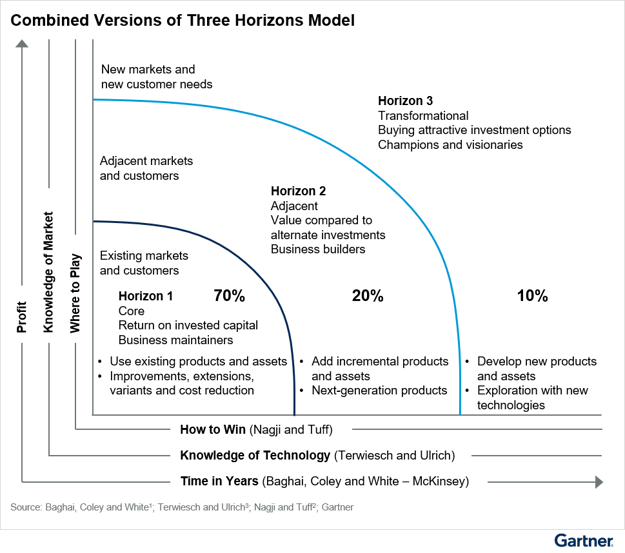 According to Gartner, the most commonly cited portfolio balance across the Three Horizons is 70% in Horizon 1, 20% in Horizon 2, and 10% in Horizon 3.
We believe the first horizon helps you focus on your organization's core business and guides you to elicit opportunities for innovation and potential growth in new markets or to identify product diversification opportunities. Similarly, the second horizon extends the boundaries of innovation by examining options that hold inherent value in alternative markets, such as adding or diversifying product offerings and next-generation product iterations. The third horizon is the domain of transformative innovation, where new products and technologies form the basis of breaking new ground.
How ITONICS supports innovation prioritization
Innovation is exciting, but the innovation process can be challenging with many variables at play. The ITONICS Innovation OS aims to help you manage the complexity of innovation by enabling the thorough exploration of market opportunities so you can focus on prioritizing the right innovation opportunities.
The ITONICS Radar and Insights tools enable you to confidently scan the environment for emerging trends and potential drivers of change, helping you to gather data for anticipated future scenarios. The ITONICS Portfolio tool has various features that allow you to balance your innovation efforts. The ability to continually analyze and monitor your innovation programs will ensure that the execution of your strategic goals is on track.
Learn more: How to De-Risk Innovation Investments and Prioritize Opportunities
---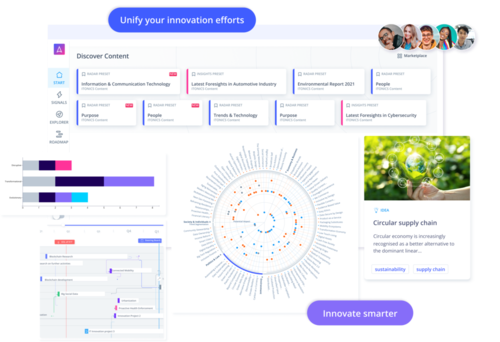 See the ITONICS Innovation OS in action
---
Have more time?
Disclaimer
GARTNER is a registered trademark and service mark of Gartner, Inc. and/or its affiliates in the U.S. and internationally and is used herein with permission. All rights reserved.
Gartner, Define Innovation Along 7 Dimensions to Prioritize Your Innovation Efforts, Jackie Fenn, Peter Skyttegaard, Refreshed 6 May 2022, Published 3 December 2020.